GROVE CITY — In high school, Cliff Hughes competed on the speech team at Mercer under legendary coach Hugh Ringer, so he could view Wednesday's Pennsylvania U.S. Senate debate with an expert eye.
Hughes, a Grove City College student, judged Dr. Mehmet Oz, a cardiologist-turned-TV-star to have been the top performer at the event held in the college's Pew Fine Arts Center.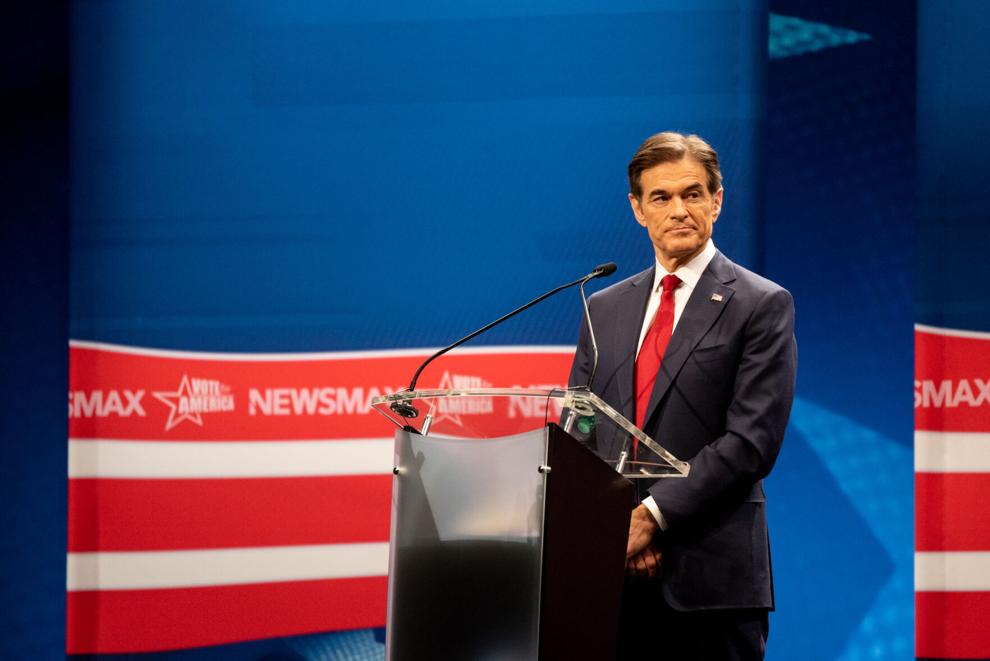 "I thought Dr. Oz did best on the fly," Hughes said. "The others, I didn't feel they were very good speakers on the fly."
Oz was among five candidates — joining Kathy Barnette, Jeff Bartos, David McCormick and Carla Sands — in a Newsmax news network-sponsored debate that featured contentious discussions.
Polls have the group fighting in the top spots in the May 17 Republican primary.
There was little difference policy-wise among the five candidates. The phrase, "America First" was frequently said during the one-hour forum.
All five candidates promoted expanded drilling of natural gas in the Marcellus Shale hydraulic fracturing field, with Sands proclaiming that Pennsylvania has enough natural gas to power the United States "for 300 years."
In terms of foreign affairs, all five downplayed Russia's invasion of the Ukraine, now in its fourth month, and cited China as the greatest threat.
Barnette, an activist and author, accused Bartos and McCormick, both businessmen, of being "globalists."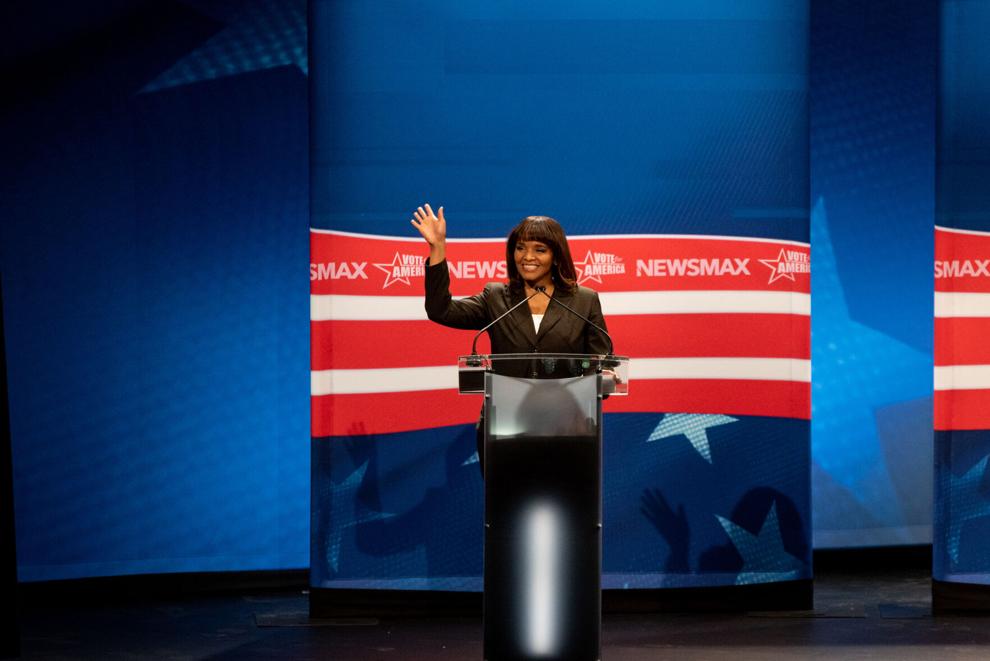 McCormick and Oz, who have targeted one another on television with attack advertisements, continued striking at one another on several fronts, with McCormick, who served as undersecretary for international affairs under President George W. Bush, dismissing Oz as a "Hollywood liberal."
Oz, who touted his endorsement from former President Donald Trump on multiple occasions, and Bartos fired back with accusations that his hedge fund, Bridgewater Associates, mismanaged the Pennsylvania School Employees Retirement System's pension fund.
McCormick said the system grew by $4 billion under Bridgewater's management, while his opponents said the fund should have yielded more income.
Bartos accused Oz and McCormick of being opportunists because they moved into Pennsylvania to seek the Senate seat, although McCormick was born in Washington County and Oz, who was born in Cleveland, attended college at the University of Pennsylvania and is married to a Pennsylvania native.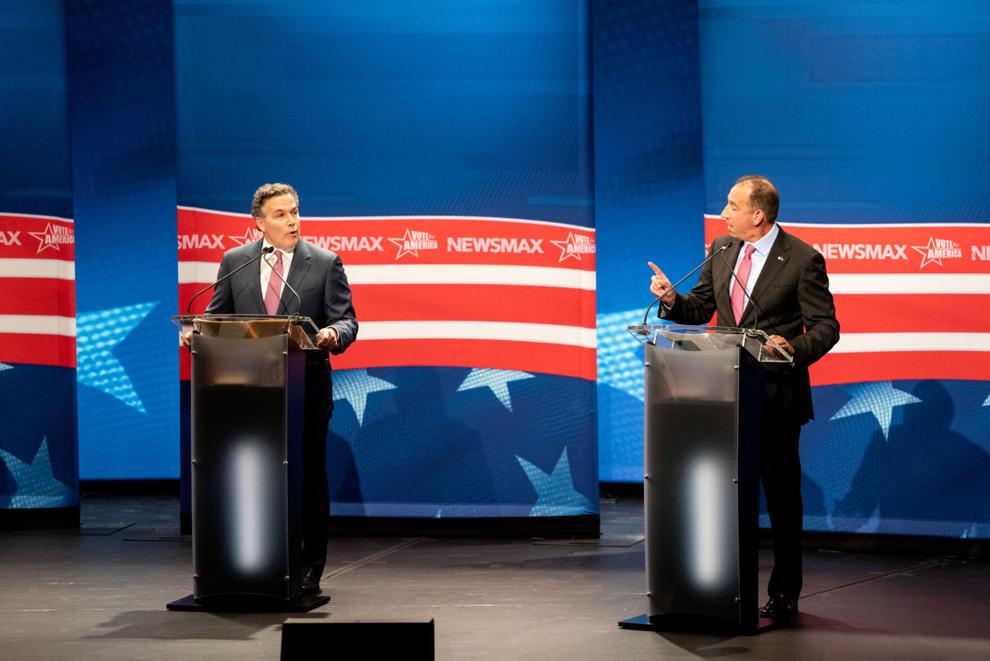 "We cannot trust this seat to candidates who moved into this state a few months ago," Bartos said.
The two women on stage — Sands, U.S. ambassador to Norway during the Trump administration, and Barnette — largely avoided the charges and countercharges by other candidates.
Sands cited her experience both in business and in international affairs.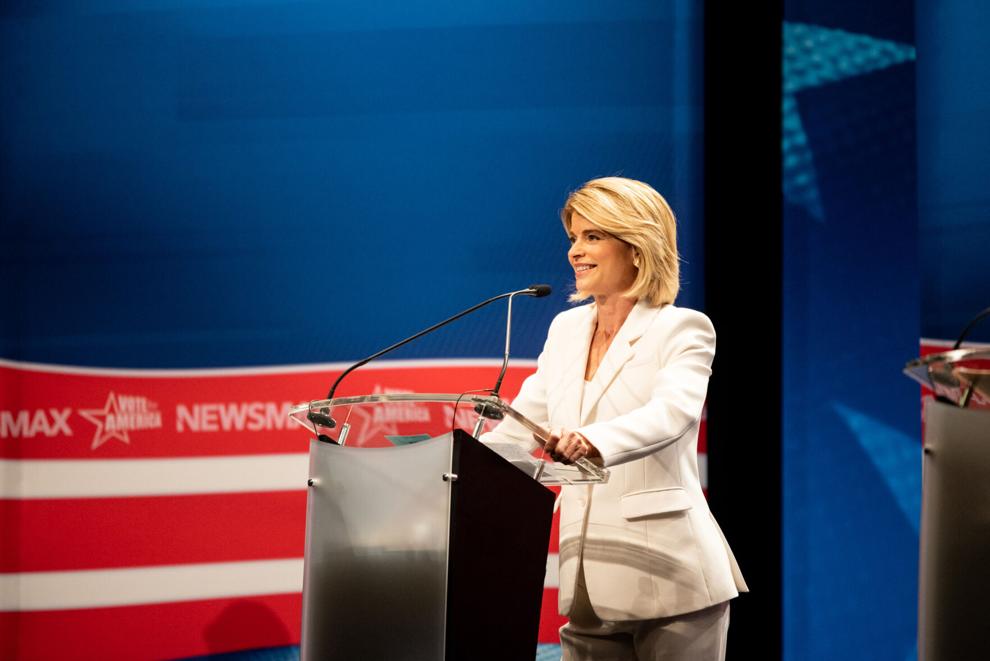 "We need a senator who is ready on day one," she said. "There is no one on this stage, or on the other side with as much experience."
Barnette cited her own climb from her childhood on a pig farm in Alabama as representative of America's greatness, which she — along with the other candidates — said was under attack from liberal policies.
"I came up from the bottom rung," she said in one of the biggest applause lines of the night. "That is the kid of America that gives people hope."
In another statement that could have come from any one of the candidates, McCormick said he would promote economic expansion.
"What we need in Pennsylvania is pro-growth economic policies," McCormick said. "What we need in the United States is pro-growth economic policies."
The audience, which nearly filled the 700-seat Ketler Auditorium, featured a sizeable Grove City College student contingent, including Lucia Iseberg and Britta Lagerquist.
Lagerquist, of the Pittsburgh suburbs, said she researched the candidates beforehand and found Barnett most impressive. The debate itself did nothing to change her mind.
"I agreed with a lot of her positions," she said. "She definitely has the know-how."
Iseberg said Barnette also impressed her.
"Ms. Barnette definitely had the charisma," she said. "I appreciate that she seemed to be focused on her policies."