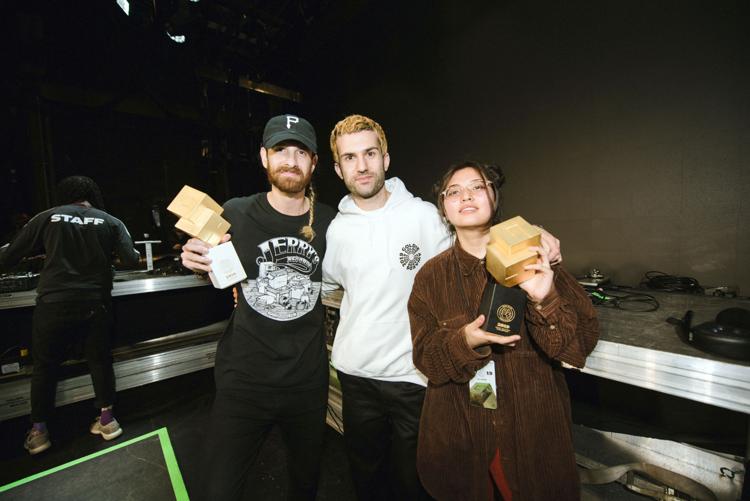 PITTSBURGH — He's only been DJ'ing full-time since 2015, but Hermitage native Adam Cucitrone has already made a name for himself, performing at venues and events in Pittsburgh, where he now lives, to as far away as Texas or California.
However, Cucitrone — also known by his stage name "DJ ADMC" — took recently received international attention after taking first place in the DJ category of the 2019 Goldie Awards, held in October in New York City.
"It's an amazing feeling," he said.
To participate in the competition, applicants had to post a minute-long video to Instagram, which was then reviewed by founder "A-trak" and a team at Fool's Gold Records, who picked eight contestants for the DJ category and eight contestants for the beat category.
Cucitrone had three months to prepare for the competition, which he likened to preparing for a sporting event in terms of practice and preparation. However, on top of preparing for the competition, Cucitrone was also maintaining his weekly residency at Belvedere's Ultra Dive in Lawrenceville amid other gigs.
"I was in the studio everyday for three months, working and tweaking and preparing for what was coming, making sure the routine was clean and sounded correct," he said. "For a club event, I'll be DJ'ing for two to three hours but the focus is to have fun and keep people on the dance floor, but for the competition, you had five minutes to show your skills as a DJ and to be as creative as possible."
At the competition in New York City, after the five-minute routines the judges picked two contestants to move on to the next round. The two contestants then went through two more rounds, performed a two-minute routine for each round back-and-forth, Cucitrone said.
Cucitrone compared the DJ battle to a rap or hip hop battle, since the different artists would use the music to take shots at each other, though he said it was all strictly competition and nothing personal.
"It's fun to kind of diss or make fun of the other DJs," he said. "We definitely hit on each other a few times."
Out of all the contestants at the competition, Cucitrone was the only one representing the United States. The only other American in the competition had moved to London and was representing that city.
The other competitors came from all over the world, including the winner of the beat category, "Lionclad," who was from South Korea, and Cucitrone's competitor in the final round, "Beastmode," who was from Australia, Cucitrone said.
"We arrived at noon on the day of the competition but it didn't start until 9 p.m., so we talked about each other's countries or cities, where we normally worked and where we were from, so it was really nice to get to know everybody," Cucitrone said. "Even though it was a competition, everybody respected each other and I even came out of it with a few new friends."
Despite his success at the competition, Cucitrone didn't start out as a DJ — when he graduated from Penn State University in 2009, the Hermitage native moved to Pittsburgh and held a series of jobs in the corporate sector.
During this time, Cucitrone only DJ'd part time, teaching himself the equipment and how to DJ through tutorials on YouTube. Eventually Cucitrone was able to go full-time as a DJ in 2015, but he still credits his jobs in an office setting with helping him attain success as a DJ.
"I learned how to apply my business and sales mentality to myself and how I sell myself how I present myself professionally, at bars, clubs, or private events that need a DJ," he said. "It definitely happened when it should have, because I did not have those skills when I moved to Pittsburgh."
Eventually his DJ career took him across the United States and to competitions such as the Red Bull 3 Music Style competition or the more recent 2019 Goldie Awards.
For anyone trying to come into their own as a DJ, Cucitrone said to look for such competitions since they can both provide exposure and help a DJ get their name out there, as well as forcing the DJ to improve and analyze themselves. It was during the time he started pursuing competitions that Cucitrone said he began to really develop his own, unique style.
"When they hear me play or DJ, people will come up and say 'there were five DJs on the event, but as as soon as I heard you, I could tell it was you,'" he said. "That's the thing that gave me goosebumps, it's better than any trophy."
Like David L. Dye on Facebook or email him at ddye@sharonherald.com.