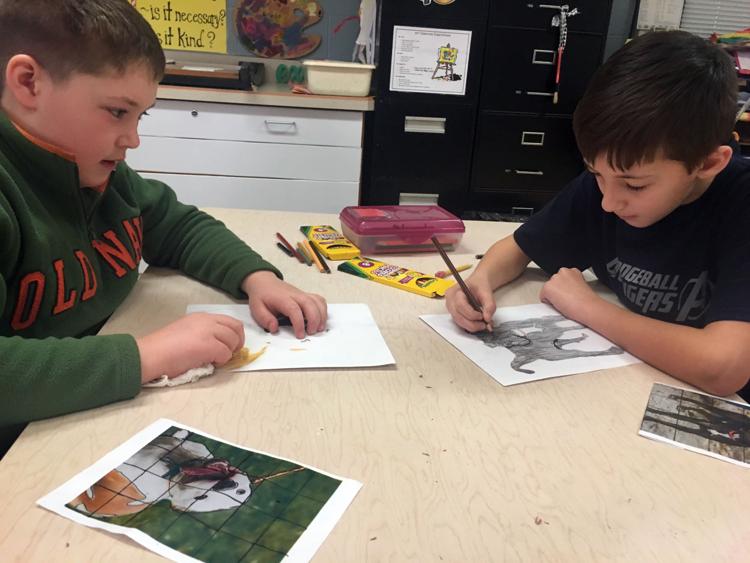 MERCER – Fifth-grader Drake McFeely's eyes shift back and forth from a photograph of a smiling dog to a very similar drawing, using stencils to make the drawing look as much like the photograph as possible.
Around Drake, 11, the rest of his art class in Mercer Area Elementary School did the same as the students made drawings based on photos of dogs and cats from the Shenango Valley Animal Shelter.
"I was having trouble with the shadow, so Ms. Glass said I should try shading it like this," Drake said, as he uses a napkin to smear the colors into a more realistic look.
Supervising the students was their art teacher, Meghan Glass, an animal lover whose class project was more than just an assignment; the pieces of art made by her students will be sold at an exhibition from noon to 3 p.m. Saturday in the elementary school's Large Group Instruction room.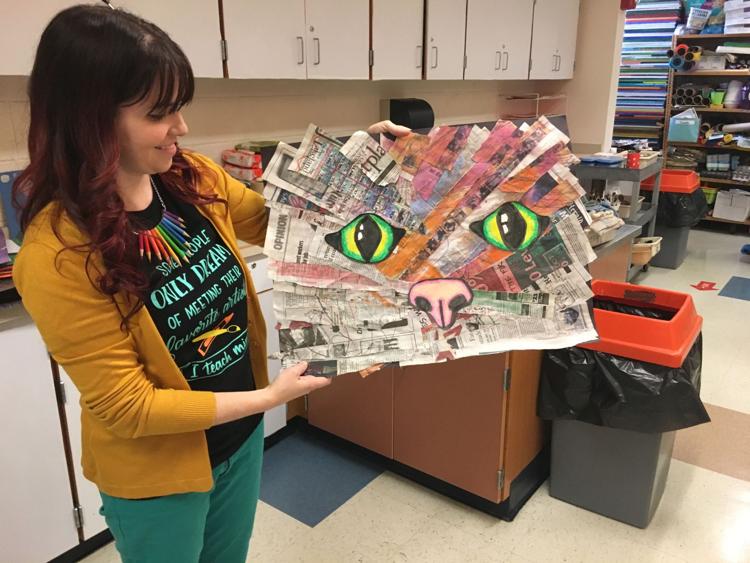 "I saw on Facebook when the animal shelter posted that they were shifting to a nonprofit, and they needed supplies and were looking for a new building, so I thought about what we at the school could do to help," Glass said.
The students have been working on projects for the fundraiser since December, after Glass said she saw another artist online who held a similar exhibition in Florida to support that local animal shelter.
While the fifth-grade class was working on drawings based on photos of animals in the shelter's care, other grades worked on similar projects. Artwork include collages in the shape of a cat's face made with old editions of The Herald by the fourth-graders, drawings of the "Pete the Cat" character by the kindergarteners and Dean Russo-style drawings of the animal shelter's photos by the sixth-graders.
"When I told the kids what we were doing, they were so excited, and I have three rescue cats myself," Glass said. "Plus the administration has been very supportive since the beginning."
At the exhibition, the students' artwork will be for sale at a minimum donation of $10, although some of the students' parents have already begun preordering their children's work for a minimum donation of $5. Out of 559 total art pieces, 217 have been sold already with $1,503 raised, Glass said.
"It's only $5, but the parents will pay an extra $10 or $20, and I've had students already coming in and bringing change from their piggy banks at home," she said. "The parents and the community have been very supportive of us and the shelter."
Across Mercer County in Sharpsville, another fundraiser is being planned to help the shelter.
Tammie Krolicki, a Sharpsville resident and fellow animal lover who has organized fundraisers for different non-profits, is also planning to help with an event from 1 to 4 p.m. Saturday, April 6. It will be in the pavilion near Thelma's Sports Nook at 285 E. High St. Ext., Sharpsville, whom Krolicki said provided the space, food and non-alcoholic drinks.
"I have two dogs, and I've fostered animals before, so if there's anything I can do to help, I'll do it," Krolicki said.
Food from Thelma's, including smoked ribs, chicken, coleslaw, salad and macaroni and cheese, will be offered with the cost of a ticket, while a cash bar while be available for adults. Entertainment will include a DJ, a face painter, a scene for photos of kids and families, a 50/50 raffle, a door prize and gift baskets donated by businesses.
"The community is very involved, and I can say just from people talking to me who are already anxious to get their tickets, I think it'll be a huge success," Krolicki said.
This will be the first fundraiser Krolicki's hosted since the animal shelter became a non-profit, although a supply drive was held during December. With two drop-off boxes at Thelma's and High Street Pub and Grill in Sharpsville, people were encouraged to donate supplies, including food, treats and cleaning items.
"We ended up having an entire SUV full, with two rows of seats folded down to make room for all of the supplies people donated," Krolicki said.
Sponsors for the event thus far include Erme Distributors, Sherman Funeral Home, Farrell Volunteer Fire Department and Attorney Ryan Mergl.
If someone would like to sponsor the event or make a donation, Krolicki said they can contact the animal shelter or send her an email at tammiekrolicki@gmail.com. Tickets can be purchased at the door and are available from Thelma's, Krolicki, the animal shelter and the animal shelter board members.
Shelter manager Angelia Sherman said she couldn't be "any more grateful" for the showing of support from Glass and the students in Mercer, as well as Krolicki and those supporting the fundraiser at Thelma's.
"It's amazing to have two different people from the community come to us and say they want to organize these events," Sherman said.
The animal shelter's board chairman, Duane Piccirilli, said the community support was both "exciting" and "overwhelming," and that the money generated at the fundraisers would go toward the shelter's operations, such as food or cleaning supplies.
"One of our themes is that we want all of the animals to find a forever home, and these dollars will help us do that," Piccirilli said.
Like David L. Dye on Facebook or email him at ddye@sharonherald.com.