SHARPSVILLE — For more than 30 years, Michael Kennedy has been performing what he calls a tribute to Elvis Presley — while wearing "The King's" full regalia.
He will bring his show to Sharpsville this weekend, but it all started with a request from his then-boss at a glass plant in Bakersfield, Calif.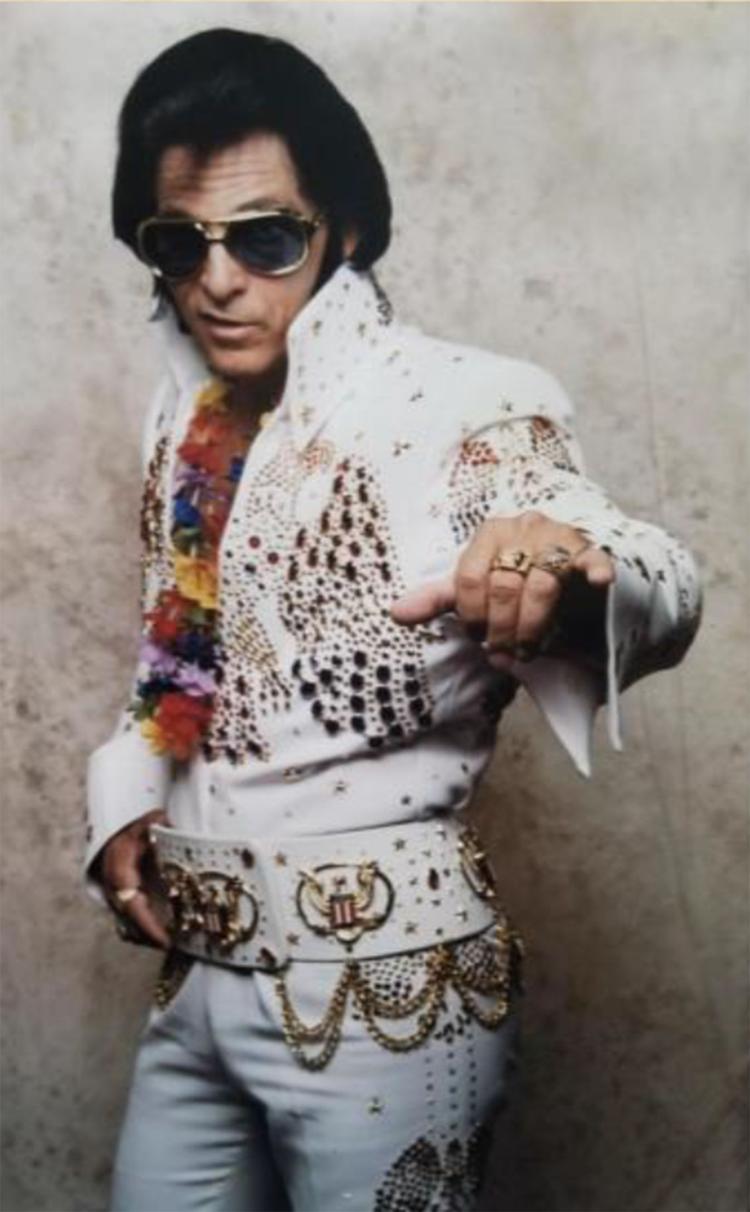 Kennedy, of Ashtabula, said he has been doing Elvis tribute performances since 1989, when he lived in California. However, music wasn't his job; Kennedy was the supervisor of a glass plant, and had a Walkman with an Elvis music cassette.
"I used to walk around listening to Elvis, humming along and singing along, and one day I thought I was alone in the control room, but my boss walked in and heard me singing," he said.
After hearing Kennedy sing, the boss invited him to perform at a Halloween party, which Kennedy said was his first time performing as Elvis. Later, a woman who attended the Halloween party asked Kennedy to perform for her Christmas party — after which more and more requests to perform started coming in, taking Kennedy all across Bakersfield.
Kennedy will be the main attraction for this year's Sharpsville Historical Society's annual dinner-and-a-show fundraiser, "A Tribute to the King of Rock and Roll." The event will be held on Valentine's Day weekend, with shows on Friday and Saturday at the St. Bartholomew Church community center.
Aside from singing, Kennedy said there will be interaction with the crowd, as he finds audience members willing to sing along or get up and dance. Kennedy will also talk about Elvis, his songs and events going on at the time, providing some history for the event as well.
"I'm looking forward to it. It's going to be a fun time," Kennedy said.
Kennedy bristles at being called an Elvis impersonator, he said, because there will be only one Elvis.
"Nobody can do Elvis except Elvis — what I do is a tribute to Elvis," he said.
Eventually, the act took Kennedy to Las Vegas, where he performed as Elvis until 2005, when he and his wife moved to North Carolina. He later moved to Ashtabula, where Rita Sloan, a board member of Sharpsville Historical Society, saw him perform. She asked him to perform at the fundraiser.
"He was very nice and said 'tell me what you need,' and he said he'd play anything we wanted played," Sloan said.
Sloan, who will handle the catering for the event, is providing a menu fit for "The King," with roast beef, chicken, Italian sausage, green beans, potatoes, pasta salad and fruit salad, while dessert this year could include banana cupcakes.
"We don't know everything that he (Elvis) liked, but we know that he loved the bananas with peanut butter," Sloan said.
The doors will open at 6 p.m., appetizers will be served at 6:30 p.m. The music and buffet dinner will start at 7 p.m. and end around 11 p.m. Sloan said the center has an estimated capacity of 300 people.
"In previous years, we've usually gotten 200-plus people for the weekend, so if we can get 200 people or 300 people a night, that would be fantastic," she said.
Proceeds from the event will go toward Sharpsville Historical Society's operating costs, said historical society President Robert Rannard.
Tickets to the event, which cost $35, include the dinner and the show and can be purchased at the door, Mehler's Insurance in Sharpsville or online at sharpsvillehistorical.org.
Like David L. Dye on Facebook or email him at ddye@sharonherald.com.