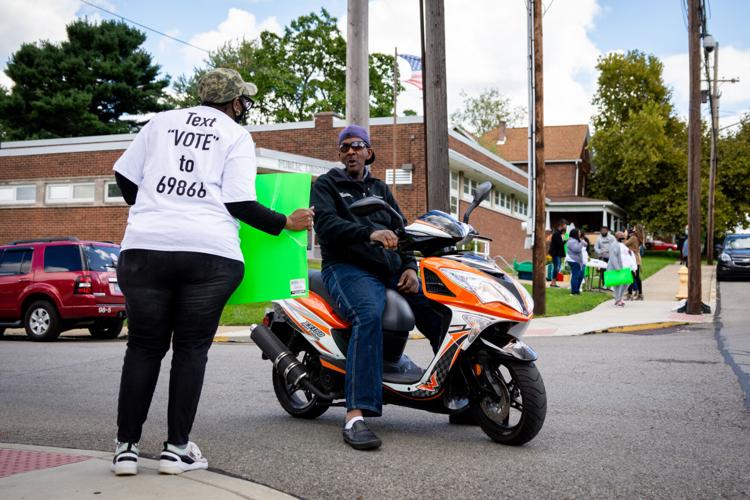 FARRELL — The Shenango Valley Urban League signed up a total of zero new voters at its registration drive Sept. 19 outside the local library.
But that didn't make "Reclaim Your Vote: Protest to the Polls" — a cooperative effort of the National Urban League and Black Entertainment Television — a failure.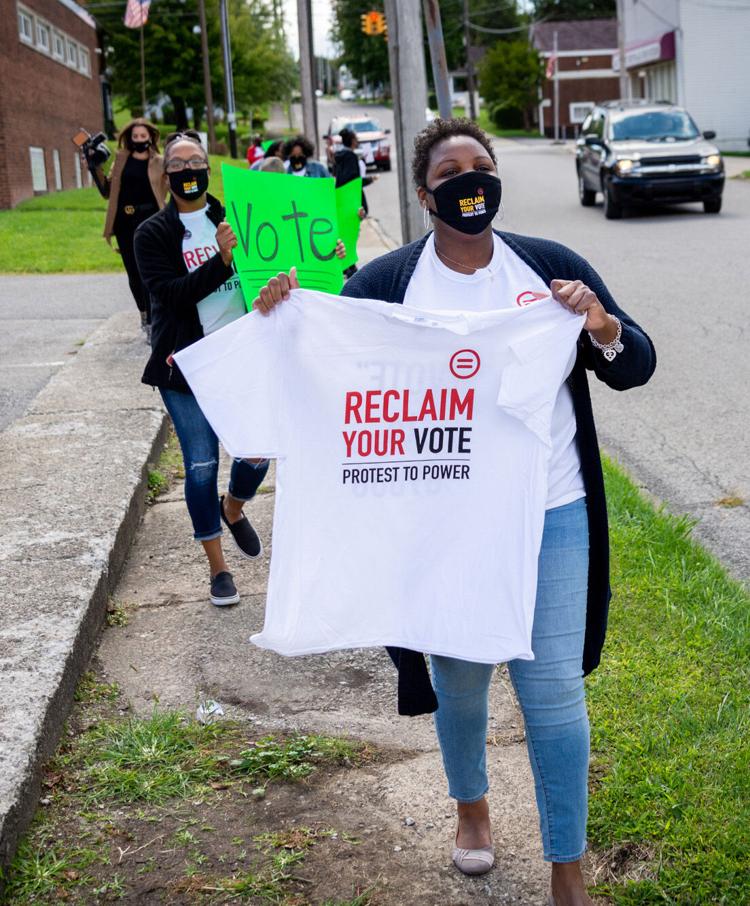 Employees and volunteers from the local Urban League office a few blocks away flagged down cars at the stoplight outside the Stey-Nevant Public Library on Roemer Boulevard and Beechwood Avenue in Farrell.
"Are you registered to vote," they asked drivers and passengers alike through open car windows just afternoon during a sunny day on the last weekend of summer.
And they all answered in the affirmative, with one exception — a woman who said she was on the way to file her registration.
Dr. Erin Houston, president and CEO of the Shenango Valley Urban League, said she was neither surprised nor disappointed by the lack of newly registered voters. She said Farrell — where almost half the residents are Black, according to the 2010 census — is more energized for the Nov. 3 election than it was four years ago.
"I do see a lot of energy behind getting people voting this year," Houston said. "I think everyone knows the consequences of not voting."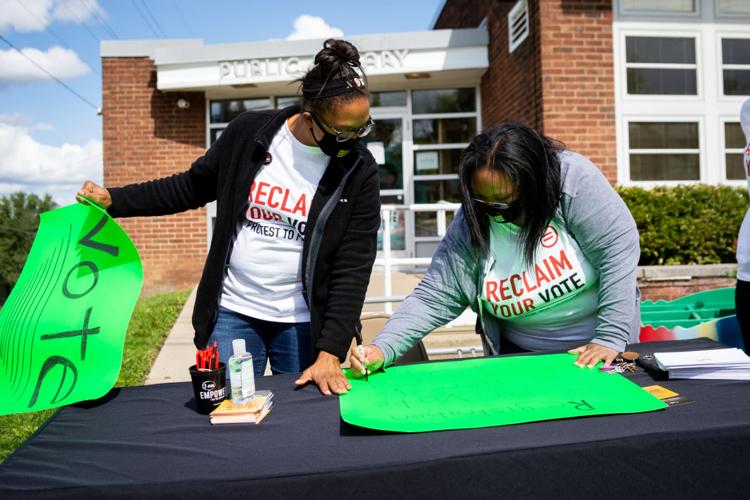 The impacts of voting — particularly in an election that could be decided in Pennsylvania, and specifically in western Pennsylvania — could be thunderous.
In 2016, Black voter participation was 59.6%, its lowest level since 2000, according to data from the U.S. Census Bureau. That came after the 2012 election, when the voting percentage of Black people was higher than that for white people, 66.6% to 64.1%, for the only time in the last 10 elections.
That means almost 1.5 million fewer Black adults voted in 2016 than in 2012.
Four years after Donald J. Trump's election as president, officials from the Urban League and passersby alike understood the importance of getting out to vote this time around.
With the killing May 25 of George Floyd, a Black man, by a Minneapolis police officer, racially diverse communities like Farrell were at the forefront of the ensuing protests.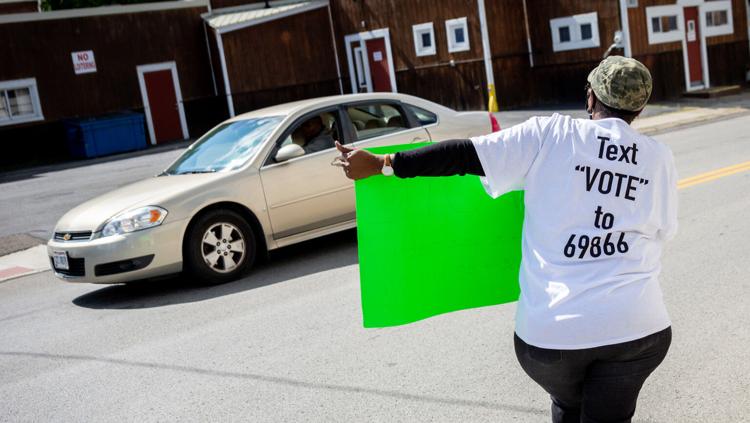 Several protests were held at least partially in the city. All but one of those were completely peaceful, and the exception was an incident where a motorist drove through a line of protesters.
Farrell resident Kalik Butler said he's noticed the desire among residents in the small city — 4,580 residents in the 2019 Census estimate — to make their voices heard.
Butler said he has noticed that people in Farrell regretted staying home in 2016.
"I see a lot more energy added in because I believe, once the big decision was made, a lot of people realized they could have made a difference if they would have gotten out and voted," Butler said. "I think it's a beautiful thing."
Kolbe Cole, a Democrat running for the state House 10th District, said she's seeing the same thing among Black communities on the campaign trail.
The 10th District is a diverse mix of urban areas like New Brighton and Beaver Falls, where Cole lives, in Beaver County, farm communities like Hickory Township in Lawrence County, and small towns like Ellwood City and Slippery Rock. She is running against incumbent Republican state Rep. Aaron Bernstine, who is facing calls for his resignation over videos, including one that shows him trying to get a young child to smoke a cigar.
Cole, a Black woman, said she senses more enthusiasm among Black voters for this election.
"They feel like they have candidates they can trust," she said.
Figures in the 2010 Census indicated that 50.28% of Farrell's residents were white, with 46.71% Black and 2.38% from more than one race. The remaining 0.63% were from other races.
Melinda Boatner, an administrative assistant with the Urban League, said the passion this year for voting is the most she's seen, and not just since 2016, because the stakes are higher than they've been in a long time.
"More than I've seen in my entire life," she said. "We need to turn this around. This country is in extreme turmoil and this needs to change."
•
"The country wasn't prepared for an epidemic and it wasn't Trump's fault."
– Jim Cardamon, Hermitage
Jim Cardamon, a Republican, credited Trump in how he handled the COVID-19 pandemic.
"I think he handled it as well as anybody else could have handled it,'' Cardamon, a Hermitage resident said. "Nobody has ever had this kind of experience with a shutdown.''
Harsh critics need to back off, he said.
"The medical experts don't agree with each other on what to do,'' he said. "He's doing the best he can without trying to harm people. The country wasn't prepared for an epidemic and it wasn't Trump's fault. It was the people before him.''
Cardamon had one criticism of Trump.
"He uses Twitter too much,'' he said. "I think he needs to use something better to get his message across.''
Cardamon supported Trump's move in mid-June to cut nearly 12,000 U.S. troops in Germany. A little under half are being relocated elsewhere in Europe with 6,400 heading back to American shores.
"World War II was over in 1945,'' Cardamon said. "And we've been paying for those defense bills since then. We can't babysit the world.''
•
"Don't get rotten with other people."
– John and Arleen Gordish, of Avonmore, Pa.
John and Arleen Gordish of Avonmore, Westmoreland County, were at Grove City Premium Outlets talked about the election while taking a break from shopping. Both are registered Democrats voting for Biden, and they've been trying to stay on top of the issues.
"I buy a newspaper every day to keep informed," Gordish said.
They're interested in the candidates' plans for things like Social Security, healthcare and the pandemic response.
They like how Biden has been addressing the virus, and said Trump needs to rely more on the experts who have information about COVID-19.
The Gordishes have the only Biden yard sign in their neighborhood and said that while people have a right to their opinion, it's uncalled for to send "nasty letters" – both said they know of a few people who received such letters because of their Biden signs.
"Don't get rotten with other people," Mrs. Gordish said.
People need to vote, even if they don't like any of the presidential candidates – because there are other races on the ballots, Gordish said.
•
"Why would anybody vote for him?"
– Diane Kupensky, Masury, Ohio.
Kupensky will not call President Donald Trump her president.
"Why would anybody vote for him?" she asked.
In the last election, she voted for Hillary Clinton. Kupensky said she does not vote based on party affiliation, she's not voting for Trump.
"We knew back then that he was incompetent," she said.
And she thinks President Trump is responsible for the amount of deaths that have occurred because of COVID-19.
"I'm a nurse and he's responsible for over 190,000 deaths and we don't have anything in place. We don't even have a healthcare plan," Kupensky said. "Not having medical equipment, he is directly responsible for that."
Kupensky said she has a long list of reasons why she would vote against President Trump.
"Bringing military troops in for peaceful demonstrators," Kupensky said. "I feel he has fueled the fire across the United States."
Those reasons spurred her desire to get involved with the the Democratic party.
"We can't even put a sign in our yard because someone will steal it or someone will shoot our windows out," she said. "He's put so much hate into the United States right now."
•
"There was no road map...''
– Jack Allen and Paul Sanders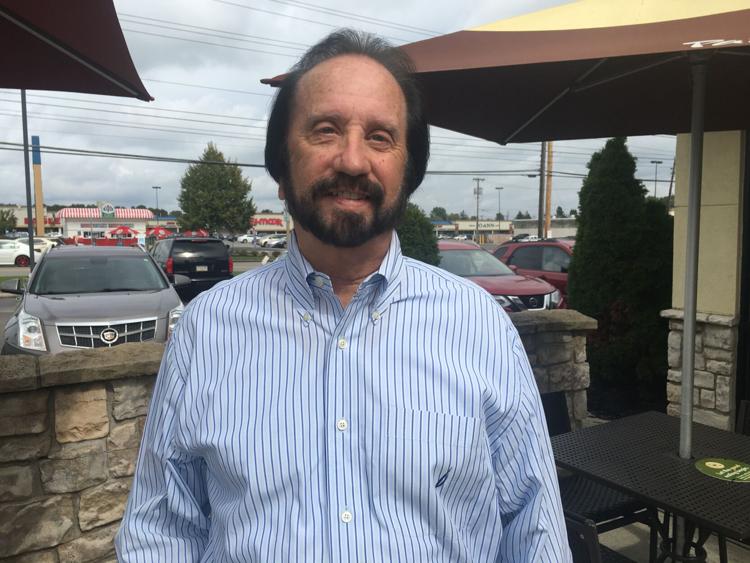 Slowly sipping on coffee at Panera Bread in Hermitage, Jack Allen and Paul Sanders talked politics, COVID-19, the economy, and the environment.
Allen, a retired insurance executive, described himself as a conservative Republican who backs President Trump. Sanders is a retired teacher from the Hermitage School District and said he is an independent who remains undecided on his presidential vote.
Both men agree the national government needed to bail out Americans in the spring as the pandemic crushed the economy with lockdowns. They also agreed that some people – including them — didn't need the $1,200.
"I didn't need the money,'' Allen said. "I felt guilty taking it.''
Sanders and, to a lesser extent, Allen support a second round of stimulus spending. But they both agreed the money should be given out only to those who need it.
As for the pandemic, COVID-19 needed better handling from the start, Sanders said.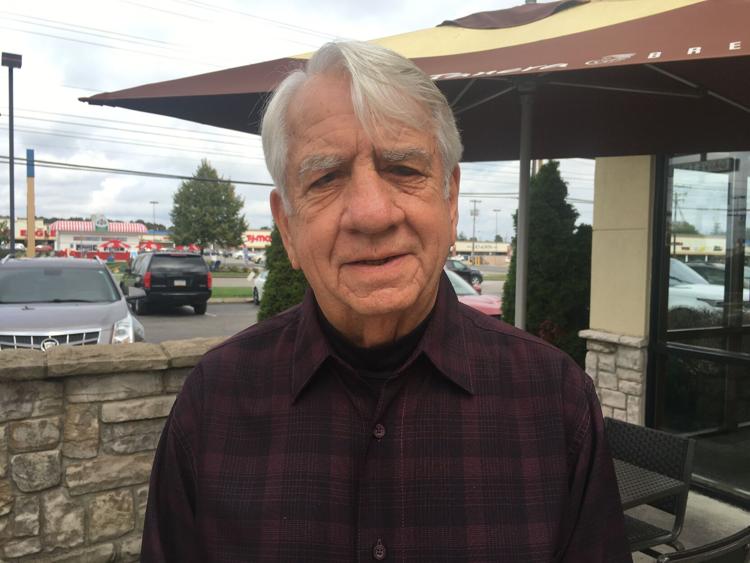 "There are more than 200,000 people in the U.S. who died from it,'' he said. "The families of those people who died will tell you it wasn't handled very well.''
Allen was a little more forgiving.
"We were all struggling to come up with a solution,'' Allen said of the pandemic. "There was no road map to go by.''
Allen called for a national sales tax with the proceeds to be applied towards healthcare for those who can't afford it.
"With a national sales tax, everybody pays'' he said. "The rich buy more things so they're going to pay more.''
•
"He's been putting America first."
– Randy Stefanowicz, Pulaski
Randy Stefanowicz said he approved of President Donald Trump's performance.
"He's been putting America first," Stefanowicz said.
Heading into the upcoming election, he fears that the nation as a whole is drifting too far from God, and cited decisions to reopen businesses and offices but not churches at one point during the COVID-19 pandemic.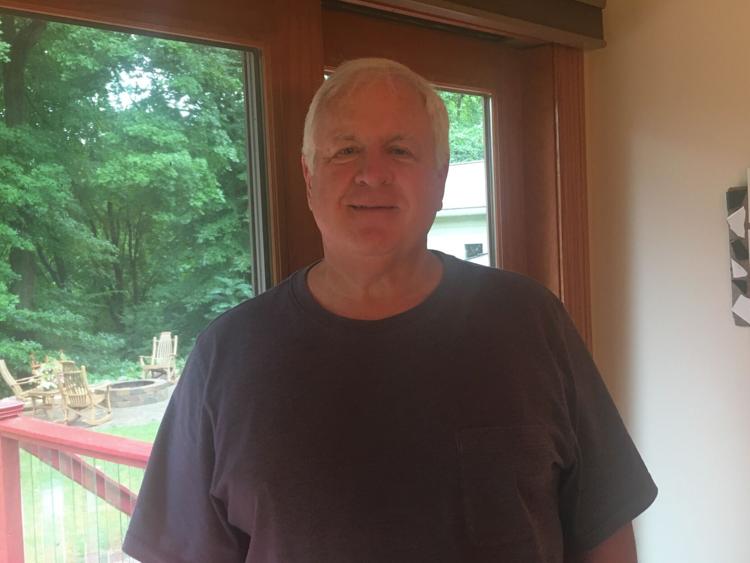 Stefanowicz said he and his wife see both sides of the mail-in voting issue, since the couple has a home in Pulaski but travel south during the winter months and often have to mail in their votes based on their permanent address instead of their winter abode.
Though mail-in voting is important for people in similar situations or people in the military, Stefanowicz said he was concerned over whether the U.S. postal system can handle the sheer volume of people mailing-in their votes who otherwise don't have to.
Another issue that was the more violent protests that broke out in certain parts of the U.S. following the death of George Floyd.
While he agreed the death of Floyd was unlawful and those who demonstrated peacefully had the constitutional right to do so, Stefanowicz said he disagreed that some protests were allowed to continue after becoming violent, and said the protesters unfairly generalize police officers.
"I'd say 98 percent of our police officers are good people," Stefanowicz said.
•
"We all want the same things. We all need the same things."
– Thomas Jones, Sharpsville.
Thomas Jones of Sharpsville voted for Trump four years ago, and nothing that's happened in the past four years has changed his mind.
"I'm happy with the current administrator," Jones said. "I definitely am a conservative."
Jones, a foreman in a tool and die shop for 23 years, has has strong opinions about the COVID-19 pandemic.
"I don't believe everything that they're telling us," he said. "I find my proof in that by them changing their mind every week. You would think by now, they would have it figured out as to what you need to do and not need to do."
"I agree with a lot of what Trump said as far as the numbers," Jones said. "I think the coronavirus is no different from any other kind of flus we've had."
He said the way those in charge are counting the number of people who have contracted the virus is flawed.
Jones thinks the ultra-conservative and the ultra-liberals are both "crazy."
"The extreme is terrible. You just don't want to live there," he said. "We're all kind of on this planet to get by. We all want the same things. We all need the same things."
HERALD STAFF Writers David L. Dye, Melissa Klaric, Monica Pryts and Michael Roknick contributed to this story.