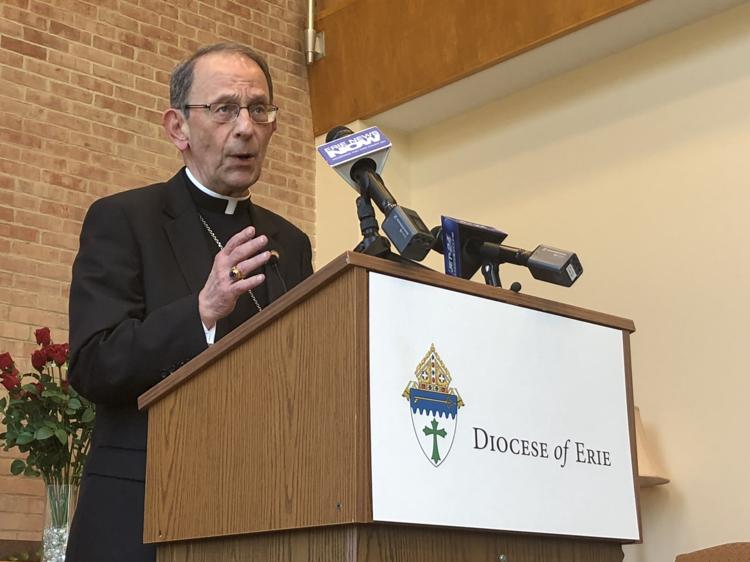 ERIE – Bishop Lawrence T Persico said it was hard to watch the state attorney general's press conference.
"I knew it wouldn't be good. I think it leaves you feeling sad and somewhat upset. But a lot of those are past cases, and we have to move forward," Persico said. "But we can't forget the victims. This is their moment to come into the light."
Surrounded by tearful victims of sexual abuse at the hands of priests, Pennsylvania Attorney General Josh Shapiro spoke directly and harshly about not only the abuse by priests in the Catholic Church, but the coverup for decades by the cardinals and bishops.
Among them were Cardinal Donald Wuerl, of the Washington Archdiocese, who is named more than 200 times in the Pennsylvania report, and Bishop David Zubik, of Pittsburgh Diocese. Wuerl and Zubik both defended themselves in separate press conferences today.
But Shapiro lingered over a portion of the report that concerned Erie's Emeritus Bishop Donald Trautman and deceased Erie bishop Michael Murphy.
"Bishop Trautman knew about the abuse by David Poulson and covered it up," Shapiro said, and read an excerpt from the grand jury redacted report.
"For approximately fifteen years, from 1987 to 2002, Murphy and Trautman allowed Gawronski to remain in active ministry by reassigning him multiple times. As late as 2001, Trautman assigned Gawronski to a new five-year term as a chaplain for St. Mary's Home in Erie."
But he praised Erie's current bishop.
Shapiro called Persico a bright spot within a corrupt organization of people covering up sex acts performed on or by children at the hands of priests.
"Bishop Persico's response to this crisis gives me hope," Shapiro said. "He was the only (bishop) to testify to the grand jury. He wanted to do the right thing. He did."
Persico said during a press conference in the Erie Diocese chancery at St. Mark's following the release of the grand jury report, that the attorney general's remark was kind.
"But I didn't do it for the accolades," he said. "I did it because it was the right thing to do."
Persico addressed accusations against his predecessor, Bishop Emeritus Donald Trautman.
"I'm not sure if it's accurate or not," Persico said. "I think he inherited most of it."
Persico emphasized, however, that those in authority who covered up the abuse are just as guilty.
"You cover up, you're hurting others by covering up," he said. "We don't have anyone outside of Bishop Watson that we're aware of. That's a question for Bishop Trautman, I wasn't here then."
Trautman was not at the Erie press conference, and he did not speak in person Tuesday. He did, however, release a 58-page statement outlining responses to the allegations listed in the report, denying any wrongdoing.
"I maintain before God and the people whom I served for 22 years, that I faithfully fulfilled the charter for the protection of children and young people and faithfully fulfilled all laws of the commonwealth on sex abuse," Trautman said in his statement. "From the day I took office as bishop of the diocese of Erie, I did my best to correct the sin of sex abuse."
Persico said Trautman is on a "extended vacation," and that any questions about the bishop emeritus' actions should be directed to him.
The current bishop opened the press conference Tuesday afternoon in Erie by apologizing to the victims.
"The grand jury has challenged us as a Catholic Diocese to put victims first and to continue to improve ways to protect children and youth," he said. "We have heard that challenge. We acknowledge it, and we accept it."
And the first answer to that call will be total transparency, Persico said.
"The Diocese of Erie will not shroud abusers in secrecy, no matter who they are or how long ago the abuse occurred," he said.
Persico also promised to immediately turn over abuse allegations to law enforcement, to pay for counseling of abuse victims and to personally meet with any victim to offer pastoral support.
"We will continue to publicize this, and we will continue to update the list," the bishop said.
He announced that five priests were added to the Erie Diocese list of Catholic priests and laypeople with credible accusations of "misconduct" against them.
Two priests are still alive, Jan Olowin and Thomas L. Snyderwine. Gregory Furjanic, Edmundus Murphy and Richard Lynch, are all deceased.
Persico also spoke of his time in the Greensburg Diocese, where he served as vicar general. He is referenced in the grand jury's report as part of the leadership team that played an important role in the handling of allegations of priest sexual abuse in Greensburg.
"In my time, we spoke with the victim, we handled the abuser and we informed the district attorney's office," Persico said. "We were getting people coming forward 30 years after it occurred. If the priest was in ministry, he was removed, even though civilly or criminally you couldn't do anything. That was Greensburg's practice."
The bishop also sent a message to Erie Diocese parishioners.
"I've been saying all along, this is going to be difficult," Persico said. "This is our past, we have to move on, I think we can move forward in hope. As we move forward, we learn from our mistakes, and we can't blame anyone but ourselves."
Follow Melissa Klaric on Twitter and Facebook @HeraldKlaric, email: mklaric@sharonherald.com.