SHARON – Bill Fontana has no interest in repeating history – at least not when it comes to sculpting the future of downtown Sharon.
The strategic initiatives director for Pennsylvania Downtown Center stressed the importance of leaving the past behind to a group of roughly 40 people gathered at the Mercer County Convention and Visitors Bureau building in Sharon Thursday. Only then, he said, can the city decide what it wants to be when it grows up.
"When I walk into a community like this and the first thing I hear is, 'I remember when,' I know we have problems," he said. "Because 'I remember when' ain't coming back."
A $15,000 Keystone Community Program grant allowed the city to hire Fontana – along with Mary Tate, PDC field service coordinator – to work with Sharon officials, residents and business owners over the next several months is to help the city develop a vision, action strategy and plan for a potential business improvement district in the city. Thursday's meeting marked the first of four scheduled information and brainstorming sessions.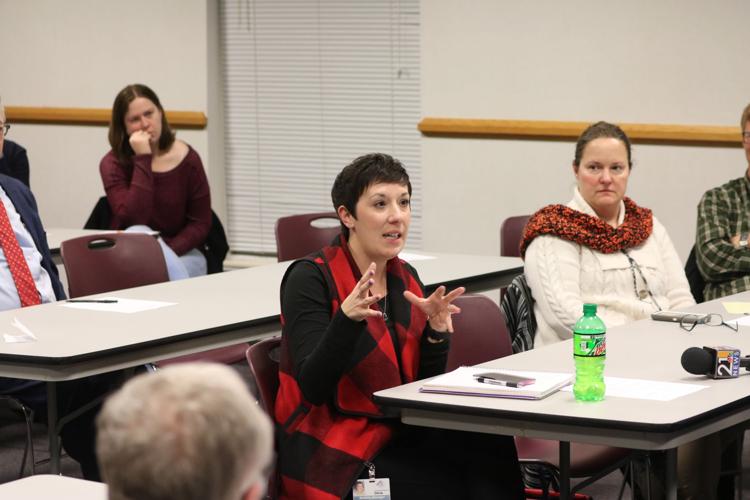 PDC, established in 1987, is a statewide nonprofit agency that provides outreach, technical assistance and educational services to help communities revitalize their central business districts and surrounding neighborhoods. Fontana said PDC has worked with hundreds of communities across Pennsylvania over the years, as well as municipalities in New Jersey and West Virginia.
"This will be a deep dive into what is needed and wanted in Sharon," Fontana said.
When Fontana first started working for PDC 19 years ago, he said there was about $56 million available statewide for revitalization projects. Today there is just $6 million available.
That lack of available funding is what makes a business improvement district so critical, Fontana said. Sharon does not yet have a defined business improvement district, and it is up to local businesses and their property owners to decide if they wish to create one. If so, each entity would have to agree on an extra tax, which would be used to fund projects within the district's boundaries. That tax could be as much or as little as the businesses decide.
"This becomes an increasingly important issue," Fontana said of the decrease in available statewide funds over the years. "It becomes paramount that communities that want to do this kind of revitalization put some skin in the game."
But first, Fontana said a vision and action plan is needed. And to start the process, Fontana and Tate asked everyone in attendance fill out a survey regarding the current state of downtown Sharon. The survey asked for three words to describe downtown Sharon, the city's biggest challenges, greatest potential economic generators, and words that describe each individual on a personal level.
After the survey, attendees were asked to chime in on Sharon's current slogan – "a great place to live, work and grow."
"I've been an advocate of changing this for a long time," Geno Rossi, owner of Our Gang's Lounge and a Sharon code enforcement officer, said of the slogan. "If it was a great place to live, work and grow, we wouldn't lift residency policies for both municipal and for school districts. One of the major reasons for lifting that is because people from outside (of the city) can't find a place to live, or want to live here, because of the issues that we have."
Rossi added that encouraging young people to stay local after high school will play a major role in changing the city's fractured culture.
"And how do we get our youth to stay?" said Walter Herrmann, owner of the Studio83 pottery studio in Sharon. "Well (the city) has to do something for them."
Lizette Olsen, executive director of AWARE, the Mercer County domestic and sexual violence agency, noted that a group made exclusively of adults brainstormed ideas that would appeal to youths during the Mercer Chamber of Commerce's Boomtown experiment.
"When we asked (the kids) what they wanted, they said they wanted a bait shop," Olsen said. The thought of a bait shop had never even occurred to the adults in the room.
For this reason, Dawnle Sheetz, a career military service member and wife of former county Veterans Affairs Director Larry Sheetz, said it will be imperative to involve local high school and college students in subsequent meetings.
"If they don't participate in (these meetings), it is going to be the older people that make those decisions," she said. "And we don't want to be doing that. We want them to be involved in this."
Fontana said the next session will involve smaller focus groups to dive deeper into the idea of a business improvement district. That meeting is scheduled for 5:30 p.m. Feb. 13 at the Mercer County Convention and Visitors Bureau building, 50 N. Water Ave., Sharon.