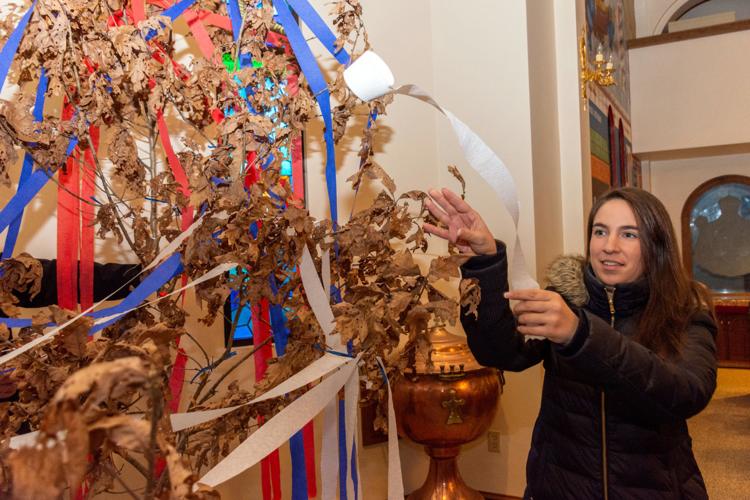 HERMITAGE – As a large oak branch was being decorated by parishioners inside St. George Serbian Orthodox Church in Hermitage on Monday, Bosko Vucenovic explained its symbolism.
Known in the Serbian Orthodox faith as a badnjak, an oak log or branch, is decorated, blessed and placed in an outdoor fire during Christmas Eve services, which was Monday evening, said Vucenovic, a member of St. George Church.
The branch is somewhat like the yule log tradition in other traditions, he added.
"An oak tree is picked because it's strong, and its leaves stay on the tree for a long time,'' Vucenovic said. "It's the welcoming of Christ into the world.''
A number of Eastern European Orthodox faiths, such as Serbian Orthodox, celebrate today as Christmas.
Dec. 25 on the Julian calendar, which is recognized in many Eastern European Orthodox religions, falls on Jan. 7 in the Gregorian calendar used by most of the western world.
In addition to the branch, straw was placed in the church's aisle to represent the manger where Jesus was born.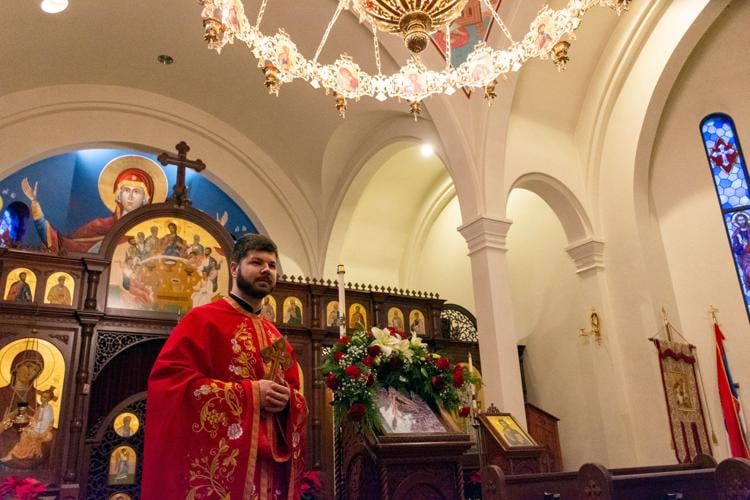 A lot of thought goes into the Christmas service, said Rev. Vedran Grabic, St. George's pastor, who also was at the church on Monday.
"Serbian Orthodox Christmas is a celebration of the birth of Christ, of family unity, and of our history and culture,'' Grabic said. "It involves many beautiful traditions, including the breaking of bread, burning of the yule log, and bringing hay into our houses.''
There are many traditions in how the newborn Christ is welcomed into the church and homes of the faithful, he said.
"Probably the most wonderful of all customs is all of us coming here to the church and being together during this time,'' Grabic said. "We have a community here at St. George, and I look forward to seeing everyone together to celebrate the birth of our Lord.''
It's also a holiday where families gather. On Monday afternoon Dr. Brian Generalovich, a Hermitage dentist, drove to his son's house in Ohio to celebrate the holiday. He and his wife are members of St. George.
Generalovich talked about how his grandparents arrived on American soil shortly before World War I. They continued to follow their Orthodox faith, which has been handed down to the succeeding generations.
"It makes us feel so very good, and very blessed that our children are continuing to carry this tradition on,'' Generalovich said.
Orthodox Christmas traditions mean a lot, Vucenovic said. But he added he never forgets the focal point of the holiday.
"It's all about Christ,'' he said.