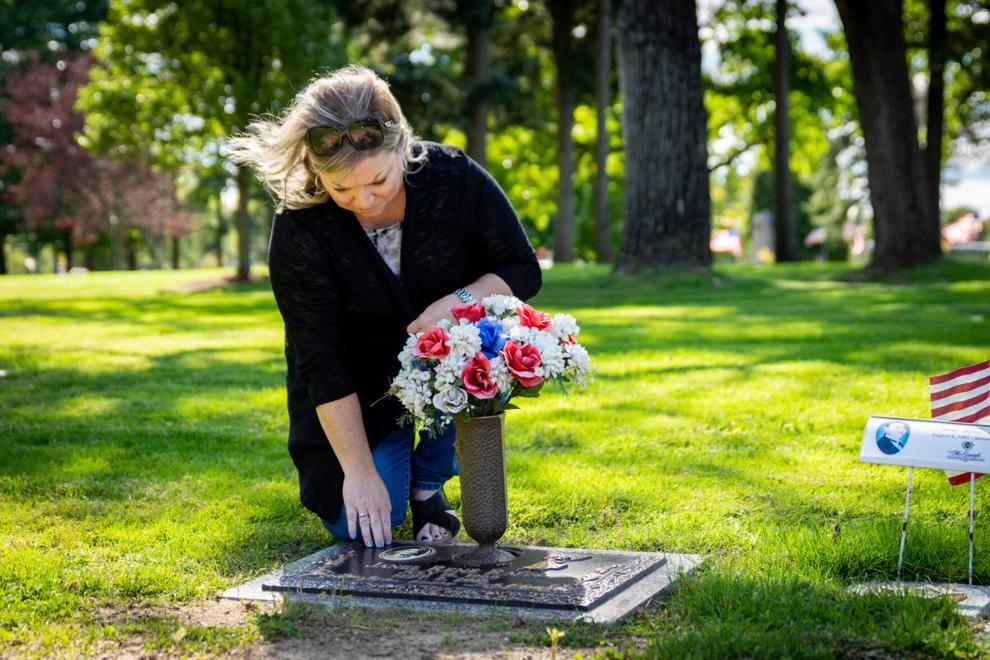 HERMITAGE – When Janel Miller's family or friends needed help, they turned to her. Miller's sister, Jamie Pietrantonio, called Janel the glue that held the family together.
But Miller's compassion for others couldn't keep her from the iron grip of opioid addiction. Pietrantonio blames overprescribed pain-killers for her sister's addiction and death, prompting a lawsuit by her family against the Pain, Spine, Aesthetic and Wellness Center (or the Pain Center) in Hermitage.
Also named in the wrongful death suit are a former Pain Center doctor, Ashraf Razzak, who died in August 2019; and nurse Christina L. Cole, who no longer works at the center.
Miller, 49, died in her home Sept. 2, 2018, from a drug overdose. Her death certificate lists, "respiratory arrest from combined prescription drug toxicity" as the cause of death. 
"I promised my parents I would never give up trying to find out what happened to my sister," Pietrantonio told The Herald. 
The civil suit, filed Sept. 11 in Mercer County Court of Common Pleas, alleges the center overprescribed opioids to Miller for six years. It asks for at least $50,000 in damages.
What Pietrantonio really wants, however, is to close down the Pain Center.
"I want them to be accountable," she said. "I want to prevent this from happening to someone else. You don't just wake up one day and decide you want to be an addict." 
The complaint states that, from May 12, 2012, until the month of Miller's death, Razzak and Cole prescribed at least 5,885 oxycodone pills and 8,855 tablets of morphine, gabapentin, and muscle relaxers. The painkillers were prescribed on a monthly basis, averaging more than six pills a day. 
The suit also alleges that, upon learning of Miller's death, the defendants backdated treatment records to hide evidence of "reckless indifference" to Miller's health and welfare.
Pain Center records, obtained by the family, indicate that five dates of office visits were signed on, or about, the date of the actual office visit. Records from 23 other office visits, however, were electronically signed on three dates after Miller's death, according to the suit.
The Herald made multiple calls to the clinic over two days, but no one would comment on the suit. A woman, who did not provide her name, answered the phone and said there a "whole new practice" at the Pain Center. Court documents in the case do not identify legal counsel for the Pain Center.
Pietrantonio and her mother obtained Miller's prescription records from her pharmacy. The type of medications and amounts prescribed shocked them.  
Overprescribing opioids for pain management has happened previously, Mercer County Coroner John Libonati said. 
Libonati said sales representatives for drug companies pushed the medication and said it managed pain well and falsely claimed it was not addictive.
"However, it was highly addictive," Libonati said. "Individuals used the drugs and became dependent."
The coroner did not comment on any specific overdose incident.
But once Pietrantonio started looking into the cause of her sister's death, she knew she had to take it a step further.
So she retained New Jersey-based attorneys Richard J. Hollawell and Mark C. Dewland, who specialize in wrongful death lawsuits stemming from opioid addiction. Hollawell said this is one of the worst cases he's seen.
"When I saw the medical chart, I was alarmed," he said.  "It angers me to see medical professionals making people ill with addiction." 
Pientrantonio said her sister initially went to the Pain Center for vague, generalized complaints of pain. 
Miller also had type 1 diabetes. In 2010, she had a severe diabetic shock episode. Two years before she became a patient at the Pain Center, Pietrantonio found Miller unresponsive with dangerously low blood sugar.  
"This started an awful journey where my sister would withdraw from family and friends," Pietrantonio said.
The episodes of severe diabetic shock became a regular occurrence over the next eight years until her death, she said.
Pietrantonio advises other families in similar circumstances to pay attention to their loved ones' actions.
"Do whatever you can before it's too late," she said.
From 2014 to 2020, Mercer County reported 207 overdose deaths, including 43 in 2019, and 28 so far this year. At the current rate, there would be about 38 overdose deaths by the end of this year.
Libonati said opioid addiction resulting in overdose deaths is, without a doubt, as much of a problem as it's always been.
And it can affect anyone at any age or demographic.
"Somebody you're close to could have an addiction and you'd never know it," Libonati said. 
One misconception about opioid addiction is that all people use drugs for euphoria or to chase a high, Libonati said.
"There are a significant number of people who use it just to feel well," he said. "They use it in order to function and they try to manage it."
Libonati said the addict can be the most popular person or the one that looks isolated.
A case like Miller's raises the question of whether the Pain Center overprescribed opioids to other patients. Hollawell, Pietrantonio's attorney, believes that's the case.
"It's not usually an isolated patient," Hollawell said. "It's typically what they're doing across-the-board." 
Follow Melissa Klaric on Twitter and Facebook @HeraldKlaric, email: mklaric@sharonherald.com