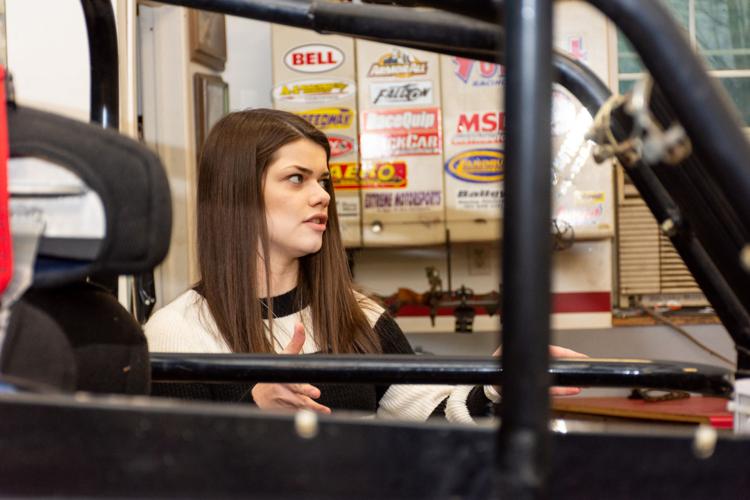 WEST MIDDLESEX — Depending on the time of year, Vivian Jones normally spends her weekends strapped in behind the wheel of a Mod Lite car, racing around a dirt track — sometimes competing against her father Rod and brother Roman, who also drove Mod Lites this year.
The night of Nov. 23 at Ciminero's Banquet Centre in Niles, Ohio was a little different though, as the 18-year-old West Middlesex resident was among those honored by the Twin-State Auto Racing Club, who presented her with the Driver of the Year award in the Mod Lite category.
But it wasn't just Vivian who happened to be honored that night, as her great-grandfather, "Hap" Jones, was inducted into the Twin-State Auto Racing Club Hall of Fame. Accepting the award for Hap was Vivian's grandfather Dave Jones, who she said surprised the audience with his acceptance speech.
"He said 'Hap's real name was Vivian, and you'll meet her later tonight' or something, but everyone there got really quiet for a moment," Vivian said. "There were only a few people there who knew Hap, but that was how everyone knew him — as Hap."
Hap originally raced stock cars during the 40s and 50s on Daytona Beach, Fla., and went on to become a pit steward who ran pit crews. Vivian's mother Glori said she also noticed the significance of the evening, as one of the first racers in the Jones family was honored on the same night as one of her children.
"A lot of the people already knew us, and they knew about her (Vivian) racing, but I don't think they necessarily understood the connection until then," Glori said.
This year, Vivian was also awarded with the the OPW (Ohio-Pennsylvania-West Virginia) Championship, the Stars Mid-Atlantic Regional Championship, and was the first female to win a seasonal championship at Michaels Mercer Raceway.
Though the last race of the season was in October, Vivian said the family is preparing for next year, which will include repairing Vivian's car which was damaged in that last race.
Merchandise will also be available, including shirts featuring Vivian and Roman's cars, which Glori said became popular with associates and fans over the past year.
"I'd say last year we went through more than 400 shirts, probably almost 500, but that also included family members and friends, too," Glori said.
But even when she's not on the track, Vivian said she'll watch recordings of her races in order to critique certain aspects of her performance, such as ways to pass other cars or how to improve her starts.
"Usually whenever I have any down time during the day or in the summer, I'll be re-watching the videos to see what I could do better," Vivian said.
Unfortunately, the last couple years of Vivian's racing career saw not only growth, but the loss of a friend and mentor, the late Mark Marcucci, who died in a car accident in April 2018.
"He was really, really good around the time I started about three years ago, so he taught me a lot of stuff," Vivian said. "I wanted to beat him more than my dad."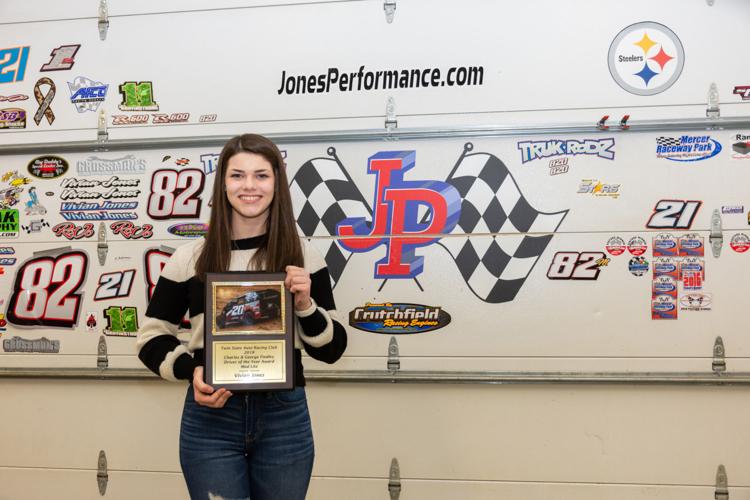 To honor her late friend and competitor, Vivian said she and her brother added an "M" to their car numbers, since Marcucci's number always included an "M." She, her brother and father also adopted Marcucci's paint scheme of black, with a white stripe along the side, a red stripe under the white stripe, and yellow letters.
"Red and yellow were always the Marcuccis' colors," Vivian said.
Like David L. Dye on Facebook or email him at ddye@sharonherald.com.
FOLLOW the Jones' family's progress by visiting the Jones Performance Racing pages on Facebook and YouTube.