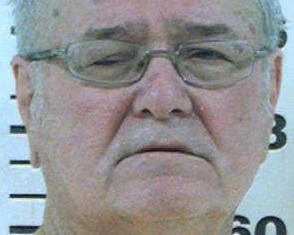 MERCER – A Farrell man was sentenced Friday to house arrest after pleading no contest to luring a 3-year-old into his vehicle.
In response to Common Pleas Judge Daniel P. Wallace asking him if he understood the deal he just got, Gary Lee Zimmerman, 75, of 1019 Negley St., who is listed as a sex offender on the Megan's Law website for a 2017 conviction of indecent assault, said he gave up all his bad habits.
"I just gave the child a stuffed animal and they just assumed something nasty," Zimmerman said. "I've been looked at like a scumbag, and it really hurts."
Wallace asked Zimmerman if he had to tell him what is going to happen if he violates parole.
"It's really hard when a kid comes up to you and asks you the time. It's hard to snub them, but I will," Zimmerman said. "I really enjoy being nice to children, but I'll have to change my lifestyle."
Zimmerman's sister, Shirley Zimmerman, testified at the sentencing hearing.
She said she has been monitoring her brother's legal and medical activities.
"I've been working diligently with him to clarify and answer questions," she said. "I told him if anyone underage comes his way, he's to turn and go the other way."
Wallace sentenced him to one to two years house arrest followed by five years probation.
According to court records, two girls were playing April 25, 2018, in the front yard of their home in the 1300 block of Farrell Terrace in Farrell when Zimmerman allegedly tried to coax the younger one into his 1991 Chevrolet pickup.
The 9-year-old said that she saw Zimmerman wave the toddler toward his truck, according to the report. The 3-year-old started walking toward Zimmerman, but the older girl physically stopped her. Zimmerman then threw a stuffed animal at the girls and drove away when an adult yelled for them to come to the house, police said.
Zimmerman was arrested the next day and taken to Mercer County Jail after police posted a warning on social media asking the community to be on the lookout for a suspicious person approaching children in Farrell neighborhoods.
Zimmerman was released from jail May 16, 2018, following his preliminary hearing before District Judge Mary A. Odem.
In January 2017, Zimmerman pleaded guilty to indecent assault in a separate case and a charge of indecent assault of a person younger than 16 was dropped. He was sentenced on April 27, 2017, to 2 months to 2 years less one day house arrest with work release privileges. He successfully completed the program on June 27, 2017, according to court records.
Zimmerman has been listed on the Pennsylvania State Police Megan's Law sex offender website as a Tier 1 offender since May 2017.
Follow Melissa Klaric on Twitter and Facebook @HeraldKlaric, email: mklaric@sharonherald.com