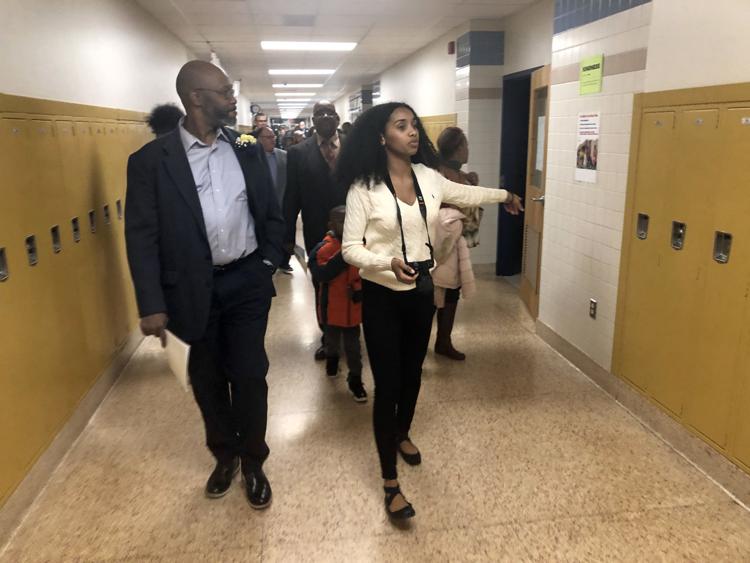 FARRELL — On the evening it dedicated its newly renovated high school and elementary school, Farrell Area School District put its best look forward, in the form of its students.
Student ambassadors — members of the school band and National Honor Society, and players from its repeat state champion football team, some wearing their two PIAA gold medals — greeted guests for Sunday's ceremony and led tours that highlighted the results of $9.16 million in renovations at the two schools.
The project, which took 18 months, included installation of air conditioning, replacement of wall and ceiling panels, technological upgrades and creation of a STEAM lab — an acronym that refers to science, technology, engineering, arts and mathematics.
"There's certainly a lot more possibility," said Farrell senior Kyra Crosby, one of the student ambassadors who led tours of the upgraded school. "I don't feel like we're behind other schools any more. I almost feel ahead of them."
The principals, Matthew Fowler at the high school and Japraunika Wright at the elementary school, cut ribbons to open tours of the renovated buildings.
The project also included the installation of LED lighting, which will use a fraction of the electricity of the fixtures it replaced. Farrell Superintendent Dr. Lora Adams-King said the lights are already paying for themselves.
During the dedication ceremony, Adams-King said the project, including elements like the air conditioning, fulfill a district objective to provide an "environment conducive to learning."
"When temperatures are 100-110 degrees in the building, that isn't an environment conducive to learning," she said.
While Adams-King recognized the Steelers' back-to-back state football championships, she said Farrell is about more than great football players.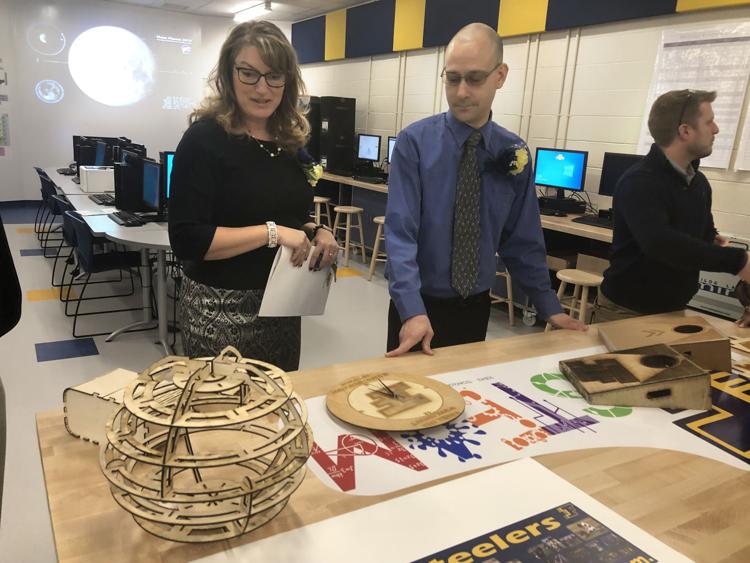 "We're known for our athletics, but we're known for so much more," she said. "We're known for the arts ... we're known for science."
In addition to Adams-King, Mercer County Commissioner Matt McConnell, state Rep. Mark Longietti (D-7, Hermitage), Julie Slomski of Gov. Tom Wolf's office, Vince Ordinario of the HHSDR architectural firm, district supervisor for curriculum and instruction Nichole Columbus, and Fowler and Wright all spoke during the ceremony.
Farrell sophomore Anthony Stallworth said the technological improvement was noticeable since the renovations were completed. Before the work, the computers would crash on a regular basis.
Now, armed with new devices and WiFi hot spots, Stallworth — who, like other Steelers football players, wore championship medals for the ceremonies — said the technology is more reliable. The students also have Google Chromebooks to use in classes, and Adams-King said the technology is supplementing written texts.
Strickland said the STEAM lab includes state-of-the-art equipment for engraving and precision cutting. In preparing for Sunday's ceremony, teachers made decals reading "Farrell Area School District Building Dedication" for the event.
Tai'Don Strickland, another sophomore and a Farrell football teammate of Stallworth, agreed.
"It was alright before," Strickland said. "Now, things are much better. We can feel good about going to class."
Adams-King said catching up and surpassing other schools was a goal of the renovation project.
"That was one of the main things about the project," she said. "We wanted to make sure that every Farrell has the same opportunities that anyone else has."