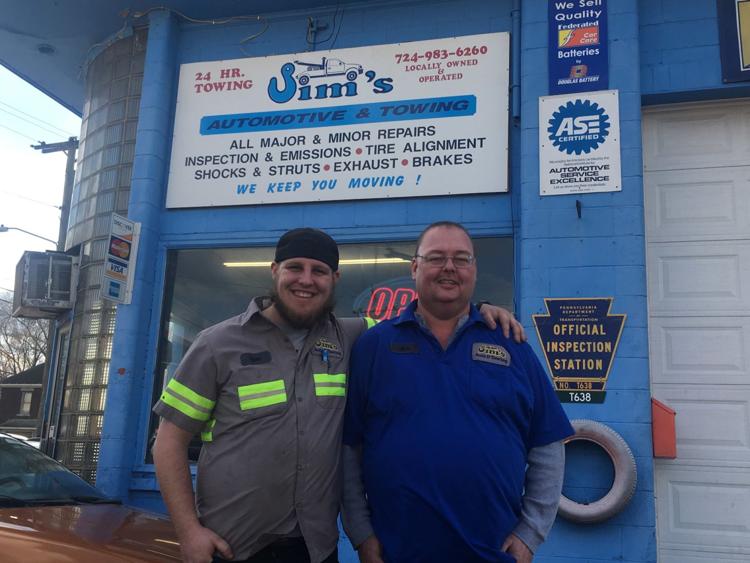 FARRELL — While the sign "Jim's Automotive and Towing" refers to the owner Jim Moore, there's actually two Moores involved in the Farrell business.
Often found at the front desk, Jim, 48, has been involved in the automotive business since he was 18, when he worked afternoons while attending high school. His son Tyler Moore, 23, had a much earlier start — about the time that Tyler was three years old, Jim said.
"He used to get model cars and things when he was little, and he was always taking them apart, or you'd find cars with the wheels missing," Jim said.
Jim attended Rosedale Technical College in the late '80s and worked as a district manager for about four or five years for Monro Muffler, then bought the BP on Division Street in Farrell. He was at the BP for several years, then took over what used to be Hardesty's Towing about 20 years ago, which is where Jim's Automotive and Towing is located today.
Tyler graduated from Hickory High School in 2014 and graduated from Rosedale Technical College in 2015. However, Tyler's informal training began when his father was at the BP, when he would watch people work and sometimes go out on rides when his father had to tow a vehicle.
That helped to prepare for those calls that can sometimes come in the middle of the night or early in the morning, Tyler said.
"You'd wake up, go out, get back, go back to sleep, and it'd be like nothing ever happened," Tyler said.
There have been changes to the automotive field since Jim started, with technology and the integration of computers and sensors into different aspects of the vehicles being the most major change.
"It used to be that if someone needed their brakes fixed, you could just collapse the calipers, but now there are electronic sensors programmed for each brake," Jim said.
Though Tyler grew up around technology more so than his father, he said there are still classes offered about every six months that help instruct mechanics on new parts or technologies, which he tries to keep abreast of.
"As long as I can learn something new, then it hasn't been a day wasted," Tyler said.
While Jim said he is proud of being able to keep the business in the family and has many fond memories of seeing his son grow into it, there are some unpleasant sides to the business — such as having to remove cars from the scene of a fatal accident.
"Sometimes the car or the vehicle might be here for a few days until a family member can come and clean out their personal effects," Jim said. "Anyone who says that stuff doesn't bother them is lying."
However, there is one lesson Jim learned over the years that he said was important to the business, and a relatively simple one — treat others the way they would want to be treated, such as offering someone a ride home after their vehicle has been totaled.
"If you look out at the lot, you'll see it's full of cars, so you can tell people do care about how you treat them," Jim said.
He doesn't work as much in the shop anymore and sometimes goes out on towing calls, but Jim said as time goes on he'll focus more on the administrative duties as he steps away, eventually becoming a full-time grandfather — Tyler and his wife are expecting a child next year.
Tyler also has a one-year-old nephew, increasing the chances that the Moore tradition will continue into the future.
"It'd be great to be able to keep the family tradition going," Tyler said.
Like David L. Dye on Facebook or email him at ddye@sharonherald.com.