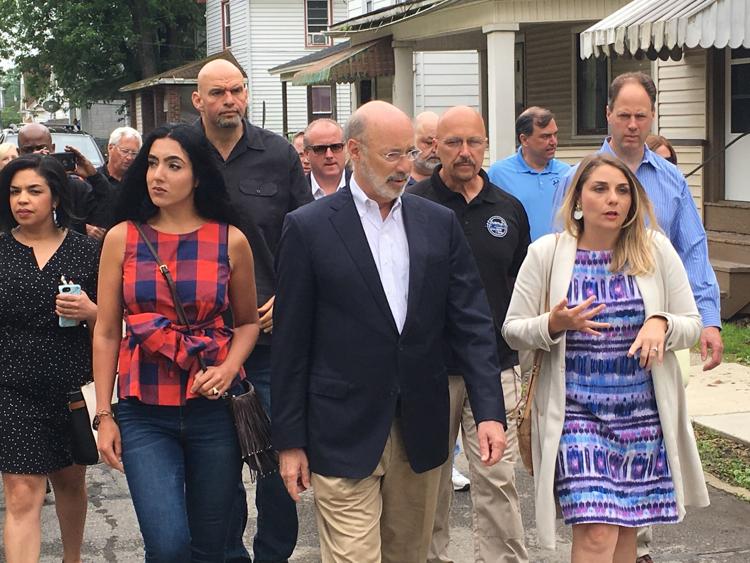 SHARON – Since becoming Sharon's community and economic development director last year, Melissa Phillips has taken plenty of walks along the neighborhood along North Sharpsville Avenue and East Silver Street.
But there were a few more people along for the walk Thursday.
"We'll come here in onesies and twosies," Phillips said during the tour, which featured some of the blighted properties targeted for demolition. "But not in a group of 25 people."
That group included Gov. Tom Wolf and Lt. Gov. John Fetterman, who swung through western Pennsylvania to promote the administration's Restore Pennsylvania proposal, which was introduced Wednesday to the state legislature. The centerpiece of Wolf's plan is the introduction of a severance tax on natural gas extraction, including shale gas, in the state.
Pennsylvania is the only state in the nation's shale gas region that does not now levy a severance tax. Instead, it collects an impact fee, which generates about $190 million a year for state programs including road projects.
Under Restore Pennsylvania, Wolf plans on issuing more than $4 billion in bonds and repaying the debt over 20 years with funding from the severance tax. The governor said he expects the tax to generate $300 million a year, on top of the impact fee.
In a press conference Thursday in front of a condemned house at Silver Street and First Avenue, Wolf said funding through Restore Pennsylvania could help Sharon address its blight issue.
"We don't need more ideas," Wolf said. "You've got ideas. What you need are the dollars."
Restore Pennsylvania would cover eight categories, at least half of which hit close to home in Mercer County.
With Phillips and Sharon Code Enforcement Officer Dave Tomko on the governor's walking tour, much of the discussion focused on blight remediation, a program that would have assistance through Restore Pennsylvania. But the program's flood prevention measures also came up, after flooding ravaged northern Mercer County Wednesday night.
"I can't tell you how many flooded areas there are throughout Pennsylvania," Wolf said. "And a lot of the flooding is preventable."
Wolf also touted the possibility that Restore Pennsylvania money could fund rural broadband expansion, brownfield cleanup projects and investment in natural gas-related downstream businesses including plastic manufacturing, all of which could have an impact in Mercer County.
Restore Pennsylvania funding also would be targeted toward green infrastructure, transportation projects and business development and energy infrastructure, under the proposal introduced Wednesday in the legislature.
State Rep. Mark Longietti, D-7, Hermitage, endorsed Restore Pennsylvania Thursday, as did Democratic Mercer County Commissioner Tim McGonigle.
Wolf said the measure has bipartisan support, with 99 co-sponsors in the state House and 25 in the state Senate. Those figures are just short of majorities in both Republican-controlled houses of Pennsylvania's state legislature.
"Whether you're Republican or Democrat, conservative or liberal, we need this," Wolf said. "This isn't a political issue. This is a facts on the ground issue."
State Rep. Tedd Nesbit, R-8th, Grove City, went along on the walk and said he wasn't totally sold on Restore Pennsylvania, but plans to approach the subject with an open mind.
Nesbit said he was opposed to a severance tax but was open to discussions on a total reform of the state's tax structure.
"The devil's in the details," he said. "I'm glad he's offered some creative solutions."
Mercer County Commissioner Scott Boyd, a Republican, said he appreciated the governor for visiting the county, but he expressed reservations about the Restore Pennsylvania legislation.
"I still have my concerns about how the money is spent," Boyd said. "I want to be a good host, so I won't say anything else."
Opposition to Restore Pennsylvania centers on concerns that a severance tax might negatively impact the state's shale gas industry. The Marcellus Shale Coalition, an alliance of shale gas-related businesses, called Wolf's proposal a "gut punch" to the industry and employment in affiliated industries, and predicted a severance tax would increase energy costs in a statement released Thursday.
Wolf conceded that a "punitive tax" would hurt the shale gas business, but he denied that Restore Pennsylvania's provisions would qualify as punitive. The governor said the proposed severance tax would, if passed, still generate less money that the levies in other states, including Texas.
"If it were that bad an idea, none of the other states would do it," he said.
Restore Pennsylvania also includes funding for natural gas infrastructure, including pipelines, Wolf said.
Fetterman said Restore Pennsylvania provides a way to benefit people across the state, rural and urban residents alike, as he gestured to the rundown house behind him.
"An abandoned home looks the same in red county as it does in a blue county," he said, referring to the political party color codes. "Gov. Wolf is proposing a 67-county solution."
Follow Eric Poole on Facebook or Twitter @HeraldEricPoole. Email him at epoole@sharonherald.com