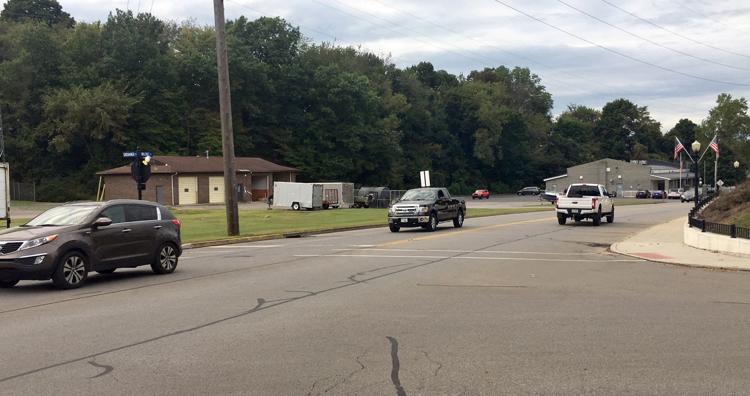 SHARPSVILLE — Sharpsville-area residents may have a new place to fill up the tank sometime early next year.
The property at 139 N. Walnut St., Sharpsville, which is a former car wash and an empty parking lot, will be the site of a 67,000-square-foot gas station, which Judah Wernick of AMS Energy Ventures said is expected to be in business within six months.
"We're sort of looking forward a bit, and no one is doing what we're going to be doing," Wernick said.
Sharpsville has been without a gas station of its own since Country Fair closed its doors last year. That site was later purchased and was renovated this summer into a Dairy Queen.
However, when the gas station opens for business next year, some customers won't even have to get out of their car to get gas.
In a system that Wernick compared to E-ZPass tolls that scan cars instead of making them stop and pay, customers can set up their information ahead of time online or through an app, so when their vehicle enters the gas station, a system will scan the vehicle and an employee will pump the gas. The customer will later be billed on their credit card, although customers can also pay with cash or cards like at a regular gas station if they prefer, Wernick said.
"We're anticipating a new generation of people that are into these apps who are trying to get gas on their way to work or on their way home at night, and they're tired and don't want to get out of the car and they want it fast," he said.
Unlike most gas stations, where a 25,000-gallon tank is located underground, AMS' gas station will feature an above-ground 10,000-gallon tank. A normal gas station may take six to nine months in ground preparation and construction, but an above-ground tank only requires two to three days of ground preparation and can be easily installed once the tank is delivered, Wernick said.
"Within seven hours you can be pumping gas, and it costs a tenth of what it costs for a regular gas station," Wernick said.
AMS is the first in the state to be approved to use an above-ground tank for retail purposes, he said. While the decreased cost in construction is expected to allow gas to be sold cheaper, the method also helps avoid potential environmental issues such as underground gas tank leaks.
Since the tank will be located above-ground, safety is also a major factor, which Wernick said is part of receiving the approval from the state.
"Even if you took an 18-wheeler and rammed this thing, it wouldn't blow up," Wernick said.
Though AMS is still in the process of finding a partner, a store or business of some kind is expected to accompany the gas pumps, such as a convenience store or pharmacy. This would allow customers a chance to buy something quick, such as a drink or food while they're getting gas, or a provide a place for local residents to buy staples such as bread, a need that was left unfulfilled since the closure of Country Fair, Wernick said.
"We want to find out what the people want and what they're looking for, whether that's milk, eggs, bread, cigarettes, Bounty towels, or beer," he said.
It is expected that there will be five to 10 people employed once the gas station opens for business, with four pumps allowing four cars to be serviced at a time. Though the building will not be staffed 24/7, Wernick said the pumps would be available 24/7.
Wernick said AMS would be looking to reach out to the local Sharpsville community to receive more feedback moving forward, but already credited borough officials with being supportive of the project, particularly Sharpsville Borough Manager Ken Robertson.
"He has been so supportive and helpful, and the whole borough has been just great," Wernick said.
With 22,000 cars traveling on Walnut Street through Sharpsville every day, Robertson said the location would be an ideal location for a gas station, and said he looked forward to working with AMS in the future.
"They've been very mindful of Sharpsville being a small community, and we're looking forward to having them as business partners," Robertson said.
Like David L. Dye on Facebook or email him at ddye@sharonherald.com.