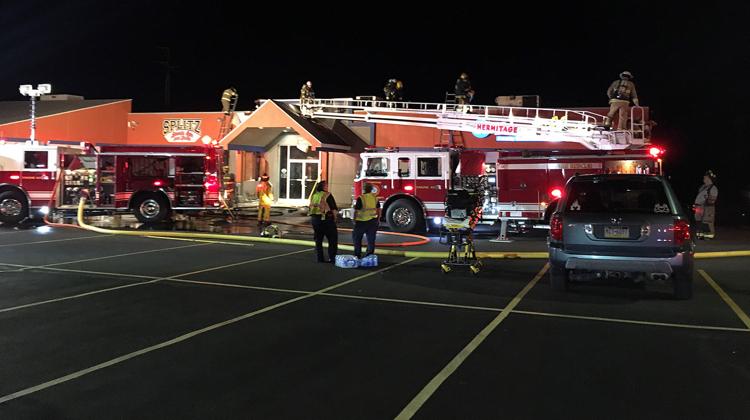 HERMITAGE — Business at 10 Pin Alley in Hermitage came to an early end Thursday evening when a fire broke out and forced those inside to evacuate.
The Hermitage Volunteer Fire Department was dispatched to the bowling alley at 8:37 p.m. Thursday for a reported fire that started in the walls at the front of the building. Since there were reports of smoke coming through the ceiling lights, Hermitage Fire Chief John Flynn said firefighters originally thought the fire was in the ceiling.
As firefighters got on the roof and began to open the ceiling, Flynn said they found the fire was mostly in the wall and was working up toward the ceiling. However, by opening the ceiling and a portion of the wall, firefighters were able to attack the fire and prevent it from spreading to the rest of the building, Flynn said.
The fire was extinguished, and first responders began clearing the scene after 9 p.m.
Firefighters were able to respond to the scene before the fire got out of hand both because the business was still open and there were people inside, and because the business had a monitored alarm system that alerted first responders as soon as the fire was detected, Flynn said.
"We're going to stay and help get the alarm set up again for their peace of mind," Flynn said.
Also responding were fire departments from Patagonia, Sharon, Sharpsville, Farrell and Jefferson, as well as Elite EMS. West Middlesex and Shenango Township fire departments were placed on standby, Flynn said.
Though he could not say how many, Flynn said there were people inside bowling when the fire was first reported. However, no one experienced any injuries or smoke inhalation as a result of the fire.
"They did a real good job of evacuating and getting everybody outside," Flynn said.
Flynn said 10 Pin Alley is insured and crews would begin the process of clearing the smoke from the building, though it could be at least a day before the building would be back in business.
The cause of the fire is still under investigation, but the fire did not appear to be suspicious as of Thursday evening, Flynn said.
Like David L. Dye on Facebook or email him at ddye@sharonherald.com.