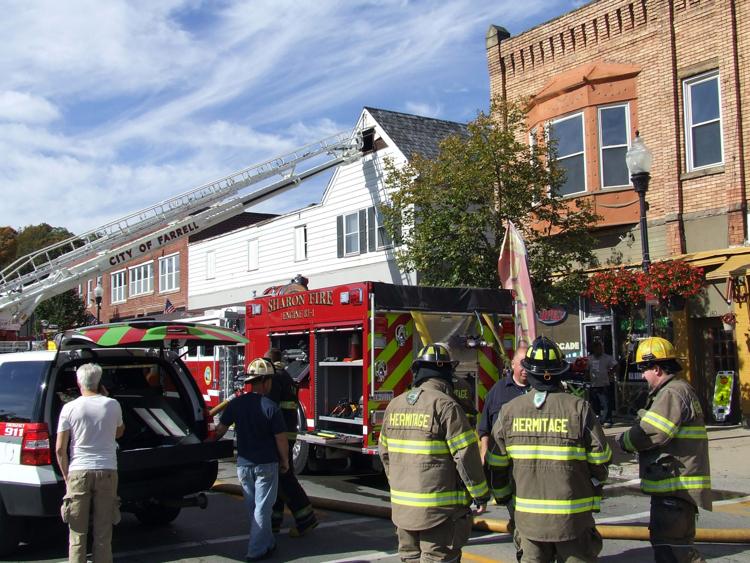 SHARON – A portion of downtown Sharon was closed to traffic Saturday afternoon as multiple departments responded to an apartment fire.
The fire at 148 W. State St., Sharon, began in a bedroom on the second floor of the building. The wbuilding contained eight apartments and 12 residents, with only one apartment needing to be evacuated by the time the first responders arrived, said Sharon fire Chief Bob Fiscus.
"When we arrived on scene there was a lot of heavy, black smoke," Fiscus said.
Responding agencies included fire departments from Sharon, Farrell, Hermitage and Patagonia, with Sharpsville on standby and the Sharon Police Department. The critical animal rescue team was called to take care of three cats, according to Mercer County 911.
Traffic on West State Street was temporarily interrupted while first responders dealt with the fire, which Fiscus said the firefighters were able to extinguish relatively quickly.
While there was fire damage to the initial apartment, there was smoke and water damage throughout the building and that the 12 residents would be displaced. The Red Cross is assisting them, Fiscus said.
"There was one resident who was transported for minor injuries, and there was another resident who had a burned hand," Fiscus said.
The cause of the fire is under investigation, but Fiscus said it was too early as of Saturday afternoon to comment on whether it seemed to be suspicious. First responders were preparing to clear the scene around 2:30 p.m.
The wood-frame building was built around and onto two houses that date as early as the 1860s or 1870s, according to the Sharon Historical Society. Since the early 1900s, the building has been used as a hotel, restaurants, lunchrooms, and businesses, but is currently used for apartments.