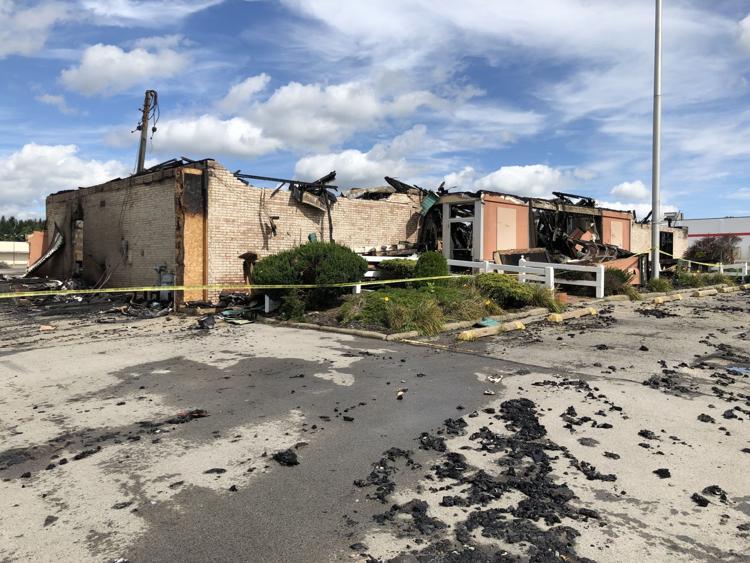 HEMPFIELD TOWNSHIP – Fire early Saturday morning gutted the former Perkins restaurant in Hempfield Township, which had just reopened under a new name and ownership.
"The building is a total loss," Chief David King of Hempfield Township Volunteer Fire Department said Saturday. "Only the brick walls are standing, but that's it. It's completely down."
The restaurant, at 100 Hadley Road, about a mile east of Greenville, was just converted about two weeks ago into the independent Mama Jane's Eatery
"We don't have a cause. It's undetermined at this time," King said. "I don't believe there's any foul play. It's still under investigation."
The restaurant had closed for the night at 10 p.m. Friday and the last employee left at 11:15 p.m., the chief said. The fire department was dispatched at 1:26 a.m. Saturday after a passing motorist saw flames coming off the roof and called Mercer County 911.
"We're not sure if it was a lightning strike," King said of the origin of the fire. "We've got a Pennsylvania State Police fire marshal coming to look at the cause."
Thunderstorms passed through the Greenville region between 11 p.m. Friday and 2 a.m. Saturday.
It appears the fire started near the center of the roof above the restaurant's kitchen area, King said.
"We saw smoke and fire coming out of the building on the roof ... above the kitchen area," he said. "We saw noticeable fire and within minutes the whole roof lit up."
With about 50 firefighters on the scene, King set up three aerial trucks and fought the fire from the outside.
"When a roof lights up first, it's just too dangerous for us to go in," King said. "It's just not worth it risking the lives of firemen."
The Hempfield department was assisted by firefighters from Greenville, West Salem Township, Jamestown, Transfer, South Pymatuning Township, Clark, Fredonia, Sheakleyville and Mercer East End and from Fallowfield and Greenwood Township in Crawford County.
"The area has hydrants, so we had no problems with a water supply, we just needed the manpower," King said. There were no injuries, King said. Firefighters were on scene until about 7 a.m. Saturday.
King estimates the damage to be between $300,000 to $500,000. Both King and Paula Webster of Mercer, the owner of Mama Jane's Eatery, said the business is insured.