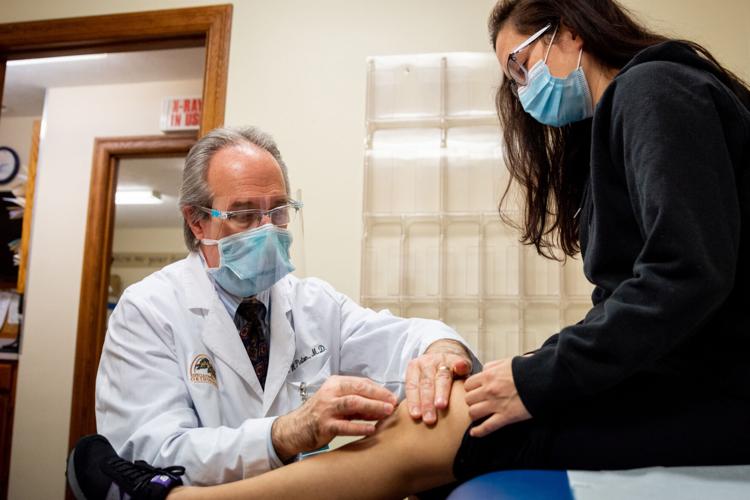 HERMITAGE — Dr. Robert Piston has been regionally recognized for his work with Specialty Orthopaedics in Hermitage as an orthopedic physician and surgeon, but his career started by caring for lawns.
Now 61, the Hermitage resident grew up in Philadelphia, where he and his current CEO, Michael Jacobs, ran a business cutting people's lawns when the two weren't in school.
Dr. Piston sought after a particularly big job, the large lawn outside Philadelphia Shriners Hospitals for Children, and asked about cutting the grass. Instead, he learned that the hospital needed orderlies to help with tasks such as making beds or emptying bed pans. Piston accepted the job.
For the next seven years, Dr. Piston's tasks at the hospital expanded from making beds to helping in the operating room, which included sterilizing instruments and handing them to the surgeons.
This experience ultimately encouraged Piston to pursue a career in the medical field.
"I do believe in God very much, and I believe God placed me there as a young man," Dr. Piston said.
Piston has received a bronze-level Performer of Excellence Award from Quality Insights, a West Virginia-based non-profit company that works toward improving health care and recognizing high-performing providers.
Doctors in New Jersey, Pennsylvania, Delaware, or West Virginia are eligible for the award. Dr. Piston is among 20 doctors in the fourstate area to be honored.
The award is a crowning achievement in a career that began in an unlikely manner.
After his work as an orderly at the Shriners Hospital Dr. Piston, graduated with honors from Temple University Medical School in 1985, then did residencies with Temple University Albert Einstein Medical Center for four years of orthopedic surgery and one year of general surgery.
VIDEO: Dr. Robert Piston discusses his experiences as an orthopedic physician and surgeon in Hermitage at Specialty Orthopaedics.
After that, Dr. Piston also attended Thomas Jefferson University in Philadelphia for a fellowship in hand and microsurgery and a second fellowship in Arlington, Va., for total joint replacement, focusing on knee and hip replacements that ended in 1992.
With a father who was a high school shop teacher and a pattern maker, Dr. Piston was accustomed to working with his hands and enjoyed learning how to perform any joint replacement, except for ankles.
"I did a rotation in hand surgery and fell in love with it, the science and mechanics of how joints work," he said.
Piston met and married Dr. Kathy Piston, who was from the Pittsburgh area. That brought him to western Pennsylvania.
Dr. Robert Piston's career in the Shenango Valley began in August 1992, when he joined surgeon Dr. Ernest Swanson for about a year and a half before starting his own practice, Specialty Orthopaedics, in Hermitage.
While patients often express appreciation at this accessibility, Dr. Piston said he and his wife also wanted to give back to their patients, so he established the annual "Race at Pistons Place," a 5K in the area around Specialty Orthopaedics on Highland Road.
Last year's event was cancelled due to the COVID-19 pandemic, the event has been held for the past 16 or 17 years and has raised about $200,000 in donations to local organizations, he said.
The latest race raised about $5,000 each for the Hermitage fire and police departments, while other races have benefitted a backpack program for kids, Animal Appeal, and a concussion testing program at Kennedy Catholic Family of Schools.
Those who participate receive catered food, collectible T-shirts and can win prizes donated by businesses. In 2019, about 150 people ran in the race while 300 people attended the event overall, Dr. Piston said.
Though doctors may default to sending a patient to Pittsburgh depending on the severity or complexity of a patient's injury, Dr. Piston said he wanted to become a specialist in multiple areas so that patients wouldn't have to leave their hometown for treatment.
Dr. Piston said this desire to meet patients where they're most comfortable pushed him to work at multiple hospitals instead of attaching himself to just one location. He is on staff at four local hospitals — Sharon Regional Medical Center, UPMC Horizon, AHN Grove City and Edgewood Surgical Hospital.
While it can get busy being on call at four different hospitals, Dr. Piston said patients appreciate the flexibility in choosing between locations.
He said the Performer of Excellence award is satisfying, but not as much as the satisfaction that comes from the work that helped him win that honor.
"You have to love it because it is very time-consuming, but there's the personal reward of seeing someone ... being able to get better and have a better quality of life," he said. "I love what I do."
Like David L. Dye on Facebook or email him at ddye@sharonherald.com.