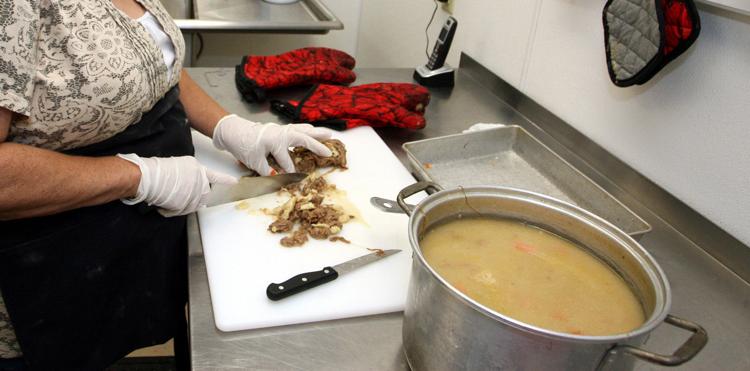 HARRISBURG — A move to require increased safe-food handling for managers in restaurants has the proprietors of some small eateries worried about how they will be able to comply.
Under the state food code, restaurants will need to have someone on-site at all times who is designated as the person-in-charge and has taken a safe food handling manager course, under changes to the state food code. The Department of Agriculture has warned restaurants that the change could take effect in 2020, but due to the time required to update the regulations, industry officials said the change likely won't be in place until 2021.
Under current law, a restaurant's person-in-charge merely has to be available to be summoned if a food inspector shows up, but doesn't necessarily have to be at the restaurant during all open hours.
The change is so going to create a challenge for small eateries with few employees or those that rely heavily on teens and college students, some restaurant operators said.
"It's going to be horrendous," said Shannon Shipton, who with her husband Charles, operates Dor-Day Subs, a third-generation sub shop in Lewisburg, Union County.
"We're not newbies," Shannon Shipton said, noting that the sub shop was originally opened by her grandparents, Dorothy and Dale Harpster.
The business now has three employees. To comply with the law, both Shannon and Charles will have to take the manager training, then one of them will have to be at the restaurant whenever it's open, she said.
"It's a lot," she said.
It's also a manpower problem for people like Christopher Miller, who owns an ice cream stand named after the family cat, Jones, on U.S. Route 62 west of Mercer.
His shop is only open in the summer and as a seasonal business, his employees are all teenagers and college students. To comply with the new regulation, Miller said he's getting his 14- and 15-year-old daughters the training so they can serve as the person-in-charge if a food inspector shows up and he's not at the ice cream shop.
"It's going to shred my family," because they'll never be able to all be away from the ice cream shop while it's open, Miller said.
The regulation is the type of move "that bureaucrats take because they haven't thought things through or they don't care," Miller said.
House Agriculture Committee chairman state Rep. Martin Causer, R-McKean County, said he's surprised he hasn't heard more complaints from restaurant owners about the regulation change.
"Food safety is something we all take very seriously," he said. "I am concerned about the impact this is going to have on small, mom-and-pop businesses."
Senate Agriculture Committee chairman Sen. Elder Vogel, R-Beaver County, expressed a similar view.
"Food safety is not an issue to be taken lightly," Vogel said. "However, any time we place additional requirements on businesses owners it is important to ask questions. While this appears to be directed by the Federal Government, my office works closely with the Department of Agriculture on regulatory issues and will continue to do so in this case."
The issue has largely flown under-the-radar because the state is just following regulations set in the federal Food and Drug Administration's Food Code, Causer said. The state in 2010 passed a law that said that the state Food Code would just mirror the federal regulations, he said.
The state Department of Agriculture sent a notice to restaurant operators in February 2018 to give them adequate time to prepare for the new regulation, said Emily Demsey, a spokeswoman for the agency.
The state "expects this new regulatory requirement to take effect later in 2020," Demsey said.
The rule change impacts all eateries that sell food that must be refrigerated or must be kept hot to maintain its food safety. Food manufacturing facilities and restaurants managed by non-profits are exempt, according to the state regulations.
Demsey said the state plans to keep those exemptions in place.
While the state is warning restaurants that the regulation will be enforced beginning next year, officials at the Pennsylvania Restaurant and Lodging Association and the Penn State Cooperative Extension both said they've been told by Agriculture Department officials that it could be 2021 before the new takes effect.
Demsey said that typically after new regulations are approved, there's a six-month to one-year window before they take effect. The regulations for the change to the food code have not been drafted yet, she said.
While some small restaurant operators are unhappy with the change, the Restaurant and Lodging Association supports the move.
"As for PRLA, we are in a unique position, because we actually offer the ServSafe product," one of the food-safety classes offered to satisfy the training requirement, said Melissa Bova, vice president of government affairs for the Restaurant and Lodging Association.
"There will likely be a cost — something we are very sensitive to in an industry that has such slim margins, but it is also hard to argue against the need for food safety in an establishment that serves the public," Bova said.
Descriptions of courses offered by the restaurant association and the Cooperative Extension show that the training runs about $145 to $185 per class, depending on whether the student buys a book, and whether the class and test are taken in-person or online.
The restaurant association had originally lobbied for the state to adopt a regulation that would require that a food-safety trained manager be present all times a restaurant is open, Bova said.
"So this federal change actually reflects our longstanding position as it pertains to food safety," she said.