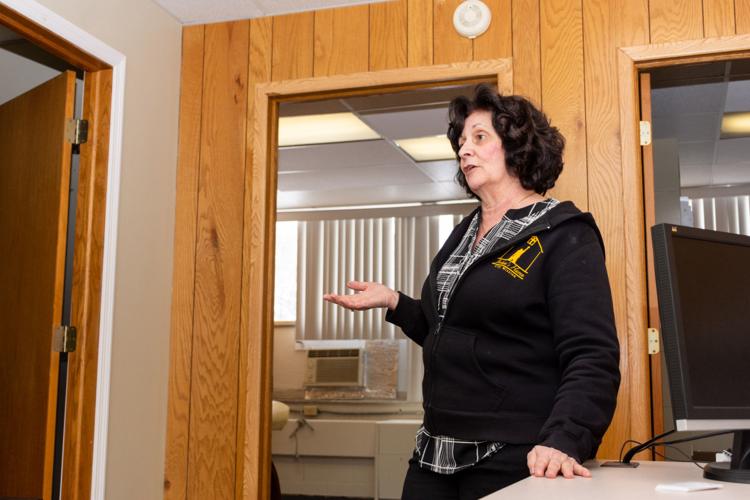 SHARON – Dr. Aaron Listopad had been looking for a vehicle to help him open a free clinic for years. Pastor Sherry Masotto Swetz had the vehicle and was looking for someone to drive.
Four years ago is when Joshua's Haven City Mission moved to its location at 1230 Stambaugh Ave., which had been the former St. Anthony's School and later the Keystone Blind Association.
And that's when Swetz knew that her vision for a free clinic could become a reality.
"Once I met Sherry and saw this I said, 'There's the vehicle' and I said, 'I've got the manpower,'" Listopad said.
On Thursday, Swetz' and Listopad's dreams are coming true.
"Within a year after we moved in, we started the clinic, but only to the men here," Swetz said. "But now, we're taking it to the next level. We're opening up all these resources to the community at large to meet the needs, not just of our people, but of everyone."
The free community clinic is opening for the first time from 2 to 4 p.m. Thursday for a dedication and open house.
The clinic will open to patients Feb. 18 and, after that, it will be open to the community from 1 to 5 p.m. Tuesdays. Swetz said that if they find there is a greater need, the clinic will be open more days during the week.
The free clinic is open to those who are uninsured. A feasibility study showed that 7,000 people in Mercer County were without health care in 2016, Swetz said.
"Our purpose is to provide primary care," Listopad said. "If you have high blood pressure, diabetes or issues that need continual management, not just somebody who has a cold or sore throat – we'll service those people too. But we want to be able to maintain their long-term health."
Listopad said the operation is going to be sophisticated.
"This will be their home," he said. "This will be their doctor."
The space on the lower floor dedicated to the clinic includes a lobby, two exam rooms, a nurse's station, a laboratory, a conference room and storage room. In the future, a pharmacy will be opening adjacent to the lobby, Listopad said.
"When we came in, they had one exam room. We made two," Swetz said. "Then, Dr. (Listopad) and UPMC and other doctors started donating stuff, and everything you see has been donated."
Joshua's Haven and the free clinic operate solely on private donations and private grants.
Listopad is the medical director, and the clinic has partnered with UPMC Horizon Family Practice Residents Program. Everyone working in the clinic, including 12 medical doctor residents and five instructors on staff, are volunteers.
"When we connected, we saw we could do it together," Swetz said.
And Swetz said there is room to grow.
"For the last three years, our men who come into the rescue mission, they get a free physical whether they have insurance or not," Swetz said. "But now, we're taking this to the next level because now we have the resources here, why not serve more people in the community who have the need?"
Listopad and Swetz stressed that the clinic is not meant to be competition for private doctors or the emergency room.
"We're here to serve the uninsured, not the people with private or government insurance. If they're already insured, they don't need us," Swetz said. "But there are still people falling through the cracks."