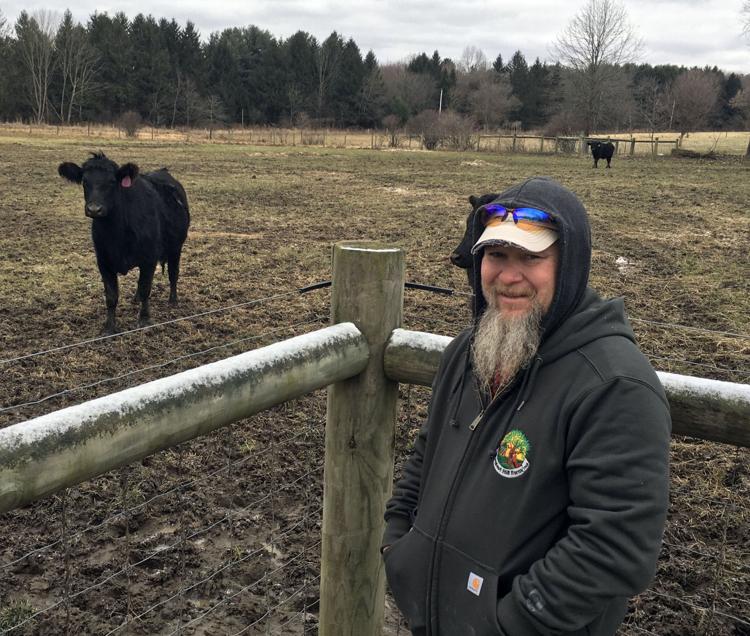 SOUTH PYMATUNING TOWNSHIP – In a very real way, Michael Kovach's field work experience in the Army is helping him tend the fields on his farm.
Kovach, who served from 1991 to 1999 in the Army Reserve, the veteran runs a 107-acre farm in South Pymatuning Township with cattle, hogs, some poultry and crops, such as berries, that can be plucked from the field.
While in the Army, Kovach said he was never deployed to a combat zone. But there were unexpected experiences.
"The Army sent me to Haiti in 1995 when they were having their first free election,'' he said. "If you ever spend time in Haiti you'll understand what real poverty is.''
As a soldier and now veteran, Kovach is part of a community. As a farmer, he also is part of a community.
And the two communities overlap.
After starting his career as a farmer, Kovach heard about the Farmer Veteran Coalition, which advocates for those who served and are involved in the agriculture industry.
Like Kovach's military career, his path to agriculture took lots of twists and turns. Kovach joined the Army Reserves while in college and stuck with it.
His duties in uniform that dealt with psychological operations, known as PSYOPs in military lingo. These units aren't necessarily secret, but they work behind the scenes in military operations.
In the past, psychological operations units would hang posters or plaster graffiti in countries where the United States was looking to undermine the existing government, while making it appear as if the protests came from the population.
"I never got to do things like that," Kovach said. "My job was very much about gathering intelligence of what was going on in an area.''
Those skills came into play in his deployment to Haiti. The nation's government was known to be plagued by corruption, he said, so he was among troops assigned to ensure that the country's first free election was fair.
"We did things like making sure there were guards where the ballot boxes were located,'' Kovach said.
After his time in the Army Reserves Kovach said he kicked around in a couple of jobs. He graduated from Clarion University with a bachelor's degree in Earth science and geology.
For a time, Kovach worked in the oil and gas industry finding pockets of natural gas.
"I couldn't imagine myself being in a laboratory wearing a lab coat,'' he said.
But geological field work didn't suit him either. Kovach found himself being drawn to farming.
His connection to agriculture was, at best, meager. Nobody in his family had ever worked in agriculture.
"I always liked gardening,'' Kovach said. "I thought it was pretty cool.''
As a farmer, Kovach quickly found his military training came in handy.
"Things have to be done when things have to be done,'' he said. "You can't feed livestock just when it's convenient to you.''
Kovach's military experience and inclination to activism — he's vice president of the state Farmers' Union — brought him into connection with the coalition.
It's been a good fit, he said, because membership in the coalition gives Kovach connections to the only people who can fully understand his experiences, both as a veteran and a farmer.
This week, Kovach is seeing some of his fellow Farmer Veteran Coalition comrades in Harrisburg at the Pennsylvania Farm Show.
"We really enjoy being together,'' he said.