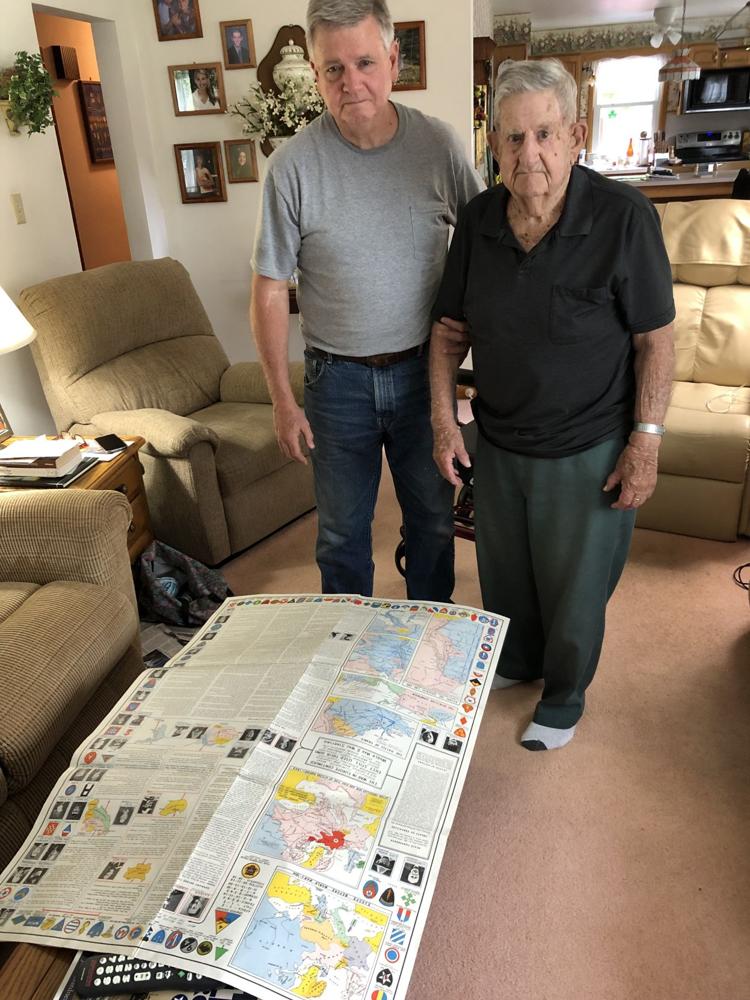 GROVE CITY — Even now, 75 years after he climbed off the deck of a British Navy ship, down a cargo rope ladder and onto the landing craft that would ferry him onto the beach at Normandy, Glenn McCarl remembers how he felt.
After waiting for a year, through training, and for a week as other soldiers battled their way along the Normandy beachhead, McCarl was more than ready to arrive in France and get about the business of killing Germans.
"Everyone was excited and had their own thoughts," said McCarl, who was 21 years old at the time. "I was really hostile, I think."
McCarl, 96, of Grove City, landed on Omaha Beach on June 13, 1944, D-Day plus seven. While the Allied landing forces, primarily from the United States, Great Britain and Canada had succeeded a week earlier in enough of their objectives to establish a beachhead to launch operations and breached Hitler's Festung Europa — Fortress Europe — there was still plenty of fighting to be done.
The Germans were still trying to annihilate the Allied forces, an outcome that was increasingly unlikely every day, as thousands of soldiers arrived from England across the English Channel each day. When McCarl arrived on Omaha Beach, one week after D-Day, he was part of an army consisting of 326,547 troops to land in France after June 7.
McCarl was assigned to the Army's 120th Infantry Regiment, part of the 30th Infantry Division as a replacement for other soldiers previously killed or wounded in the operation. During the Normandy battle, most U.S. infantry divisions had between 10,000 and 20,000 men.
On June 12, only one day before McCarl stepped into France, the Allies took the French city of Carentan, a battle significant because it linked up all five of the D-Day assault beaches. The Americans had landed June 6 on the western sectors of Utah and Omaha. British-Canadian forces attacked at the eastern sectors, Sword, Juno and Gold.
Until Carentan fell, the Germans were able to exploit gaps in the Allied front.
But even then, McCarl said the opposition was fierce, thanks to the hedgerows, a unique feature in the French countryside. For centuries, the French had used the hedgerows to mark the boundaries of fields — the ground that McCarl and other Allied soldiers had to capture.
"They had hedgerows all around the fields for protection," he said. "They always grew briars and wild cherries, that made it tall and hard to see, and the Germans could hide behind them.
"You had to expose yourself to advance and it was pretty easy to pick you off."
On D-Day plus 12, five days after McCarl arrived in Normandy, the Germans "picked him off" from a hedgerow near the village of St. Lo. An enemy bullet went in through his left hip and out through his back end on the right side.
His comrades continued battling from hedgerow to hedgerow without him.
"I laid there for about seven or eight hours," McCarl said. "I was afraid to move because some of them were still out there."
When he could move again, he walked several miles to a medical care station, in spite of his wound. By the time McCarl got to the aid station, 12 days after the invasion, he said the Allies had already built an airfield, so planes could bring cargo and men into the combat zone.
McCarl spent six weeks recovering in England from his wounds. In his absence, the Allies hadn't advanced far — he returned to combat with the 30th Division still near St. Lo.
In an operation still known among military historians as "The Breakout," in much the same way as the invasion is simply referred to as "D-Day," the 30th Division spearheaded a successful assault on the Germans and escaped the Normandy peninsula. The breakout operation began on July 25, nearly two full months after D-Day, with McCarl and the rest of his comrades at the spear's tip.
McCarl said the job of his platoon — a force of about 40-50 men — was to clear the Germans from the towns and villages along the 30th Division's path through France. Instead of fighting hedgerow to hedgerow, his battle was now house to house.
"We didn't want to see any Germans," he said. "You'd go into one end of the city and you'd have to clear it. You'd take three, four guys into the buildings and clean it out."
Many of the towns he fought through were the size of Grove City or Mercer, he said.
It was during this stretch of the war, between August and December of 1944, when McCarl earned his Bronze Star, the U.S. military's fourth-highest award for combat valor. After a lifetime, McCarl couldn't say exactly where or exactly when the action took place, but his memories of what happened were as clear as if it were yesterday.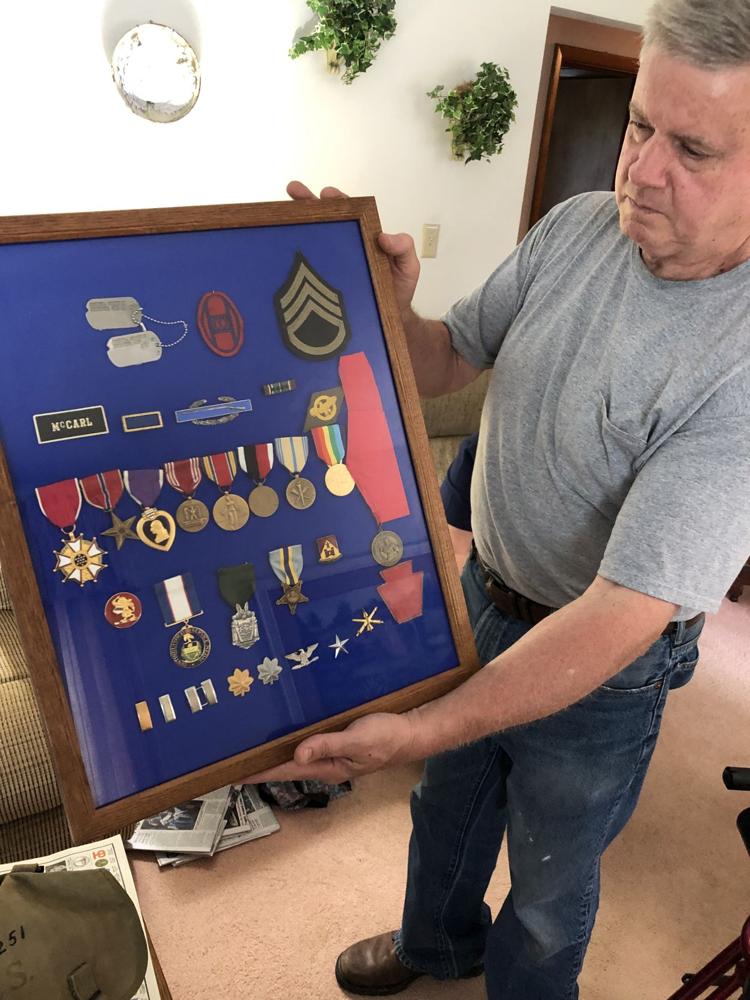 McCarl and his platoon were in another small town, clearing the houses of German soldiers.
"We had a skirmish in a city, but it was sparsely populated," he said. "We took it over and the Germans started firing artillery."
Several soldiers in the platoon were wounded in the artillery barrage, and McCarl carried them to safety to earn his Bronze Star.
The 30th Division played a key role in the Allies' rush into Germany in late 1944 through early 1945, according to the Army's after-action report. It crossed into Germany in October and helped stem the enemy's last offensive during the Battle of the Bulge.
McCarl held the rank of staff sergeant and returned home after the Allied victories over Germany and Japan, but his wartime experience was only the beginning of a long military career.
In 1946, he joined the Pennsylvania National Guard in a Grove City-based outfit started by George Ketler, a Marine World War II veteran who became a close friend. McCarl completed officers' candidate school in 1948 and was commissioned as a second lieutenant with the 28th Infantry Division.
He served in Germany during the Korean War, in a company that was backfilled to replace another unit that was sent to combat in Korea. That would be his last notable overseas deployment.
But he would continue to lead a distinguished military career. McCarl rose to the rank of colonel and held command of the 28th Division's artillery commander. After McCarl's retirement in 1978, he was promoted to brigadier general on an honorary basis in recognition of his service to the Pennsylvania National Guard.
McCarl has lots of memories – and mementos – from his time in World War II. His medals and rank insignia, including a single silver star, representing his final rank as a brigadier general, are framed. The small backpack that had to keep him supplied and fed during action is in a basement.
His son, Ron, said his father never talked about the war until a few years ago, an occurrence not uncommon among those of the Greatest Generation.
Even today, with the proof mounted on red felt in a frame, McCarl downplayed his heroism.
"They were good times," he said of his long military career.