SHENANGO TOWNSHIP – As an adult, Rev. Marion Wheeler realizes what April 4, 1968, meant to the nation.
It was far more difficult for him to fathom that day as a child growing up in the projects of Cleveland. Yet, those memories on learning of the assassination of Dr. Martin Luther King Jr. in Memphis, Tenn., remain intact.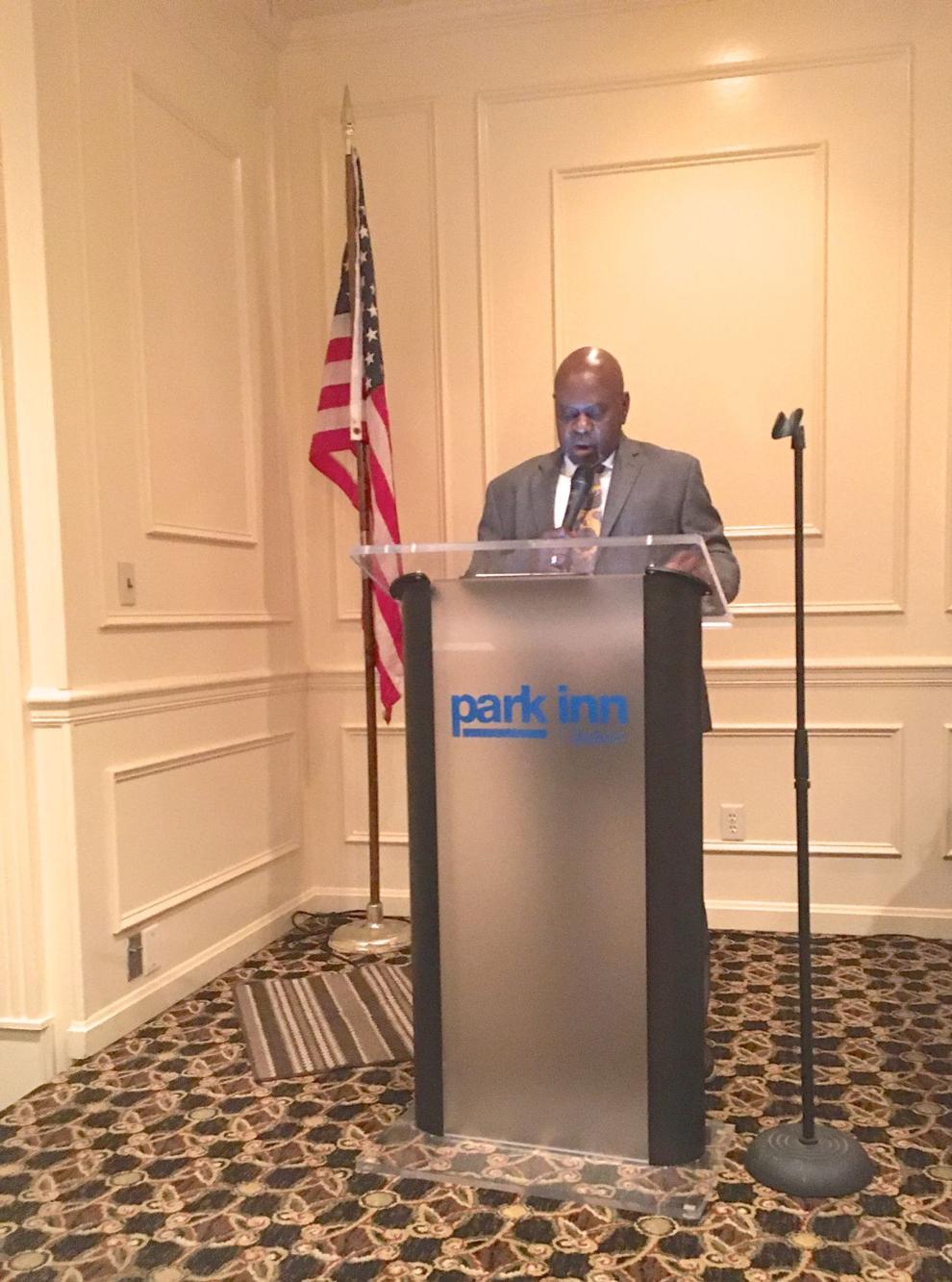 "As a 10-year-old I didn't have a good idea who Dr. King was,'' Wheeler told the audience of 150 gathered Monday at the Shenango Valley Urban League's Martin Luther King Day of Remembrance Breakfast.
Wheeler, who has served as pastor for the Ruth AME Zion Church in Sharon for the past 8 years, was the keynote speaker at the event at the Park Inn by Radisson in Shenango Township.
After news reports broke that King had been slain by a gunman, Wheeler's family and friends gathered outside to morn the loss of the civil rights leader.
"Everyone was crying,'' he said.
In looking at King, Wheeler said his life has to be viewed by looking at the big picture.
"He laid down his life for people of all color,'' he said. "He had a vision of social justice for all.''
While King was a preacher, Wheeler noted, he stepped out of the pulpit to bring Christianity and his dream during an era of Jim Crow laws. Even in the 1960s as segregation was enforced in such things schools, hospitals and jails, "He left the pulpit to take to the streets of America,'' Wheeler said.
King led many protests to show where equality in everyday life fell short, he added.
Wheeler recounted those protests, which included the Montgomery, Ala., bus boycott of 1955. It was a time when African American bus riders were mandated to sit in the back, leaving the more convenient front seats to white riders.
At the height of the protest, King got ugly phone calls threatening his wife and children, Wheeler noted. But it also was a time when segregation began showing the first signs of cracking. In 1956, the U.S. Supreme Court affirmed a ruling that found the segregated bus laws in Montgomery were unconstitutional.
"It put Dr. King on the map as somebody to be reckoned with,'' he said.
Other events added to King's achievements in promoting and bettering civil rights, Wheeler said.
King's famous 1963 "I Have a Dream'' speech at the Lincoln Memorial captured the heart of his movement. And his Selma, Ala., march in the spring of 1965, where protestors were beaten, was another milestone in his quest, Wheeler said.
Change did come. On Aug. 6, 1965, President Lyndon Johnson signed the Voting Rights Act into law, Wheeler noted.
While King is gone, his work remains, Wheeler said. And he levied sharp criticisms at President Trump.
"He's so egotistical he wants to undo everything President Obama did,'' Wheeler said.
But Wheeler said our culture must always remember that King was a person of love.
"He knew what Jesus was all about,'' he said. "He was this man calling in the wilderness.''