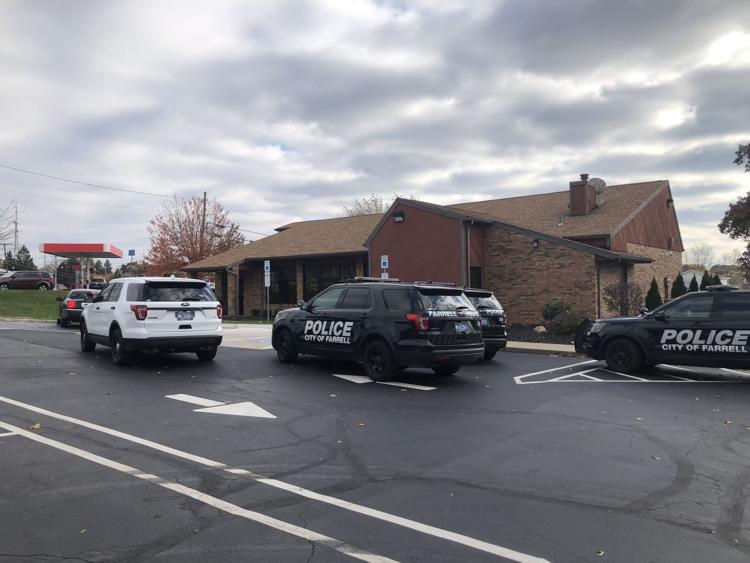 FARRELL – Two men in hospital scrubs, masks and wigs jumped over the counter Friday afternoon at First National Bank and scooped up as much money as they could grab, Farrell police Detective Capt. Chuck Rubano said.
One of the men had a long rifle, an AR-15, and the other had a handgun, Rubano said.
At 1:21 p.m., police received a report that the bank at 1030 Indiana Ave. was being robbed at gunpoint. There were two customers and six or seven employees in the bank at the time, Rubano said. No one was hurt.
Images from surveillance cameras at a nearby business indicated that a third suspect waited outside while the other two accomplices went into the bank.
Rubano said the men grabbed as much money as they could and stuffed a bag, then took off running south from the bank.
Police recovered some of the stolen money, but were unable to say Friday afternoon how much was taken.
Rubano and an agent from the Pennsylvania Board of Probation and Parole agency apprehended one of the suspects. Rubano was traveling in his vehicle at Stambaugh Avenue and Idaho Street, where he saw a man running with a rifle and a duffel bag.
He and the agent apprehended the suspect behind a house on Stambaugh and Idaho.
"As he came around the house, he still had the money, but had pitched the rifle," Rubano said. "We took him down at gunpoint."
The captured suspect, Demetrius Harris, 19, of Youngstown, was in custody but did not cooperate with police, Rubano said. He will be charged with bank robbery, and possibly other offenses.
Police have reviewed surveillance images from inside and outside of the bank. The video indicates that the three men ran south from the bank and crossed over Dakota Street to the alleyway directly behind Sunset Lanes on Idaho. The three men ran up the hill, and Harris ran onto Stambaugh and Idaho, where he was captured. The other two continued up the hill.
"We believe they were running towards the getaway car," Rubano said. "But we've located money all over the place besides the duffel bag I recovered. When they were running they were dropping packets of 100s and 50s."
Rubano said he also recovered the AR-15 rifle that Harris discarded.
Every Sharon police unit, including all the department's detectives and Chief Edward Stabile, responded to assist, Rubano said.
Farrell Area School District was placed on lockdown for the students' protection. 
The FBI was advised of the armed bank robbery.
Follow Melissa Klaric on Twitter and Facebook @HeraldKlaric, email: mklaric@sharonherald.com