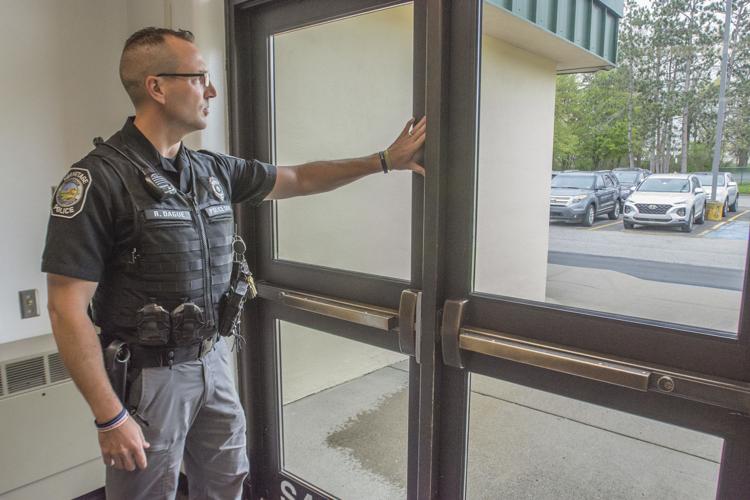 Four school districts in Mercer County will receive state grants to help improve school safety.
Commodore Perry, Keystone Education Center Charter School, Sharon and Hermitage are all in line to receive the grants, part of about $60 million set aside in the 2018-19 state budget. The Pennsylvania Commission on Crime and Delinquency oversees the grant program.
Districts received up to $25,000 earlier this school year in a non-competitive round of grants, from a pool of about $12.5 million, for school safety. State Rep. Mark Longietti said districts could apply for competitive grants from about $48 million in funding.
"Initially it seemed that school districts were looking at equipment needs or personnel, such as cameras or school resource officers, but there has been an emphasis lately on getting to the root of the problem, so some schools are pursuing programs like violence-prevention programs or positive behavioral support," Longietti said.
Keystone Education Center
Keystone will receive $142,675, which it will use on a combination of equipment, personnel and training.
Keystone Chief Executive Officer Mike Gentile said the funding would pay for security cameras to help increase staff visibility, and metal detectors and wands. In the main Keystone building, which houses grades nine through 12, already has a metal detector, the building has three main entrances to secure.
The grant also will be used to hire a full-time school resource officer to increase security at the school and build relationships with the students.
"This is the first year we had an SRO; it was originally the Greenville school district who hired the SRO," Gentile said. "He reports here daily for about an hour, and the impact he's had has been tremendous, so we thought about bringing on a full-time SRO."
He said Keystone will use the funding to provide additional mental health training for staff and students, and expand the nationally known Olweus anti-bullying program that the school has used for the past three years. The Olweus program includes instructions for students to report when they see bullying and not participate in bullying.
"Sometimes a student might just be laughing at another student being bullied, but that could be considered taking part in it," Gentile said. "I think the program's had a positive impact over the years, because the students seem more willing to report bullying and discuss it."
Hermitage
Hermitage School District will receive $25,604, which will be used to buy digital two-way radios and a repeater, an antenna device that would be installed at the schools to help increase the range of the radios' signals, said Superintendent Dr. Dan Bell.
The radios would be given to select personnel and would allow them to communicate with not only each other, but also school buses, Bell said.
"The repeater is almost like a mini-cellphone tower, so with walkie-talkies we could only communicate for short distances, but the repeater can increase the range for miles," Bell said.
Aside from the communication equipment, the funds will be used to purchase and install barriers that can be used to stop vehicles, Bell said.
Commodore Perry
Commodore Perry School District will receive $26,000 to expand the district's Rachel's Promise program and shape classrooms to meet student needs, said Superintendent Kimberly Zippie.
Rachel's Promise, an anti-bullying program, was named after Rachel Scott, a student who was killed in the April 20, 1999, Columbine, Colo., shooting. The program is designed around student reaching out to their peers.
Zippie said high school students formed a "Friends of Rachel" club that encourages teens to reach out to peers who may be struggling or are victims of bullying.
In the elementary school, students and teachers give each other a paper chain link to anyone performing a good deed. At the end of the year, students will use the links to make a large chain.
"We had a mud run on Saturday, and I saw a student helping another over a bale of hay, so I made her a chain link," Zippie said. "She didn't realize I had seen her do it, but we're seeing a lot of little things like that."
In addition to the Rachel's Promise program, school officials will look at increasing student attendance, decreasing bad behavior and keeping students engaged in learning by tailoring the classes to students' proficiency levels.
"We can have the seventh- and eighth-grade teachers working together to determine where students are at, what students need to slow down, or what students need a little help," Zippie said.
Teachers can use text scores to determine students' skill levels and categorize classes accordingly and help prevent students from falling behind the rest of the class.
"The program's really new because it's different and that presents challenges, but the teachers are wonderful because they're taking risks and they're getting results," Zippie said.
Sharon
Sharon City School District will receive $85,455 for equipment upgrades at West Hill Elementary School and an update of the school district's "all-hazards plan," said Superintendent Michael Calla
The security upgrades at West Hill will include improving the school's walkie-talkie communication system and increasing the number of cameras covering inside and outside areas, including parking lots and playgrounds, along with accompanying servers, storage time and monitors.
The school will also upgrade its "Raptor" visitor identification system, which scans driver's licenses to check for legal issues before printing off a temporary visitor's identification.
"We already use it for teachers to clock in and out, and if a teacher has a meeting during the day, so we can tell who's in the buildings in case there's an emergency, so that whole system will be getting upgraded," Calla said.
The school district also plans to hire a consultant to evaluate the district's all-hazards plan, which covers a range of emergencies from active shooters to bomb threats to gas leaks. Calla said Sharon officials last evaluated the plan 10 years ago, though it was updated about five years ago.
"In the last revision of the plan, we were still using the "run, hide, fight" protocol that was in use at that time," but we've since adopted the ALICE training," Calla said, referring to "Alert, Lockdown, Inform, Counter and Evaluate."
"Our students and staff have since been trained in ALICE and we hold drills, but this update would work ALICE into all parts of the plan."
The district was previously able to begin similar upgrades at C.M. Musser Elementary School with the $25,000 it received in the grants' non-competitive phase, with continuing.
Both Musser and West Hill elementary schools are expected to have their security improvements "up and running" by the beginning of next school year, Calla said.