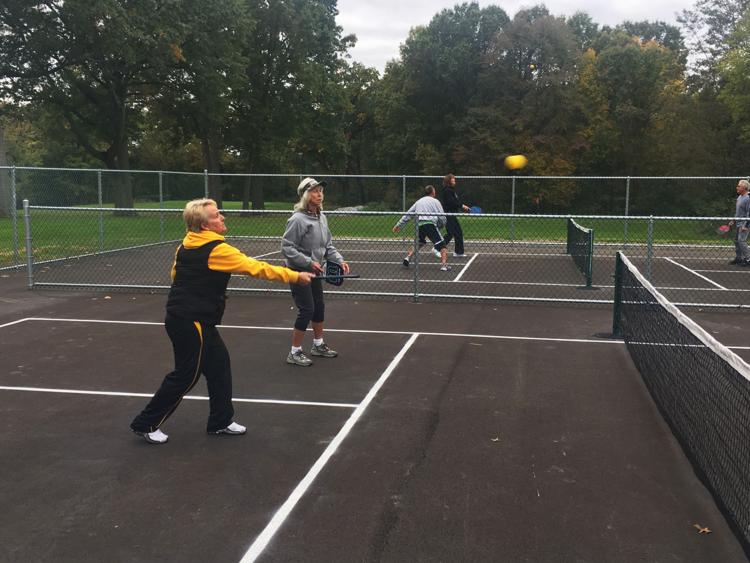 HERMITAGE — The weather was cold and the skies were grey, but the outlook was sunny Friday morning for area pickleball players.
Buhl Park dedicated its new pickleball courts Friday morning, with a ceremony and ribbon-cutting. Once the dedication was completed, it wasn't long before people broke into teams and dispersed among the six pickleball courts to get some games started.
"This is wonderful, it's something we've been dreaming of for years," said Bill McCullough, a member of Shenango Valley Pickleball Players Association.
Friday's ceremony marked the culmination of a project that began in 2018, with a grant from the Pennsylvania Department of Conservation and Natural Resources. Visit MercerCountyPA, and donations from a private benefactor and the Shenango Valley Pickleball Players Association also provided funding for the courts.
Though the pickleball courts is the first venue designed specifically for the sport, Buhl Park Director of Operations Ryan Voisey said interest locally and elsewhere has grown over the years, including a "Pickle in the Park" tournament that drew 78 players in August at Buhl Park.
"We strive to provide enjoyable experiences and recreation for everyone who visits and we believe these pickleball courts will not only be a great addition to Buhl Park, but also for Mercer County," Voisey said.
Locally, the Shenango Valley Pickleball Players Association has grown to about 90 players, compared to the four or so people who had been playing just a few years ago. At the time, the group was known as the Shenango Valley Parking Lot Pickleball Players, because they played on the Hermitage Athletic Complex parking lot.
Until the pickleball courts were completed, players shared the tennis courts at Buhl Park. However, the six dedicated pickleball courts will allow players to compete all the time, unless there is snow on the ground.
McCullough said he anticipates additional tournaments on the new courts and an economic boost.
"It'll bring in a lot of people who are dedicated to this, and that'll in turn help the businesses in the area, like the restaurants," McCullough said.
One of the biggest positives of the sport is also its accessibility, because people from young children to senior citizens can participate. Association member Ron Lucas said the game is similar to tennis on a smaller court. Some people can move around more if they choose to, although players can also remain in place if they want.
"I'm 60-something years old and my grandkids are 12 and 10, but we can get together and play pickleball. How many sports can you do that?" Lucas said. "You can play for two to three hours and not even realize it."
Mercer County commissioners Scott Boyd and Tim McGonigle, and Hermitage commissioner Michael Muha, turned out for the ceremony. Muha said the courts will benefit Mercer County and the Shenango Valley.
"I'd be interested in it, because I've grown up here. I've played golf here for years, and I still golf right over there," Muha said, referring to the driving range next to the new courts.