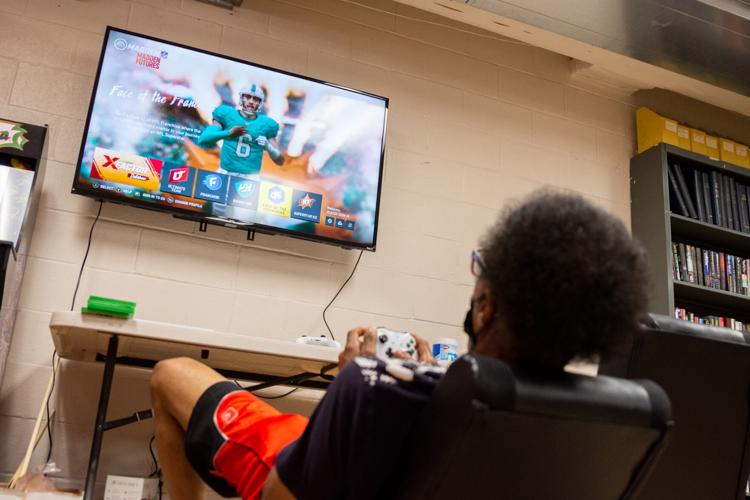 FARRELL — When the Stey-Nevant Public Library opens up more of its youth programs, its teen visitors will find something new to keep them entertained — a game room with brand-new equipment.
Previously known as the library's community room, the game room now includes an air hockey table, a paddleball table, a foosball table, a Galaga arcade cabinet, an Xbox console and a TV, courtesy of Seeds of Faith Ministry, member and spokesperson Rain Evans said.
However, the game room isn't just about fun and games, as there will be requirements for teens who want to use the game room's equipment to help promote literacy and give the kids some after-school assistance, Evans said.
"This can be a safe place where the kids can go, where they can study, where they can get help with their homework, and where they can hang out," Evans said.
Among those requirements for teens will be signing up for a library card, which will include a sticker indicating that they may use the game room. Aside from checking out books, the teens will have to sign up for some of the youth programs organized at the library, Stey-Nevant Library branch manager Abby Kutz said.
By encouraging teens to take advantage of the library's services, Evans said teens could learn how to do research aside from just using the Internet, as well as potentially discovering a job in the trades or the steps necessary toward applying for college or a job.
"We have a lot of kids who have the desire and the ability to go to college, but they may not know all the requirements to do that," she said.
The Stey-Nevant Library is currently reopened for its regular hours of 11 a.m. to 7 p.m. Monday through Thursday, although all of the supplementary programs organized by the library are being conducted digitally through Facebook and Instagram due to the coronavirus pandemic, Kutz said.
A future goal that would further target teens who use the library will be to start a program where tutors, student teachers or local graduates could work with teens to help prep for taking the SATs or ACTs, job or college applications or working with them on resumes, Evans said.
"That's one of our goals in the long term," Evans said.
Anyone who would like to offer their services for the program can call the Stey-Nevant library at 724-983-2714 and ask for Kutz, she said.
Fundraising toward the game room was done from April through November last year, when Seeds of Faith Ministry's food truck would visit local churches to both sell food and put on Biblical programs for children, Rain's mother and fellow Seeds of Faith member, Lynette Evans, said.
The ministry's food truck is currently in Boardman, Ohio, as the coronavirus pandemic prevented any fundraising until late May, compared to last year when Seeds of Faith was invited to about five local churches, Lynette said.
It was initially hoped that the game room would be installed sometime in April to coincide with the library's annual Spring Fling event, although the onset of the coronavirus pandemic pushed those plans until later this summer, when the ceremony could finally be held Wednesday, Rain said.
As part of the ceremony, Kutz was presented with a plaque which will be installed near the game room's entrance. But if any organizations still want to rent the community room for meetings or events, Kutz said the equipment is small enough that the room can be reconfigured for rentals.
The smaller-sized equipment also allows for multiple kids to be present and able to use different equipment simultaneously, while all the games for the Xbox are family-friendly, such as games about football or basketball, Rain said.
Like David L. Dye on Facebook or email him at ddye@sharonherald.com.