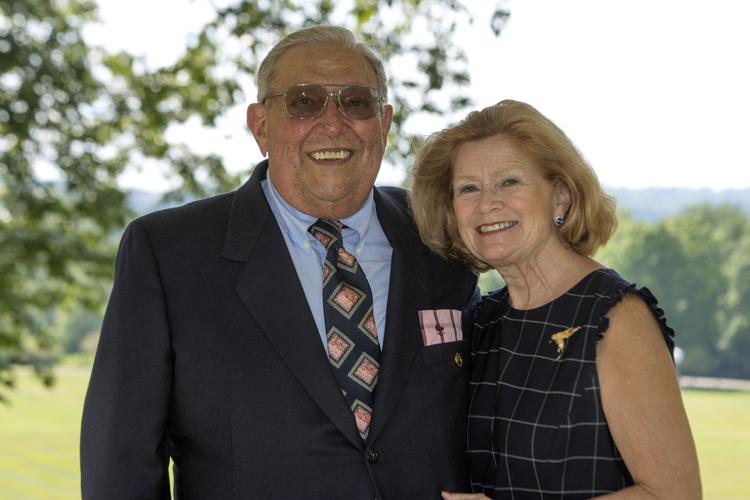 EDITOR'S NOTE: This is the first of a series profiling the 2019 Buhl Day honorees.
SHARON – Ruthanne Beighley George and Joe George are honored guests at this year's annual Buhl Day event.
Joe George, 82, was born in Sharon and played football at Sharon High School.
He retired three years ago from the family business, Joy Cone Co. in Hermitage. The company was started by Joe's father and a relative in 1918 and was called George and Thomas Cone Co. In the 1980s, the company changed its name to Joy Cone.
"As a kid, my dad wanted to make sure we weren't spoiled, so when I was only 6 years old, I went to the cone factory and worked," Joe said. "I couldn't do much, but I could fold cartons."
He worked at the plant every summer. The plant was successful as he was growing up, but through a series of mishaps, it declined.
Joe wanted to run the company but went to college first. He graduated from Harvard with honors and was accepted to Harvard Law School, but dropped out after three weeks.
He worked at another company for five years and at that point, his father's company had one customer left. Joe took over the company in 1964.
"Joe George likes to say he was an overnight success – it only took 50 years," Joe said.
"I feel like I've been lucky."
Joe's son David took over Joy Cone after his father's retirement.
Even before he retired, Joe has been active in many volunteer efforts.
He served as chair of several organizations and has received many honors such as Man of the Year for numerous organizations.
Ruthanne and Joe have been married for 31 years and have lived in Sharon, in the same house, for their entire marriage.
Ruthanne, 72, was born at Buhl Hospital in Sharon and grew up in Jamestown.
She graduated from Jamestown High School and Thiel College, and earned a law degree from the University of Pennsylvania Law School.
"I always felt that I needed to come home," Ruthanne said.
"My parents are here, my children are here and I needed to be here. And I never looked back."
She started working for a local law firm in 1976. Then she returned to Greenville and was a partner in Halliday and Beighley law firm. In 1984, she formed her own law practice in Sharon.
Ruthanne is currently the chair of the Catholic Foundation of Northwest Pennsylvania and chairwoman of the Buhl Regional Health Foundation.
"The truth is, we just do what we're called to do," Ruthanne said. "We're not looking for accolades or honors."
Ruthanne said she considers Sharon her home. She and Joe moved into their house, which borders Buhl Park, in 1987.
"We loved that home. Joe bought it because of the park," Ruthanne said. "We love the park. I walk in the park."
Before Joe had a hip replacement, he rode through Buhl Park on his bicycle and with his wife on a tandem bike.
Ruthanne has two daughters from a previous marriage, and four grandchildren.
Tracy O'Toole lives in Cranberry Township with her husband, Dr. Patrick O'Toole. She teaches honors chemistry and he is a retired school superintendent.
Her other daughter, Jessie Hull, works in Ruthanne's law office. Her husband, Jeff, is an engineer and a new products development manager at Joy Cone Co. Hull has worked in the law office on and off for 30 years.
Joe has three sons and a daughter — Shane, Sharon, David and Aaron — from a previous marriage, and five grandchildren.
Joe said he is thrilled and honored to be chosen as a Buhl Day honored guest.
"It was such a surprise," Ruthanne said.
"I can't wait for Buhl Day. I can't believe it, and I can't wait."
Follow Melissa Klaric on Twitter and Facebook @HeraldKlaric, email: mklaric@sharonherald.com