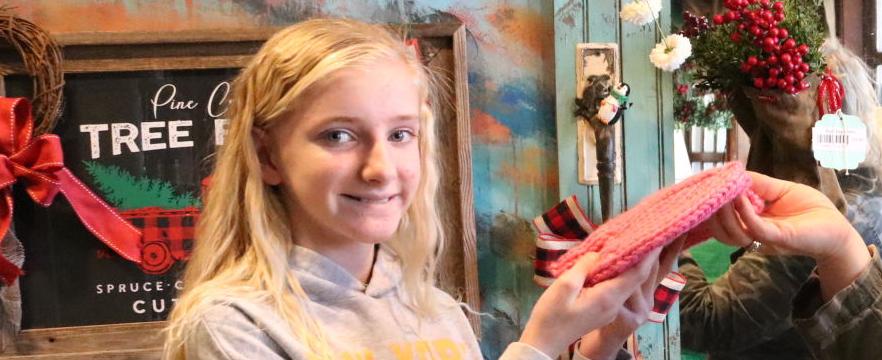 MERCER — Lexi Smalley went to New York City in November 2018 to see the Rockettes dance line.
She became inspired.
"I saw how many homeless people there were and decided to help the people of Mercer," Lexi said.
For Coolspring Township resident Lexi Smalley, who turns 12 today, that means providing warm winter accessories and toiletries to anyone in need who may be passing through Mercer borough. Items are located in front of the Mercer Area Chamber of Commerce building at 143 N. Diamond St. and at Simply Vintage at 104 N. Pitt St.  
Together with her family – parents Digger and Amy Smalley and brothers, Clayton,14, and Carson, 8 – Lexi has donated about 120 items so far this season.
"It's at least something to get them covered and dry," Amy said of the winter accessories.
"We went to the chamber today," Digger said. "It's half gone."
Lexi came up with the idea for her drive during the New York City trip with her Mercer Girl Scout troop to see the Rockettes perform live.  
It also spurred an idea for a return trip to NYC a month later with Lexi's family to celebrate her birthday. While in the Big Apple, the Smalleys distributed goodie bags filled with food, clothes, hats and scarves to the city's homeless.
"That's what she wanted to do for her birthday," Digger said. "So that's what we did."
Lexi, a Mercer Elementary School sixth-grader, said she doesn't know what motivated her to help those down on their luck.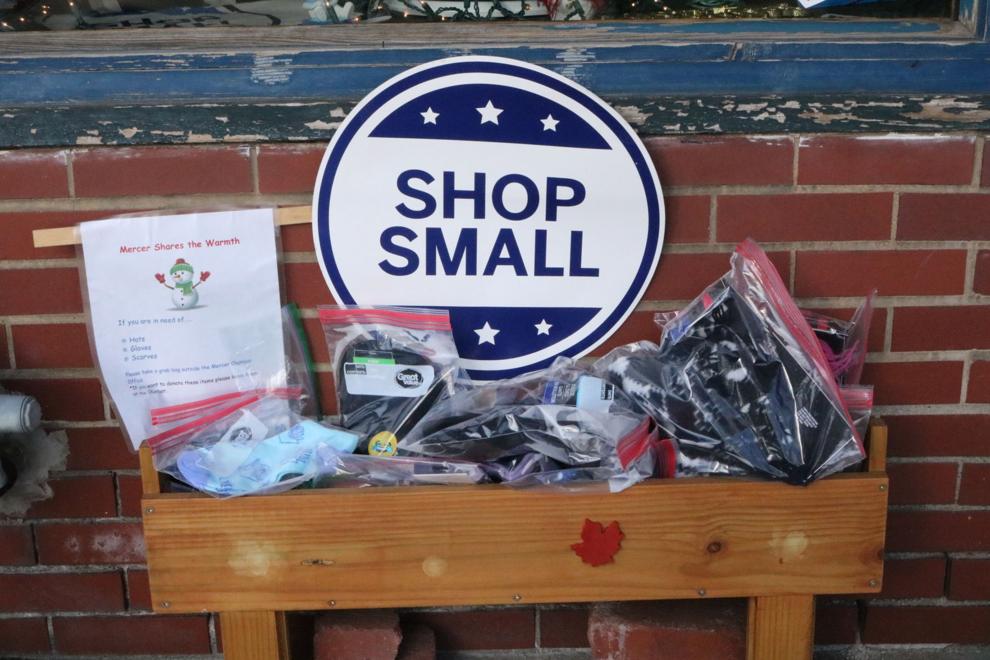 "I think it was just in her mind," Digger said of his daughter. "She felt bad. We take stuff for granted. I get a hole in my glove at work and get a new pair out of the cupboard."
The Mercer Area Chamber of Commerce, which is on the courthouse square in Mercer, seemed like the ideal place for the Smalleys to distribute their donations.
"We just figured (the chamber) is a central location," Amy said.
"Being across from the courthouse, you don't know that it's just Mercer people or other people too," Digger said of those in need. 
The Smalleys fund the project themselves but welcome donations through the chamber of commerce of hats, scarves, gloves, warm socks and toiletries. 
"I work a laborer job and get paid fairly well," Digger said. "Don't get me wrong, my family still comes first. We have a nice house. Kids don't need or want for anything."
In addition to her activities as a Cadette Girl Scout in Troop 30374, Lexi also participates in soccer, dance, tae kwon do and the Pittsburgh Youth Chorus.
"Out of my three kids, she's the one that doesn't give up on things," Digger said of Lexi.
Amy Smalley said her children are "compassionate" and "love to help."
"It may seem too big," she said. "But you have to start somewhere. Start small and give it all."
Amy's husband Digger echoed her sentiment. 
"You can't really put a price on helping people," he said. "It's just something that we do."
THOSE WISHING to donate can contact Mercer Area Chamber of Commerce at 724-662-4185.