SHARON — When the city's traffic roundabout opened in August of 2018, Karen Hendrickson didn't think it was a good idea.
After almost three years, her opinion has changed, partly because the roundabout, at the intersection of South Dock Street and East Connelly Boulevard, offers an enticing welcome to drivers entering Sharon's downtown.
"At first, I didn't like it, but now I kind of do," said Hendrickson, owner of Royal Community Gift Boutique artist's consignment shop on East State Street. "I think it introduces the town better. When you come up Dock Street it looks pretty classy."
According to a PennDOT study released earlier this week, roundabouts do more than greet motorists.
The state transportation agency credited roundabouts with decreasing the number and severity of accidents at 26 roundabouts throughout the state between 2000 through 2020. In the study's most significant finding, fatal accidents at the intersections decreased by 100%.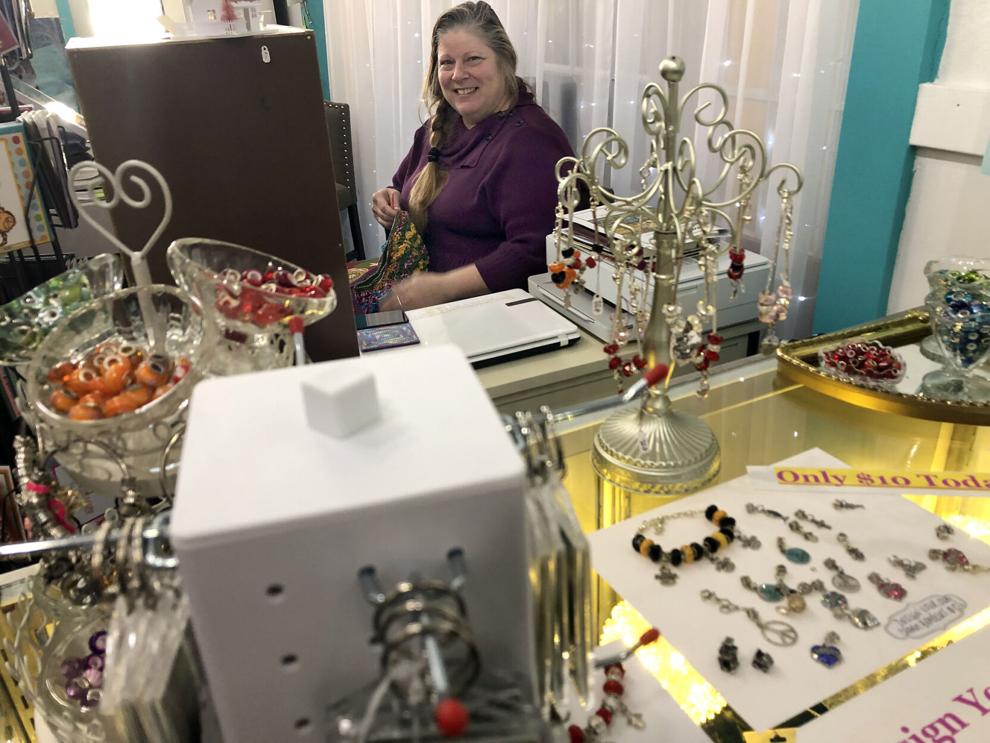 In other words, converting conventional intersections to roundabouts effectively eliminated fatal accidents.
"The modern roundabout is simply safer than the traditional intersection," PennDOT Secretary Yassmin Gramian said in a press release. "Though not the right option for every intersection, data shows that when installed, roundabouts save lives and reduce crash severity."
PennDOT's study did not include the roundabouts in Sharon or Hermitage, but local officials said that the local intersections mirrored the state transportation agency's findings.
Hermitage police Chief Eric Jewell said the number of accidents declined precipitously since the city's roundabout opened to full traffic flow in November of 2020 at East State Street and the Shenango Valley Freeway, beside the Shenango Valley Mall.
There were 14 accidents at the intersection in 2019, the last full year before construction of the roundabout, according to traffic data provided by the city.
Of the 14, three were reportable — meaning they resulted in significant damage to at least one of the vehicles involved, and 11 were non-reportable, basically fender-benders.
In the 13 months since the roundabout opened, Jewell said there have been four accidents at the intersections, two of which were reportable. The other two accidents were non-reportable.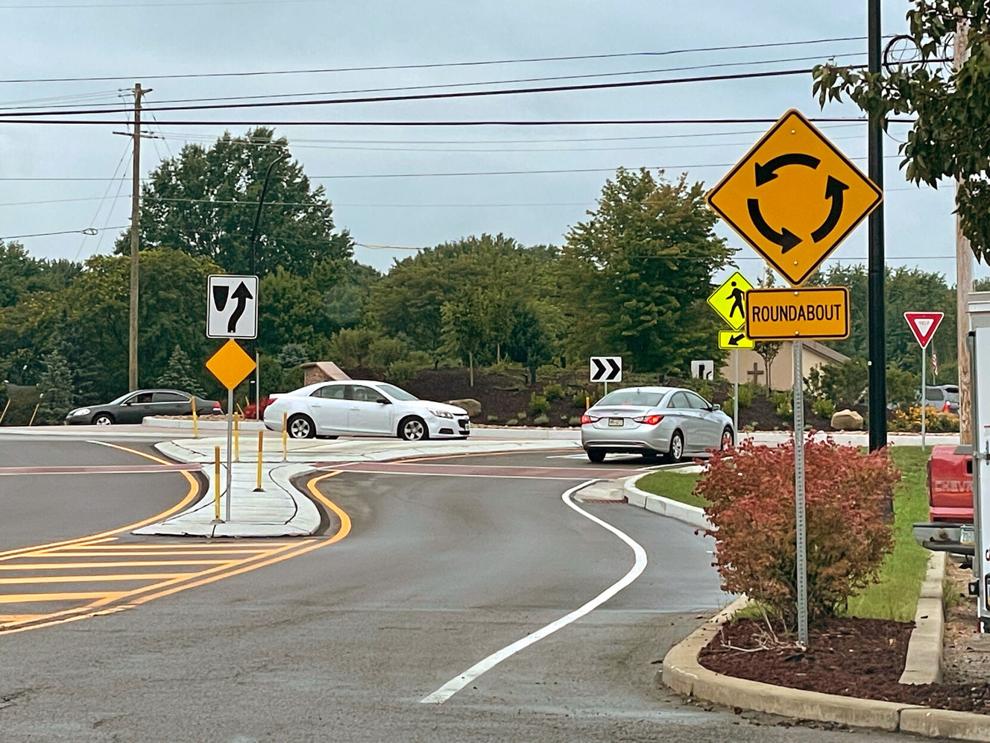 "Based on my opinion, the roundabout is safer and more efficient for traffic flow," Jewell said.
Bob Fiscus, Sharon city manager and fire chief, said the city's roundabout is safer than the traffic-light-controlled intersection it replaced.
He said one driver hit the Sharon roundabout's concrete-block facade, but there have otherwise been no serious accidents on the roundabout in the three years since its construction.
"I think the safety is drastically improved," Fiscus said.
Embracing the roundabout
Just as importantly, he said Sharon residents have embraced driving in circles after some initial hesitancy.
"I know initially some, even myself, were skeptical but I haven't heard anything negative for a long time," Fiscus said.
Denise Tomaselli, of Masury, was among those skeptics. Her initial feelings were based on experience using roundabouts at her previous home in Wooster, Ohio.
Tomaselli still isn't sold on roundabouts. But she has come around in her view of Sharon's roundabout, which she uses frequently.
"This one doesn't seem as bad because people don't drive as crazy," she said.
Local drivers might be more careful in roundabouts than their Ohio counterparts, but Jewell said driver error contributes to the smaller number of accidents.
Of the four accidents since the Hermitage roundabout opened, both of the reportable accidents were DUI-related. The two non-reportable crashes were due to inattentive driving, Jewell said.
Driving into a roundabout is a new experience, especially in the area — Sharon's roundabout was the first in Mercer County. Drivers are supposed to keep moving while in the circle, while those entering the circle should yield the right of way to those already there.
If the path is clear, drivers are supposed to keep moving without coming to a complete stop. Jewell said this last one sometimes presents a problem to drivers who stop when they don't have to.
The result can be an accident when a trailing driver, looking down the roundabout, doesn't notice a stopped vehicle in front of them, because that vehicle isn't supposed to stop.
"It requires a little bit of multitasking," Jewell said. "You have to look to the left, look to the front."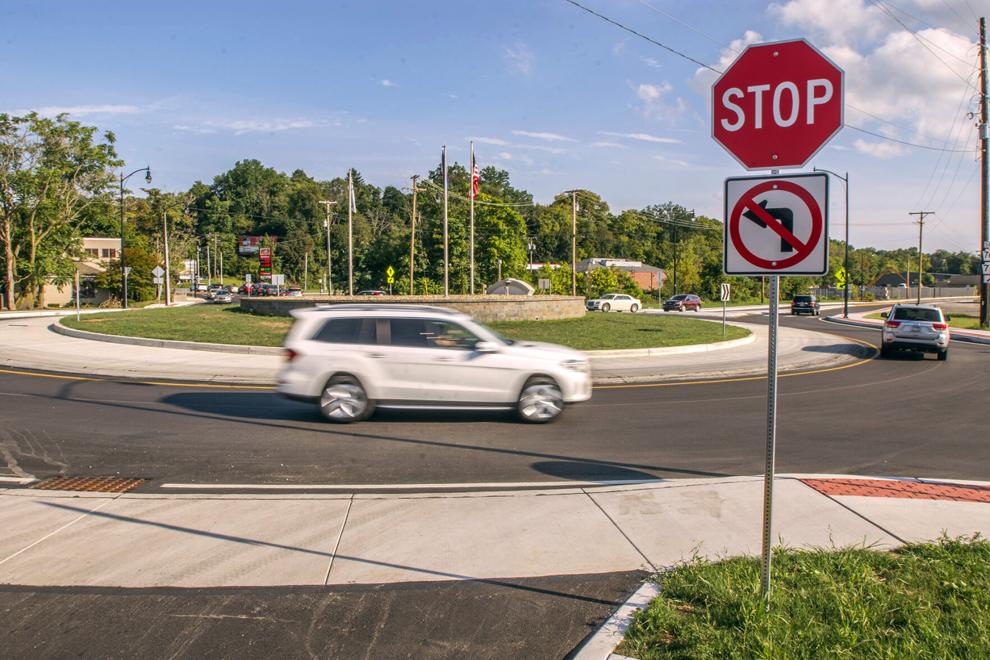 Promising indicators
While Jewell said the early indications show the roundabout works, he also acknowledges that it hasn't really been tested. Occupancy at Shenango Valley Mall is a fraction of capacity, and traffic has yet to return to pre-COVID levels.
Since the roundabout opened, there have been no weather or accident-related closures of Interstate 80, which would send drivers onto East State Street and into the roundabout as a detour for interstate travelers and truck drivers.
"Maybe we're not up to full traffic flow post-COVID," Jewell said. "It's kind of early to say, but a preliminary assessment based on my observation is that it's safer and more efficient."
Richard Chrobak of Hermitage, who said he drives through the area roundabouts, said he still isn't a booster of the new intersections.
"I don't know why they did it," he said of the decision to replace light-controlled intersections with roundabouts.
In his mind, the jury is still out on whether the traffic circles are safer.
But PennDOT's report, which covered 20 years, is more conclusive. In addition to the 100% decline on fatal accidents, the study also reported decreases of 81% for serious injuries, 36% for minor injuries, 76% for possible injuries and 13% for property damage-only accidents.
The steep declines in major accidents is due in part to the configuration of roundabouts, where all traffic flows in one direction, which all but eliminates the most severe types of accidents — head-on and broadside, or T-bone, crashes.
Aesthetic pleasure
The roundabouts in Sharon and Hermitage feature landscaping, decorative and functional stone-like fencing, and signage telling drivers where they are.
Three flagpoles adorn Sharon's roundabout. Usually American and Pennsylvania banners wave from the poles, but others, including the Penn State Shenango flag, also are on the poles. In the spring, during graduation season, Sharon turns the roundabout into a symbol representing the entire Shenango Valley by flying banners from local school districts.
Karen Hendrickson said the roundabout offers an engaging welcome to drivers coming from outside Sharon.
And she isn't the only driver to notice the Sharon roundabout's landscaping and architectural elements. Fiscus said the roundabout, visually, improves on the intersection it replaced.
"I think it does," he said. "Without a doubt, it looks better than it did."