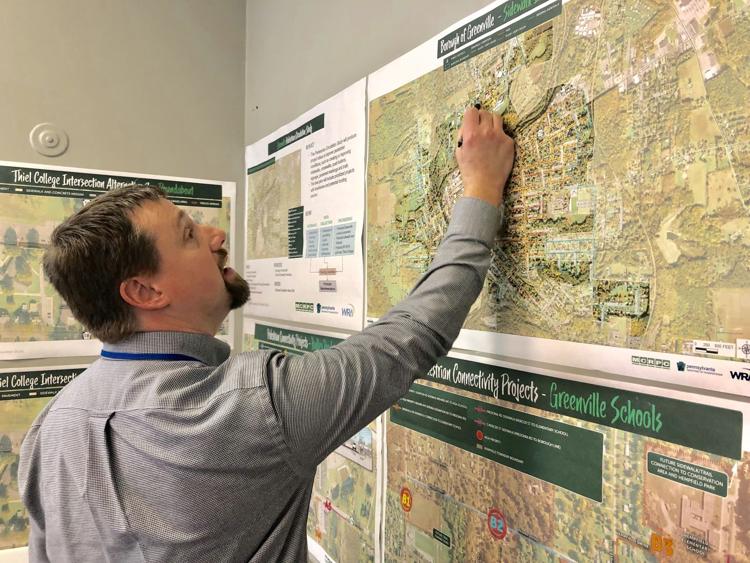 GREENVILLE – An intersection close to Thiel College could be made into a roundabout.
PennDOT is considering two options to make safer the intersection where Greenville-Sharon Road (or state Route 18) meets Mercer Road (or state Route 58) adjacent to Thiel College in the borough.
One option is creating a roundabout, and the other is keeping it a traditional intersection with some improvements to help pedestrian and road traffic flow better.
"We knew that Thiel has had some issues up there, and there's always been complaints about the pedestrian traffic, so we wanted to take a look at that to see if there was anything that could be done to make it safer for pedestrian traffic and maintain the vehicle traffic," Greenville Borough Manager Jasson Urey said. "There's a lot of vehicle traffic through there."
The discussion of a roundabout started when the borough was awarded a $50,000 grant from the state for a Pedestrian Circulation Study. The study was expanded to include part of Hempfield Township.
"It was part of that grant that we got from PennDOT to take a look at a couple alternatives that engineers saw that may help us with pedestrian and traffic issues at that intersection," Urey said.
That study is nearing its end, which is why the borough recently conducted a public input session to present some of the different concepts for sidewalks, and the roundabout was part of that, Urey said.
"(PennDOT) wants input from the community," Urey said. "They want to know what the community wants."
The roundabout or changes to the intersection would not cost the borough anything because the two roads that intersect are state roads.
Urey could not say how council feels about the project yet because it has not been officially presented.
"We have a Street Committee meeting next week to finalize the plan," Urey said. "They would make a recommendation to the Pedestrian Circulation Steering Committee, and that would be put into a plan, presented to council and adopted."
Urey said they are still a few months away from that point.
"But we're getting to where we need to pick what we want to see there," he said. "And it may be that we want both options put in the plan."
Public input has been mixed, according to Urey.
"It's something new and something different, and a lot of people sometimes aren't used to that," he said. "I hear both sides of the roundabout argument. But the data is way more in favor of the roundabout as far as safety and pedestrian flow and keeping traffic flowing."
The land where the roundabout would cover is owned by either the college or the state, and that would speed up the process, since Thiel is in favor of changes to the intersection.
"(Thiel has) been part of the steering committee for this study, so they're totally in favor of whatever we can get done there to improve the pedestrian safety," Urey said. "Because right now the kids are crossing in non-crosswalk areas and just kind of everywhere."
No one has been seriously injured crossing the street yet, but the borough wants to prevent that from ever happening.
"We've been lucky. There's a lot of pedestrian traffic across there with the Thiel kids," Urey said. "We don't want to see it as a matter of time; we want to try to address the issue before it would happen and try to make it safer."
At the start of the pedestrian study, cameras were put up across town, and that intersection was included. 
"You could see where the kids were crossing, and there were a few close calls then because they're crossing on a bend that cars can't see and kids couldn't see the cars," Urey said. "So it's just not safe with the way it is now."
Urey said at this point, they are just in the preliminary stages.
"That's probably a little far out down the road, but we're not sure when," Urey said. "PennDOT is waiting to see what the outcomes of the study are before they determine when and what they're doing in that area."
Follow Melissa Klaric on Twitter and Facebook @HeraldKlaric, email: mklaric@sharonherald.com