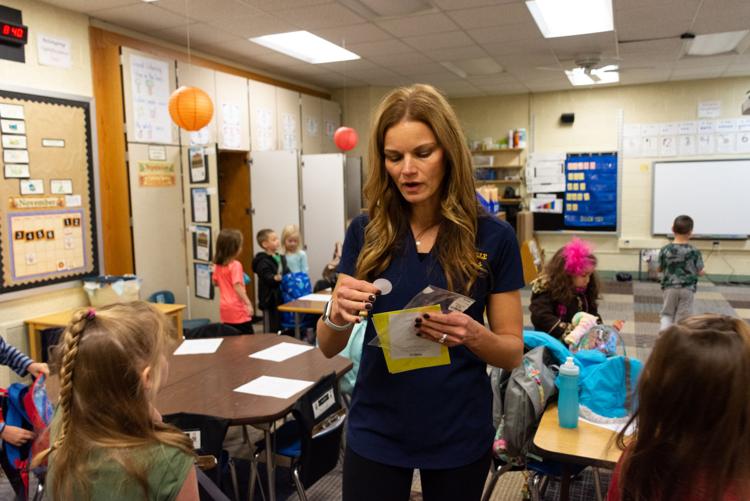 HEMPFIELD TOWNSHIP — For the first time in several years, Greenville Elementary School has an unusually large kindergarten class size.
Normally about 90 students comprise the kindergarten class each year, but this year 113 five- to six-year-olds are enrolled at the former Hempfield Elementary School, said GES Principal Matt Dieter.
Kindergarten registration begins in the spring, so administrators knew before the school year started this year's class size was going to be large.
At the beginning of the year, close to 118 kindergartners were enrolled.
"The number didn't go down," Dieter said.
As the school year opened, that meant adjusting pretty much everything, including cafeteria seating, he said.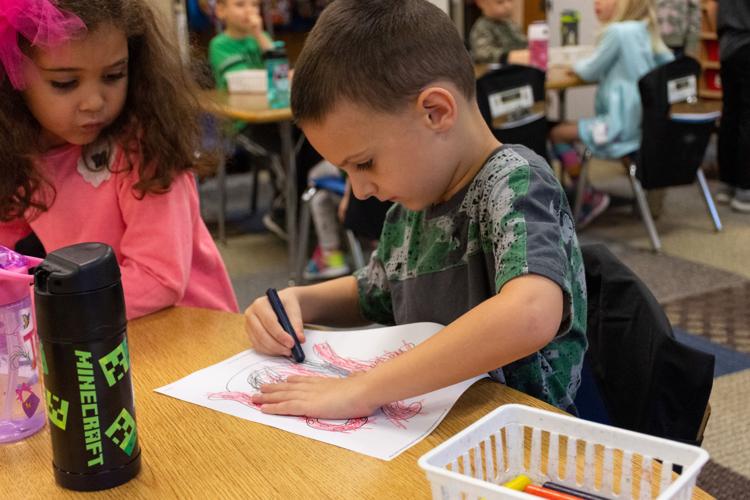 To accommodate the youngsters, administrators hired an additional kindergarten teacher. A first-grade teacher stepped down a grade level to teach the school's newest students, Dieter said.
Despite the jump in class size, GES teachers say they have everything under control.
"Our teachers have done a great job getting the program up and running," Dieter said.
Ask the five GES kindergarten teachers how they've adapted, and they'll say just about everything takes more time.
"We went from 16 or 17 (students) to about 24," said Nichole Gaines, who is in her 20th year of teaching. "Simple tasks and routines take a lot longer."
This includes not only classroom instruction but teacher preparation time, too, teacher Deanna Grantham said.
Time and space are the biggest challenges of having a large class size, teacher Heather Redfoot said.
"We're spending more time on social (skills), teacher Scott Stringert said of building a "sense of community" in the classroom.
The noise level is louder as well, Redfoot said.
Only about half the kindergarteners went to pre-school, Gaines said, so many students are still learning how to interact with other children.
First-year teacher Julia Adams said students are still getting used to being in school and doing things with other children.
"The greatest learning they get is through their social time," Gaines said.
But there's still plenty of classroom instruction time.
"It's ABCs, 1-2-3," Dieter said.
Kindergartners learn "fundations" or letters and sounds, engage in shared reading time, rhyme syllables, practice sight words, learn beginning sounds, read, write, and problem-solve, learn math skills, and design art. Youngsters also have story time, quiet time and end the day with recess.
Since Greenville Elementary School is a federal Title I program school, additional resources are available to students who may need a little extra help, Dieter said.
Though he doesn't know the exact reason for the unusually large class size this year, Dieter is committed to educating the district's youngest students.
"They're coming through the door, and we're gonna take care of them," he said.
A slight baby boom occurred in Mercer County during the years 2013 and 2014, according to the Pennsylvania Department of Health. In 2013, 1,142 babies were born in Mercer County, and in 2014, 1,181 were born. This is a small increase from the annual average of 1,131 during the years 2010-2017.
Like Heidi Warren on Facebook or email her at hwarren@sharonherald.com.