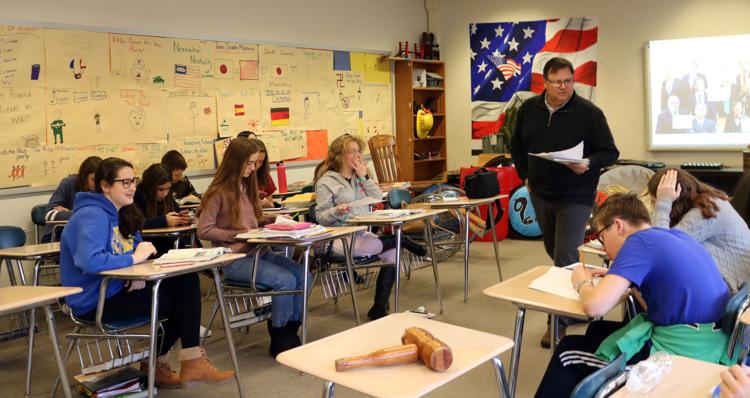 GREENVILLE — Current events are part of the daily lesson plan for Greenville Area High School history teacher Dave Henderson.
And, right now, current events means the impeachment of President Donald Trump. Henderson, who teaches ninth- and 10th-grade American History, is talking to his students about the trial, as history in action.   
"They need to know the process whether they agree with it or not," Henderson said. 
Talking about the impeachment trial follows what the school's curriculum was designed to do, he added.
"This is just part of the course," Henderson said. "Current events is history."
Since the impeachment trial began, Henderson said he and his students have discussed President Trump almost daily. 
"I really think it's important everyone knows the cast of characters," Henderson said. "Here are the people and what they're trying to say."
Henderson talks about the main arguments of the impeachment trial but also tries to insert "neutral" quotes from the people involved, he said.  
Recently, the class has been discussing John Bolton, former U.S. national security adviser, and the impending release of Bolton's book. Bolton could be called as a witness in the impeachment trial if the Senate votes to hear him.
"We do have Bolton quotes primarily from his years of service," Henderson said. 
Henderson also encourages his students to watch the evening news. He said they are receptive to learning about Trump and the impeachment process.  
"They are participating," he said. "They're able to make judgments. They are somehow engaged in it, which is good."
Students Shelbylyn Walker, Dillon Hause and Emily Gongaware have their own opinions about the trial and how they expect it to end. 
"We've been learning about Bolton and how he's been writing a book about being in the room when Trump was talking about Russia to help with them," said Walker, a freshman.
Hause said he thinks Trump is innocent. 
"I don't think he really did what everyone's saying he did," Hause, a freshman, said. 
Gongaware said she doesn't think President Trump will be removed from office, ultimately. 
"He has a strong community behind him," Gongaware said. "I think Trump is a good president for us and he's doing what's right."
Initially, when Henderson incorporated the impeachment trial into his curriculum, he thought it would be a fairly fast process. 
But since it hasn't been, Henderson said he is thinking about having a debate.
"I would like to do a debate, dig in and let them get riled up a bit, see if we can sway people from one way to another," Henderson said.
Under President Trump's leadership, Henderson said, there have been many big events. 
"It's always these huge moments in history," Henderson said of Trump's three years in office. 
Politics is perception, though, he said.
"Politics is tough because it's a gray area," Henderson said. "Politics is a lot like banter. They just have a different view of the same subject, which is why we're a republic."
GHS Principal Jeff Keeling said he supports what students are learning inside Henderson's classroom. 
"Studying events as they occur provides students with a first-person view of the functions of our government," Keeling said. "I believe any opportunity to make connections between concepts taught in a course and ongoing real world events creates a unique learning experience for students."