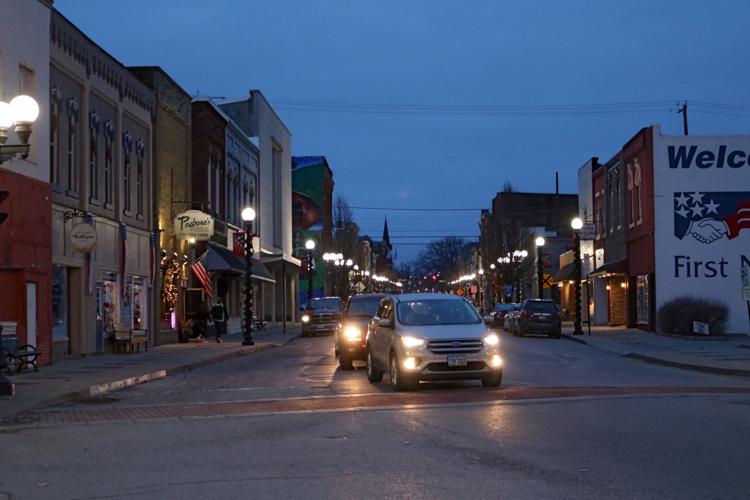 GREENVILLE — "There are possibilities if you allow yourself to hope."
Those are the words of Cleveland-area community planner Kirby Date, who was recently hired by the town of Greenville to assist in developing an economic strategy to help revitalize the community. 
"Greenville is coming out of economic distress status," Date said, referring to the state's Act 47 program. "They are now on the verge of exiting."
According to Date, if the community wants to stay financially "in the black," the only way they will be able to do that is by boosting the town's economy. 
Officials have been trying to put together a comprehensive plan for the town for several years now and are trying to take a regional approach to build collaboration and boost economic development, said Jasson Urey, town manager.
"What that consists of is trying to gather data to know what you have and what potential may be there and to come up with a list of strategies to assist with economic development," Urey said. 
Date began collecting and analyzing data last August, she said. 
According to Date, Greenville has a ton of assets.
In addition to being a college town, Greenville has a "whole lot of recreation opportunities," she said. 
Date gave the example of people who are visiting Pymatuning State Park and looking for a "small-town experience" while they're on vacation.
Greenville "is a small town with a picturesque Main Street," Date said. "It's an hour and a half from Pittsburgh. It could be a getaway." 
Additionally, Date said there's a "strong" metals-working structure in Greenville.
"They have a lot of miscellaneous manufacturers, people doing small, creative things that I think people aren't aware of," Date said. 
Greenville High School is also an asset, she said. 
"A sizable number of people who live in Greenville are there because they wanted the kids in the schools," Date said. "So, that's a plus. People feel very proud of the high school and feel connected. That's an asset. All of these can be built on."
Overall, boosting Greenville's economy comes down to marketing strategy, she said. 
What will contribute to an economic boost? Date's list includes:
• Attracting more businesses.
• Getting quality lodging.
• Strengthening relationships with Thiel College and local school districts so there are entertainment and arts opportunities.  
"You put all that together, and I think the potential is there," she said. 
Date also cited the strong connection Thiel College has with its alumni. About 5,000 people return annually to participate in college-related events, Date said. 
"That's another asset they can capitalize on," she added. 
As for people looking to buy houses within Greenville, housing is one area that hasn't yet been discussed, Date said.
"Part of why people don't buy housing in Greenville is it's not necessarily up to date," she said.
However, property assessments have shown that people in general are taking pretty good care of their homes, Date added. 
"When people see a house that's falling apart, it's by far the minority," she said. "In general, people take very good care of their property."  
Additionally, the development of the petrochemical cracker plant in nearby Monaca, Pa., will also help to boost the economy of Greenville, Date said. 
"I think we are going to see some positive influence there," she added.
Date said the recent change of Greenville's designation from a borough to a town will help its overall image.
"In my mind, the change to town implies a deeper perspective, which is, 'we're going to re-envision ourselves,'" Date said. "And that's big. That's very important."
Moving forward, changing people's perceptions of Greenville is what it's all about, Date said.  
With Pittsburgh and Cleveland beginning to rebound, Date said change is coming.
"Greenville and a lot of towns hit bottom a few years ago," she said. "When places like Pittsburgh or Cleveland, start to rebound and are burgeoning the way they are, it's inevitable that towns around them are going to be able to capitalize on that in one way or another."
For his part, Urey said he is open to suggestions.
"Anything we can do that promotes the area, that promotes Greenville, is a benefit and a strategy that we want to use," Urey said. "We're all ears."
Like Heidi Warren on Facebook or email her at hwarren@sharonherald.com.