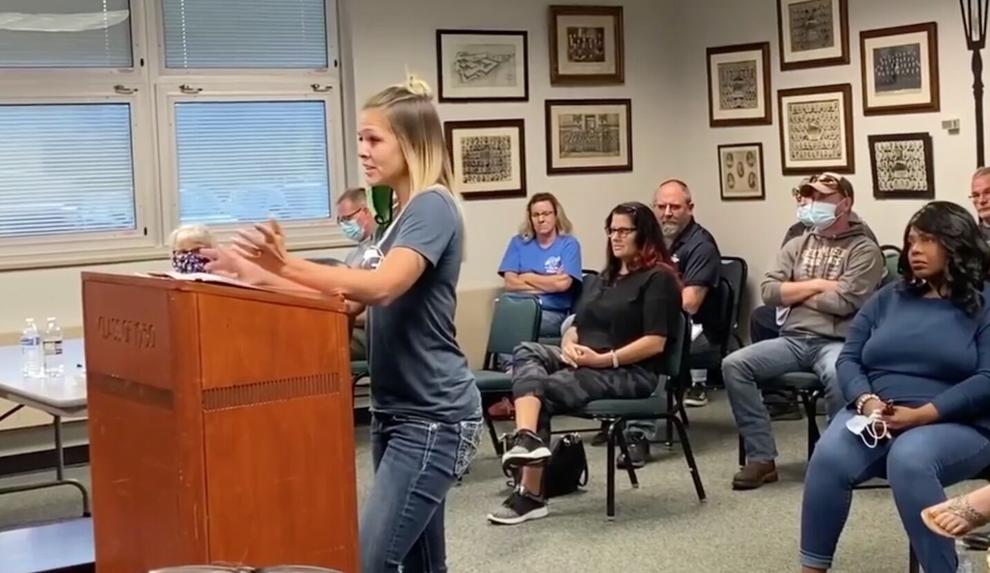 GROVE CITY – Parents and grandparents of Grove City Area School District students pleaded Wednesday for school board members to allow face masks to be optional for students – despite a state mandate requiring them.
"Your teachers are bullies," Barb Manbeck told the board during public comment at the beginning of the three-hour work session.
About 20 people attended the work session – some of them wearing face coverings – and more than two dozen were standing outside in the parking lot with signs criticizing the mandate. The meeting was also streamed virtually via Zoom.
The first day of classes in Grove City was Aug. 30, and masks were optional in the district until the state Department of Health and Department of Education put forth the mandate, effective Sept. 7, to help mitigate the spread of COVID-19.
Board members discussed the mask issue later in the meeting while reviewing proposed updates to health-related policies.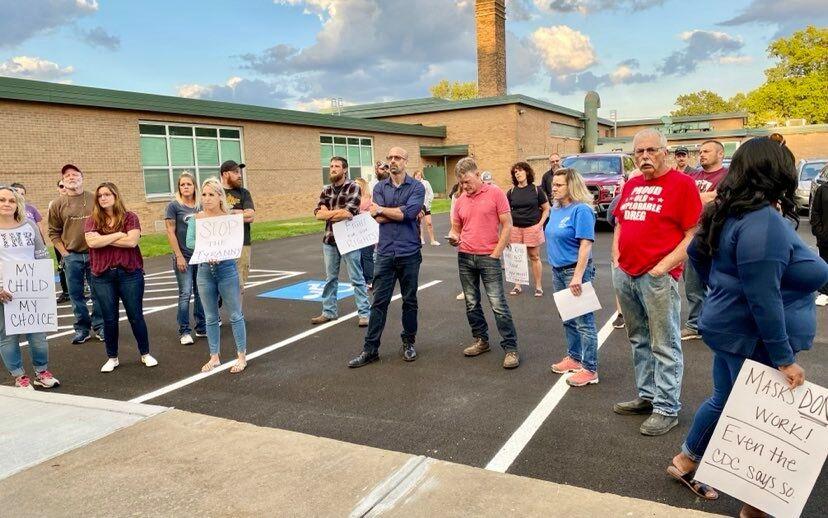 Most attendees had left by then, and Superintendent Dr. Jeffrey Finch said many people might not realize that the district could face serious consequences if the mask mandate is not followed.
That could include fines, criminal charges and a loss of roughly $8 million in federal funding, he added.
Manbeck was speaking on behalf of her daughter's family and was one of multiple community members who told the board that mask-wearing should be decided by parents, and that the mandate is having a negative impact on students.
Manbeck claimed that the principal of Hillview Elementary School, Tammi Martin, made her 7-year-old granddaughter cry after the girl was asked to wear a mask.
"She kept screaming at her," Manbeck said.
Tammy Uber's kids attend online charter school and not the district because of the mask policy. One of her kids has a medical condition that their pediatrician said would be affected by a mask.
The doctor refused to provide the child with a medical exemption after the district complied with the mask mandate, Uber said.
"It is my job to make sure my children are safe," she said.
The mask mandate makes no sense for the small community because of the low number of virus cases being reported, she said.
Stacia Mason, whose daughter is a graduate of Grove City High School, said parents are in the best position to make health care decisions for their own children. A Black woman, she said her ancestors came from segregation, and she's seeing the same type of separation, shame and division caused by the mask debate.
"I thought this school district was better. We all know these masks aren't working," Mason said, adding that she had COVID-19 in 2020 after being around masked individuals.
One parent, Jennifer Hindman, who attended via Zoom, said kids learn best in-person in a safe and engaging environment. Not wearing masks would lead to frequent quarantines and school closures, she said.
Parent Katie Bowers drives a bus for the district and held up a box that contained disposable face masks provided by the district. The label states that the masks are for pollen, she said.
"We're hiding behind these masks to cover your funding," she said.
She told the board that her child watched a video in school that stated her values and beliefs are not important.
"Basically, throw them aside. It doesn't matter what we think, what we feel, and that's not how this world works," Bowers said of the video.
In the video, Martin welcomed the students back to school and thanked them for being safe, respectful and responsible. Two students introduced the video for "HVTV," which provides daily announcements for Hillview. Martin talked about the mask mandate and how it helps prevent the spread of the virus and is a way for the students to take care of each other. She said she recognizes that it's a hassle, which is "OK."
"No matter what you believe, no matter what you like, the fact of the matter is if somebody tests positive near you and you're not wearing your mask, Mrs. Martin has to send you home for at least 10 days," Martin said in the video.
Finch defended Martin and the district, which are still navigating what's been imposed by the state, and students can wear face shields, he said.
Because of exposures, 73 Grove City students are quarantined, he said.
Finch described Martin's phone and video messages as "poor word choice." But he said that Martin provides energy and commitment.
"She's terrified of us closing her school," Finch said, getting emotional.
Finch said he is disappointed that some elected officials are "fueling the flames" with social media posts disparaging the mask mandate. The state has made school board members the most reachable public enemy, and if the district defies the mandate, they could be in big trouble, Finch said.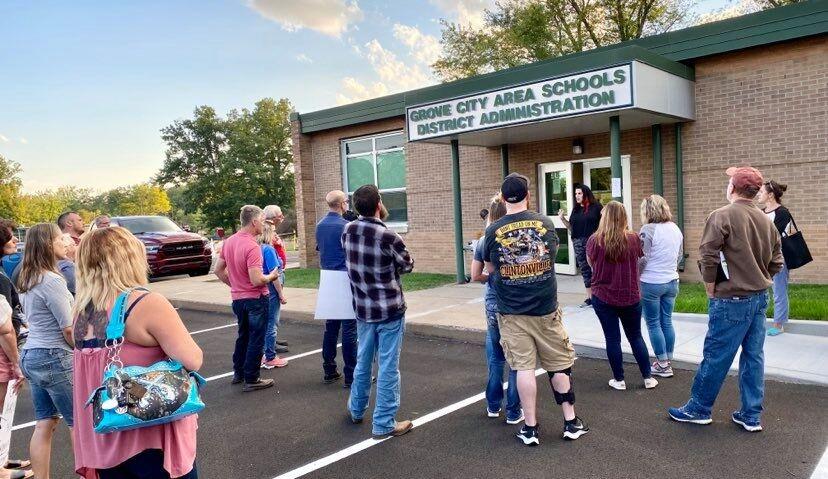 He asked how the district can get the community to understand that they don't disagree with them; the district's health and safety plan initially said that masks would be optional unless there was a mandate.
Everyone is on the same page, even though it might not seem like it, said board member Dr. Armando Sciullo.
"I love your passion," he told Finch.
As a parent, Sciullo said he believes the mask mandate is flawed. He was upset to hear from his son that the students must face one direction during lunch in an effort to maintain social distancing, cutting them off from interaction.
The mandate has "teeth" and is being challenged in court, he said. Ryan Thomas, board vice president, hopes the lawsuit returns control of the masks to each school district.
He said Grove City school leaders worked very hard on the district's health and safety plan, and for it to be overruled by the state is a slap in the face.
He appreciates those who spoke during public comment but reminds them that people can't just show up at Gov. Tom Wolf's mansion with pitchforks. He also suggested that the schools develop a better plan for lunch.
The issue has become polarized and political, and it's hard for people to patient when their kids are involved, said board member Dr. Constance Nichols.
Board President Doug Gerwick, who is a lawyer, said the parents, but not the school board, can file lawsuits.
He added that he was upset to come across a Facebook post mentioning a local teen who's in intensive care with COVID-19. Some people said "it's just one boy."
"That broke my heart," he said.
The board's voting meeting is set for 7 p.m. Monday in the board conference room. People can attend in-person or remotely via Zoom. For the agenda and connection information, visit www.grovecity.k12.pa.us