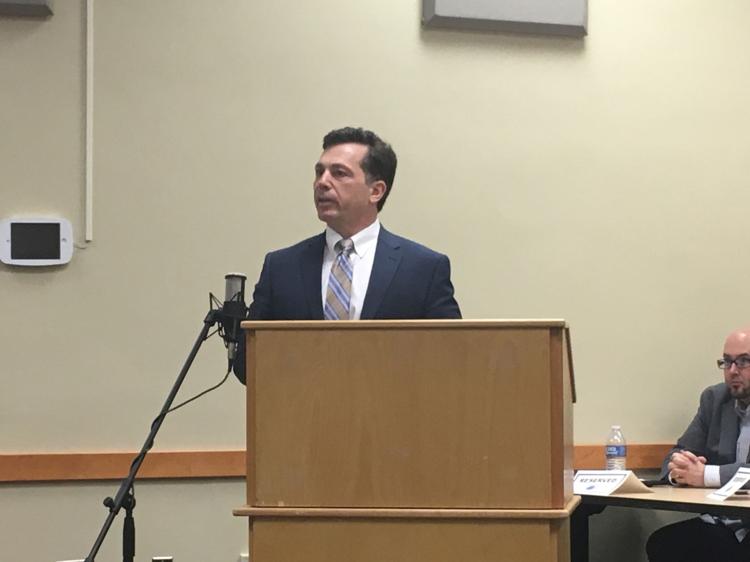 HERMITAGE – Hermitage city officials approved a new agreement with Spectrum at Wednesday night's meeting, but not without asking the public to speak its mind first.
The agreement granted a 10-year non-exclusive cable franchise to Spectrum Mid-America, LLC, known locally as Charter Communications. Before the commissioners voted on the agreement, a public hearing was held for the audience of about 50 people to address Chris Thomas, director of government affairs with Charter Communications.
Some of the complaints voiced were directed toward the seemingly unnecessary channels offered.
Charles Baldoff, of Silver Ridge Court, wondered why there were so many iterations of the same channel that customers had to buy, to which Thomas responded that some broadcasters Spectrum buys channels from only offer channels in bundles.
"That's why if you purchased a channel like CNN for example, you might have CNN but also other similar channels like CNN International," Thomas said.
Other issues brought up related to people's issues with their digital boxes or modems. Stacey Squatrito, wife of Hermitage Commissioner Louis Squatrito, said losing connection to the internet is a particular problem at her family's home.
"We had to reset the modem four times yesterday, and we have our security system hooked up through the internet," Stacey said.
However, there were many at the meeting who said they were unhappy with Spectrum's customer service, whether it be a visit to Spectrum's office in Hermitage or interactions over the customer service phone number.
Diane Syphrit of South Kerrwood Drive described an issue that started in December. Her internet could not stream TV past 7 p.m. on Fridays and Saturdays. Before the issue was eventually resolved, Syphrit had to put about nine hours of her own time in, based on the time spent on multiple phone calls.
Depending on which person she was talking to, Syphrit said she was told different things such as her "expectations were too high" or that she could only be reimbursed $15 for the time she spent
on the phone. Though the issue was ultimately resolved and she received compensation, the experience and number of calls it took was not what Charter Communications' CEO Tom Rutledge touted on the company's website, Syphrit said.
"What I experienced was not the 'superior customer service' that they have on the website; it's all fluff," Syphrit said.
Though the Hermitage commissioners passed the resolution unanimously, it was stressed that Spectrum owning and maintaining the necessary infrastructure was prohibitive toward attracting potential competition to Spectrum to the area. However, Commissioner President Bill Moder said potential competition could arise from technologies such as Firestick and Roku, if not from other cable companies, should Spectrum not try to address people's complaints.
"Everybody here is a customer, and there's so many ads for Spectrum, but the first rule of business is to try and keep what you already have," Moder said.
For anyone who did not wish to speak publicly or had a more specific question, printed sheets were made available to fill out, and Thomas said he also took notes on all the verbal complaints, both of which would be brought up with his superiors at Spectrum.
A suggestion was also made at the meeting toward some kind of followup with Spectrum, to determine what progress has been made to address the complaints brought forward Wednesday night, something Thomas said he was open to. Since there were many questions Thomas was unable to answer at the meeting, Commissioner Squatrito said he would be open to a followup as well.
"I'll take his word for it, because I don't think he would have stood in front of everybody like that if he didn't plan on doing something about it like he said he would," Squatrito said.
Commissioner Michael Muha said he was glad to see the number of people who attended the meeting to voice their concerns in person.
"We had a lot of people who came tonight, but there were a few people here who weren't even from Hermitage," Muha said.