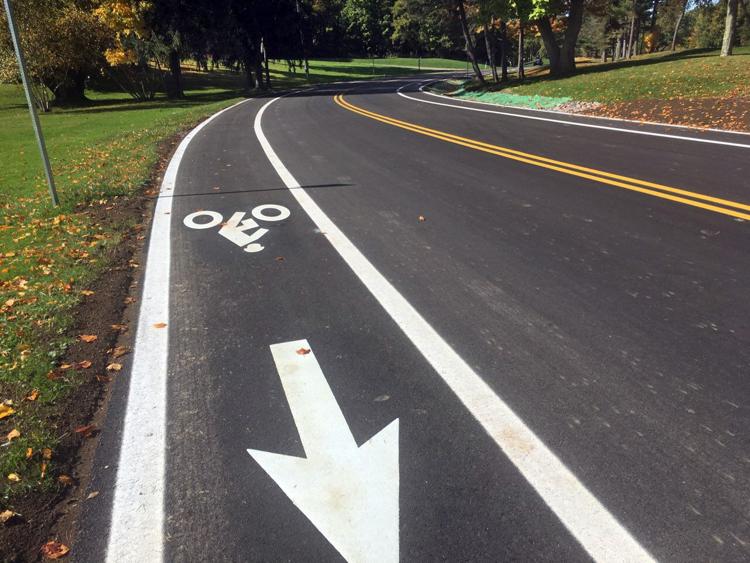 HERMITAGE — Bicyclists can start in downtown Sharon and end up in Buhl Park, with a new road and bike lane project recently completed in Hermitage.
The project was originally planned for the spring, but the onset of the COVID-19 pandemic pushed the project to the fall. Work eventually began in early September and was completed last week, Hermitage Assistant Director for Planning and Development Jeremy Coxe said.
"Basically it was delayed a couple months, but we were looking to get it done this year," Coxe said.
The project involved milling and new asphalt on Thornton Avenue from the Sharon line to Forker Boulevard in Hermitage, which was improved toward Hazen Road. The intersection of Thornton and Forker near Buhl Park was transformed from a "Y" shape to a more conventional "T" intersection, while bike trails were added from the Sharon line up to the park, Coxe said.
The project was put out to bid by the Pennsylvania Department of Transportation and awarded to Kirila Contractors, Inc., of Brookfield Ohio, Coxe said.
The project cost about $410,000. Hermitage received a federal Surface Transportation Urban Funds grant through the Mercer County Metropolitan Planning Organization, of which about $475,000 in grant funds will cover construction and inspection costs, while the city paid about $40,000 in up-front engineering costs, Coxe said.
The addition of bike trails originally started in the city's Trails and Sidewalks Priorities Plan, a study which outlined ways the city could extend its trails and sidewalks.
The project also picked up on road work done by the City of Sharon last year, where bike lanes were added along Sharpsville Avenue in Sharon to the Hermitage line on Thornton Avenue, Hermitage City Manager Gary Hinkson said.
"It was not only a project of the trail master plan, but it made sense to continue the bike lanes up to the park and make improvements to that intersection," Hinkson said.