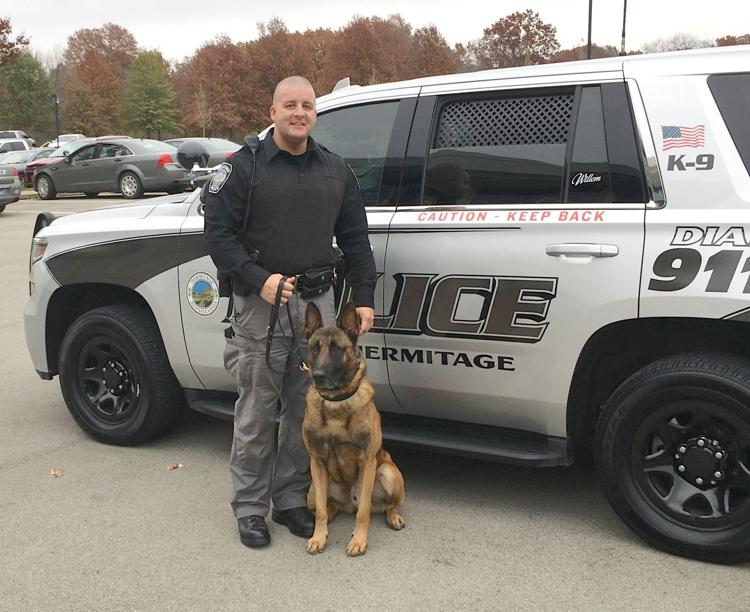 HERMITAGE – Officer Marc Frampton scratched Willem's ears as he stood paws to chest with his new K-9 partner.
"He thinks this is my whole purpose," Frampton said. "To be here just to do this to him."
Willem and Frampton graduated last week from Shallow Creek Kennels in South Pymatuning.
"It's definitely been a life-changer," Frampton said.
The new Hermitage K-9 unit trained from "sun-up to sundown" for six weeks, Frampton said.
"It was probably one of the most difficult things I've ever done," Frampton said. "It was physically and mentally exhausting."
The 3-year-old Belgian malinois has changed his perspective on law enforcement.
"My dog surprised me," Frampton said. "The hardest thing was learning to listen to him over myself. You have to trust and learn from (the dogs) because they're 100 percent right."
Frampton talked about a training exercise to prove his point. The team was outside tracking a man and Frampton saw footprints in the grass. He tried to get Willem to follow the footprints but the dog refused and pulled in the opposite direction. So Frampton listened to Willem against his better judgement. And Willem found the man behind a tree.
The nose knows. A dog's nose, with its 250 million olfactory cells, knows better than a human nose that contains only five million olfactory cells, Frampton said.
"He's been absolutely amazing at work and at home," Frampton said. "I couldn't have asked for a better dog."
The dog is trained to search for narcotics and patrol work.
"In my mind, everything can be a canine call," Frampton said, as he listed different calls he has responded to, and how the dog would be an asset. Such as an alarm drop or chasing an intoxicated person, for example.
Even just the dog's presence can make people behave, Frampton said.
That is why Chief Eric Jewell is considering the possibility of acquiring more patrol dogs.
"We're going to take it one step at a time," Jewell said.
Jewell had a long list of people to thank for making the department a little more colorful with the presence of a dog.
That list includes the Hermitage Veterinary Clinic, which offers care for the dog at complimentary or reduced rates, and All Paws Matter, which holding a spaghetti fundraiser and bake sale. Jewell said he was grateful to everyone who donated to the department's K-9 fund, whether it was $5 or $5,000, Jewell said.
The chief said residents can still donate to Hermitage Fraternal Order of Police K-9 Fund for the unit's future support.
Checks should be made payable to Community Foundation of Western Pennsylvania and Eastern Ohio and can be mailed to 7 W. State St., Sharon PA 16146. Donations also can be made online at www.comm-foundation.org.
Residents can also help by allowing the K-9 unit to train in a safe, vacant building or large field.
"I'm excited because now we can contribute to the pool of K-9 dogs in Mercer County," Jewell said.
Follow and like Melissa Klaric on Twitter and Facebook @HeraldKlaric.