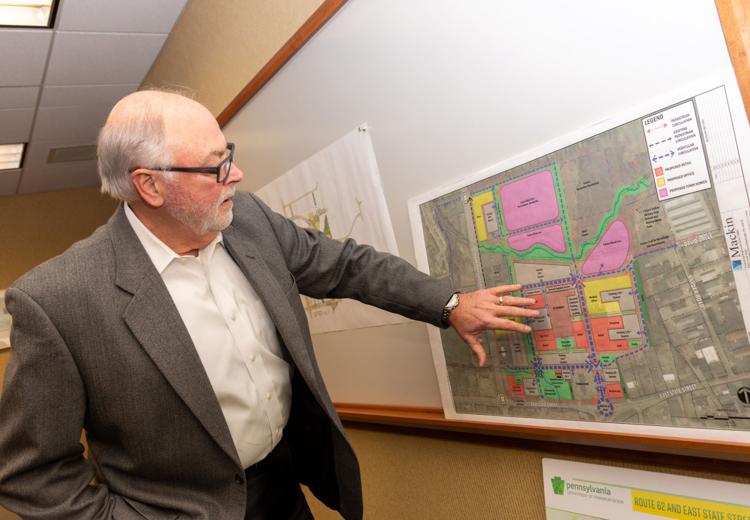 HERMITAGE — City officials took another step Wednesday evening toward securing state funding to create a town center in Hermitage.
The Hermitage Board of Commissioners voted unanimously to submit an application to the state's Redevelopment Assistance Capital Program for a $2.5 million grant.
Commissioner William McConnell abstained from the vote due to his family's ownership of the Shenango Valley Mall property. The GFM 23 group, which is in the process of selling the mall to Akron-based LRC Realty, is comprised of William McConnell and 22 other descendants of George McConnell, who once owned a farm on the property at East State Street and North Hermitage Road.
The grant, which would require $2.5 million in matching local funds, will go toward site development, stormwater system improvements and addition of open space as part of developing a town center for Hermitage, as outlined in the city's Comprehensive Plan, according to the resolution.
Designs for the town center area are still being developed, as the project will be affected by the expected development of the nearby Shenango Valley Mall. City officials have been working with LRC Realty representatives to develop a plan.
The Redevelopment Assistance Capital Program is administered by the state budget office for the acquisition and construction of economic, cultural, or civic improvement projects, according to the city resolution.
The grant was first announced in August, though the application and business plan was due within six months after city officials were notified of the release of funds, Hermitage Assistant Manager Gary Gulla said.
With the resolution last week by Hermitage commissioners, a grant contract could arrive this spring. After the city receives the grant contract, officials would start preparing more detailed construction plans, which would then be sent to the state Office of Budget.
The construction contracts could be awarded this fall, with construction possibly starting in the spring of 2021, Gulla said.
Like David L. Dye on Facebook or email him at ddye@sharonherald.com.