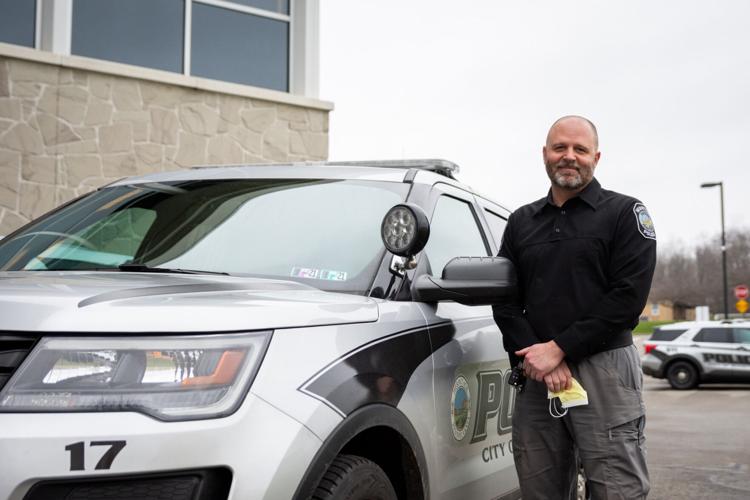 HERMITAGE – After a year when police have come under scrutiny, especially in its dealings with Black citizens, Hermitage police Chief Eric Jewell is taking steps to bridge the gap between the community and police department.
The department has initiated a community engagement program, led by Officer Sammy Staples, who will work with residents, organizations and businesses to build better relationships between the police and the community. Jewell said people sometimes don't understand what the police do.
In light of social justice protests after a Minneapolis police officer killed George Floyd, Jewell realized he had to bring an outreach program to Hermitage.
"I wanted to implement it sooner but last year was a very difficult, sometimes tumultuous year," Jewell said. "I wanted to do this because I think it's very important for the department, for the city and for the community at large. We're a team effort."
Staples, designated as the community engagement officer, said he will undertake daily outreach efforts along with long-term activities such as "Coffee with a Cop" events.
"Going to businesses, meeting and greeting and trying to gauge them for any concerns, any questions they may have," Staples said. "Being able to be available and accessible for the elderly, the youth, the different communities, for them to know that we're here and I'll do what I can to help them feel better and be more trustworthy of us."
Jewell said the department, through Staples, will reach out to a wide spectrum of people and businesses.
"He's going to reach out to seniors, diverse groups, and we're just going to get to know each other. Break a little bread," Jewell said. "We're going to work together, we're going to share information and we're going to communicate."
Jewell said 2021, with trials for the police officer who killed Floyd and people involved in other incidents, could be almost as difficult as last year was.
"But we definitely want to keep the peace," he said. "We want to educate the community on law enforcement and we want to encourage diverse groups to want to come into law enforcement for a career."
Jewell said he had to lobby for the community engagement program, but said elected and appointed officials, including Manager Gary Hinkson, are completely on board with the program.
"I had to get city manager and commissioner buy-in and a small budget to support some of these operations," he said.
Ultimately, Jewell said the program is part of an effort to help Hermitage's law enforcement engage with the community, and hopefully prevent crime rather than react to it.
"We want to build a better society, a better community, a better quality of life," Jewell said. "There's a lot of issues in society but we're going to try to make it a little bit better based on the law enforcement nexus of it and see where it goes from there."
The position is a full-time, year-long temporary assignment for Staples, who joined Hermitage police in 2010. After that, the city will review the program and could renew it depending on costs and results.
"What will happen after that year, it all depends on the budget, the manpower and the success of the program," Jewell said.
If it were up to Staples, he said he's going to do what he can to keep the program going for longer than that.
"I invite people to reach out to me with any questions, concerns or suggestions," Staples said.
Staples began his law enforcement career with Hermitage as a patrol officer. He has a background with juvenile justice, and has earned a master's degree in criminal justice and works as a criminal justice instructor at the college level.
Due to the pandemic, Staples will be operating in small-group mode and planning for larger events for spring or beyond.
Staples and Jewell are open to ideas and suggestions and can be reached at the Hermitage Police Department at 724-983-6780.
Jewell said other local departments should adopt a similar program.
"We know there's a lot of good people out there, a lot of different cultures," Jewell said. "And we're going to make this place a better place to live."
Follow Melissa Klaric on Twitter and Facebook @HeraldKlaric, email: mklaric@sharonherald.com