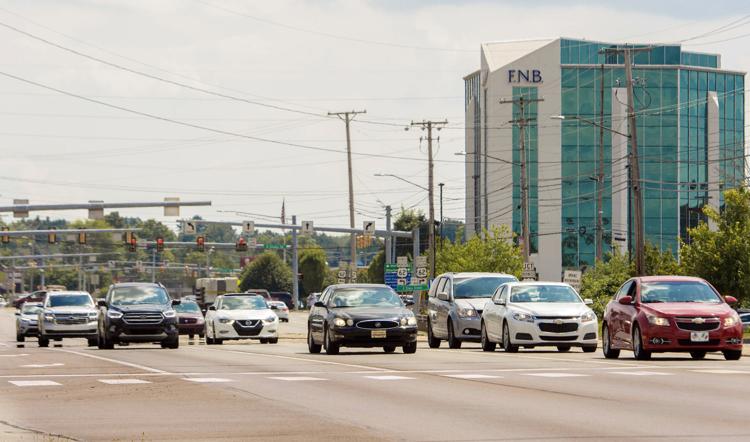 HERMITAGE — With a new comprehensive plan in place, city officials are looking to impliment one of the plan's recommendations — a downtown-style development.
To help make the project a reality, city officials are applying to the Commonwealth Finance Authority's Multimodal Transportation Fund for a grant of nearly $2 million. If approved, the funds would be used to improve transportation infrastructure in the proposed town center.
The city's 2030 Comprehensive Plan includes a recommendation for a town center development to replicate the community function of a downtown style mixed use district with retail, office and residential space, with amenities to attract visitors.
Those improvements could include the addition of another lighted intersection on North Hermitage Road that could help improve access to the Hermitage School District elementary school complex and possible development in the vacant land north of the Shenango Valley Mall. The project could also include a street grid in the town center area, City Manager Gary Hinkson said.
"This all depends on if we're approved for the grant, and it is a highly competitive grant, so sometimes there are more project applications than there are funds available," Hinkson said.
City officials are still in the very early stages of applying for the grant, so exact designs and plans are still being worked out, he said.
Hermitage previously applied for and received funds that were used for the new traffic signals at the intersection on South Hermitage Road serving the LindenPointe business park and for improvements to the Hermitage Athletic Complex, Assistant City Manager Gary Gulla said.
"They're a very good organization to work with," Gulla said.
A response from the Commonwealth Finance Authority is expected in about six months, although it could be pushed back depending on how busy the authority is. If approved, the project would be bid through the city and could be under way during the 2020 construction season at the earliest, Gulla said.
The application was authorized by the Hermitage commissioners at their monthly meeting on July 24. Board members voted in favor with the exception of Commissioner William McConnell, who abstained because of the McConnell family's association with the Shenango Valley Mall property.
The McConnell family has since reached an agreement to sell the mall to developer LRC Realty of Akron, Ohio. 
Like David L. Dye on Facebook or email him at ddye@sharonherald.com.