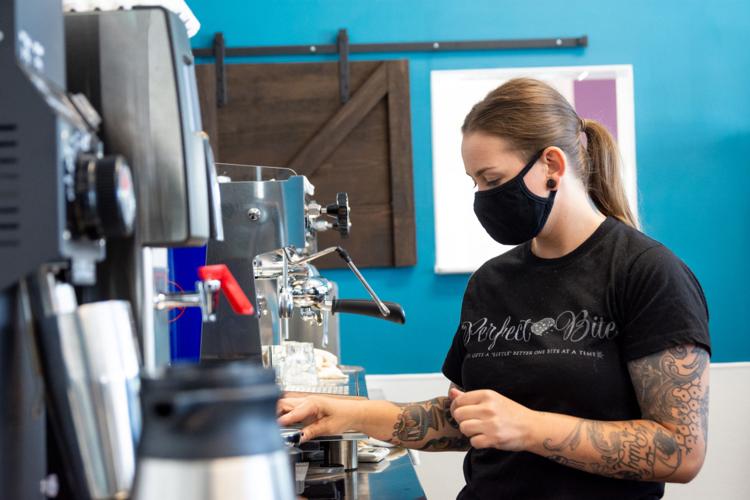 HERMITAGE — Ron and Lori Taylor had planned to open a new snack-and-coffee shop in April.
But the COVID-19 pandemic had a say in their plans. So their shop, The Perfect Bite, didn't throw open its doors until almost three months later.
And one of their neighbors -- a Rita's Italian Ice and Custard franchise a few dozen yards away in Hermitage Towne Plaza -- was in a similar situation. The Perfect Bite opened on June 22, with a ribbon-cutting ceremony earlier Wednesday, and Rita's is scheduled to start serving ices later this summer.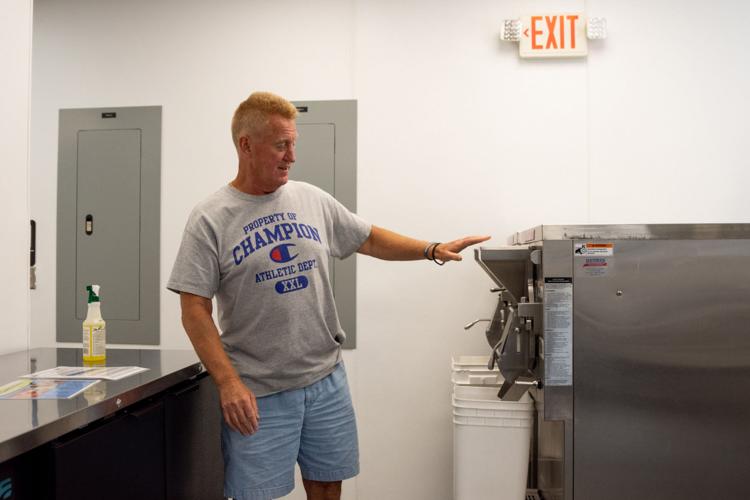 Ron Taylor, who owns The Perfect Bite with his wife, Lori, said business has been brisk since the delayed opening. The shop has had about 550 sales transactions in July alone, with about 1,200 sales total.
"The turnout and the overall feedback so far has been really good," Ron said. "It has been busier than expected but we are in a very visible location, so once people find out we're open it's easy to find us."
Ron and his wife Lori owns Edible Arrangements, and The Simple Greek restaurant next door. When their contract with Edible Arrangements expired in January, the couple decided to close the business and come up with a new, original concept that could occupy the same space.
Some of the products, including fruit and smoothies, are similar to offerings at Edible Arrangements. But Ron said the Perfect Bite came about when he and Lori decided to incorporate their enjoyment for a range of foods into the business. 
In particular, the couple thought about how some coffee places sell whole slices of cake and pie or large cookies with their coffee and decided to take their plans in a different direction.
The Perfect Bite's coffee is provided by Branch Street Coffee in Boardman, where the Taylors own another business. The Ohio-based venture helped the Taylors become familiar with Branch Street Coffee owner Matt Campbell. For food, the business offers smaller-sized portions — including fruit and cake bites, hence the shop's name.
"It's just a little treat, and it let's you sample a lot of different things, like mini-chocolate cookies or our orange creamsicle cake bite or strawberry cake bite," Ron said.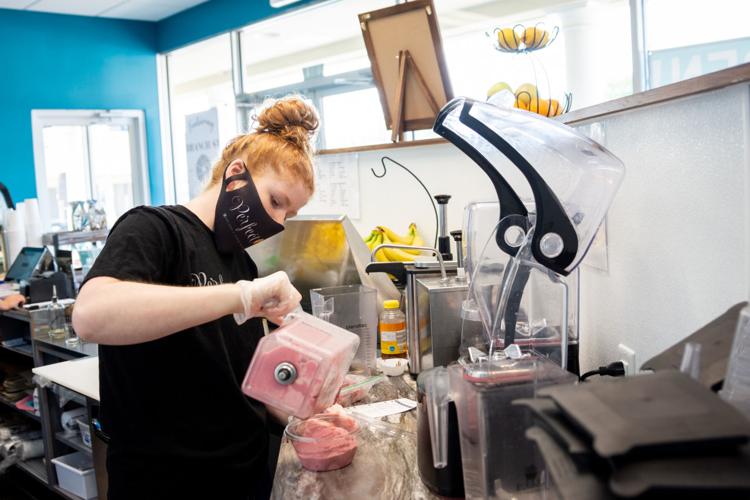 The shop also offers healthy options, such as the smoothie bowl, which includes options for fruit, and coconut milk or almond milk for customers who want to avoid dairy products. Other items have gluten-free or vegan options. Even the sweets like the cake bites are healthier because of their smaller size, Ron said.
"You don't necessarily want to avoid high quality foods or things that are a little indulgent because people want something that's a treat, so by making it in smaller portions, you can have something that's a little more indulgent but it's not ginormous," he said.
Ordering in The Perfect Bite is generally a quick process, but those looking to sit a while after ordering coffee can step next door to The Simple Greek through an entrance connecting the two businesses.Or, after lunch at The Simple Greek, diners can have dessert at The Perfect Bite, Ron said.
Moving forward, Ron said he and Lori will look to expand the menu, with macaroons coming soon. They are also considering other products such as Maggie's Magic Muffins of Boardman, which has a mini-muffin that would fit with The Perfect Bite's menu.
While some businesses such as The Perfect Bite are opening their doors, Rita's Italian Ice and Frozen Custard is preparing for its opening day.
The business was going through its final inspections this week, with a Department of Health inspection scheduled for today and a Department of Agriculture inspection shortly afterward, owner John Sarandrea said.
Sarandrea said he had planned to open sometime in May, but the pandemic pushed back both construction and the necessary inspections by about six weeks. Now that construction is completed and the inspections are underway, Sarandrea said it is hoped Rita's will open sometime this month.
"After we get those inspections done, we'll go through some training with the employees and then we'll be open," Sarandrea said.
Rita's Italian Ice and Frozen Custard is already becoming visible in the community, from sponsorships with ocommuity sports teams to a Facebook page, where Sarandrea shares updates on the shop's progress.
But the community has been monitoring the process in a more low-tech way, Sarandrea said. With Rita's location along a high-traffic section of East State Street, plenty of people have been stopping by while the family was preparing, to check the business out and see if it's open. 
Sarandrea said about 150 people checking in last Thursday alone. Of those who stop by, Sarandrea said about 80 percent have tried Rita's before at other locations.
"The closest location to us is in Cranberry, so some people have experienced Rita's while on vacation or in other parts of the country, but now you can have that experience right here," said Sarandrea, a former superintendent at Sharon City School District.
When Rita's opens sometime this summer, it will be manned by Sarandrea, his wife, daughter and two sons, as well as 14 young people who were hired from school districts throughout Mercer County, including Reynolds, Greenville, Sharpsville, West Middlesex and Hermitage.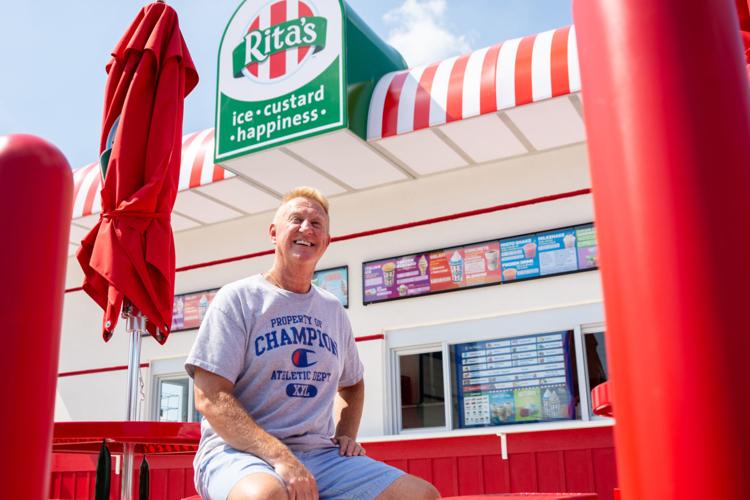 Like those who have stopped by, Sarandrea said the family and staff are eagerly awaiting their chance to open this summer. To ensure safety during the pandemic, all employees will wear masks and gloves, while drive-through and walk-up only access ensures customers could still safety social distance.
"We're close, we're excited, we're ready and we're following the rules and doing everything the right way," he said. "We want to make sure everyone has a positive experience when they're here."