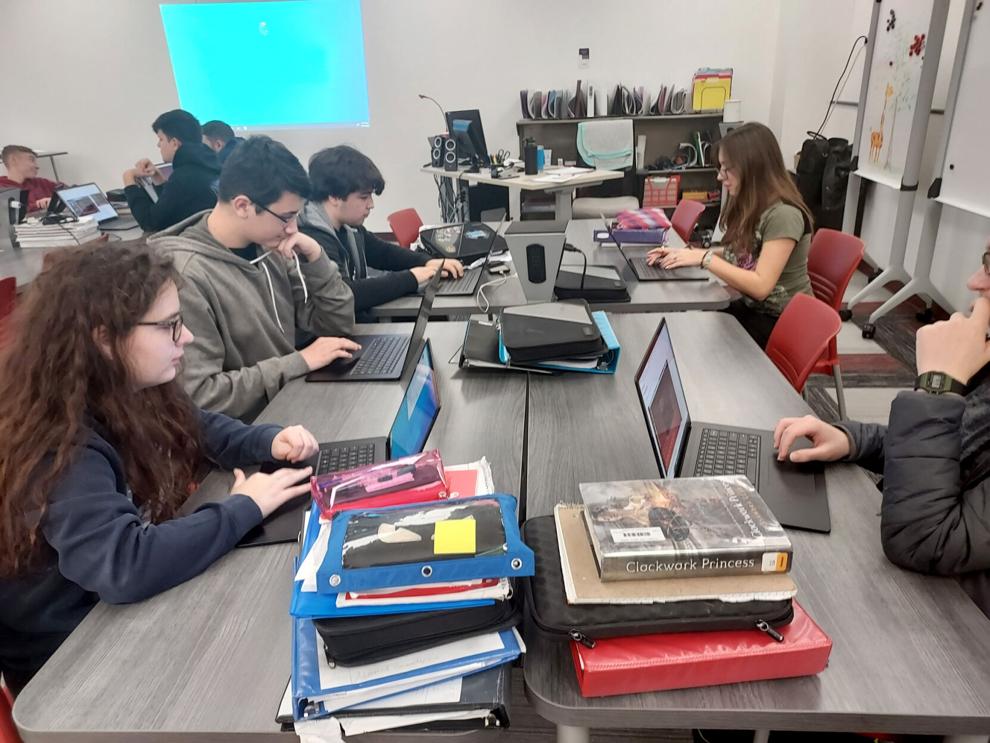 HERMITAGE — As the students worked on their laptops in the Hickory High School technology suite, one group of students at the most distant table collaborated by turning their laptops toward each other, or asked a teacher for assistance.
The Hickory High School students at that table may have been working on different tasks, but they were working together in the high school's Cyber Patriots program.
Sophomore Jolene Bees said the program can involve the students doing anything from packet tracing — figuring out the origin of a packet of digital information — to finding vulnerabilities and even programming, which is why the students usually assign different tasks to each member.
However, programming, "by far," was the most difficult task, said sophomore Matthew Worona, due to the trial-and-error involved.
"This is what chaos looks like," said sophomore Dominic Curtician, as he displayed a window on his laptop filled with text and symbols against a black background.
Although new to the Hermitage School District, Cyber Patriots is a nationwide competition run by the Air Force, district Director of Instructional Technology Joe Kulbacki said.
The program provides participating school districts with a curriculum that shows the different ways computers or networks can be hacked.
The students are given virtual machines that can run on each student's computer, such as a virtual box of Windows. The students then have to go in and find the vulnerabilities or users who have access to the system, Kulbacki said.
After a couple practice rounds, the Hermitage students' will receive a grade — platinum, gold or silver — based on their performance.
There will then be a state round Friday, followed by a fourth round that leads to a national competition in Maryland toward the end of the school year, Kulbacki said.
The process of bringing Cyber Patriots to Hickory High School started a couple years ago, when Kulbacki first heard of the program at a technology conference. He then spent about a year or two preparing with students and staff, and got the program underway this school year for students in grades nine through 12.
"It was new for everybody, but now that the students in class are starting to really understand what we're doing, they're taking the information home and checking their home networks for vulnerabilities," Kulbacki said.
Aside from the chance to compete against other schools, Kulbacki said the program can have long-term benefits for the students should they decide to pursue a career in IT or cybersecurity.
Kulbacki said he has reached out to a few people to talk with the students, including Hickory graduate A.J. Hammond, who now works in the cybersecurity field.
"The whole idea of the program is to get a kid interested in computers and networks, and getting them ready to continue in the field if they decide to enroll in a cybersecurity program somewhere like LindenPointe or Laurel Technical Institute," Kulbacki said.
Freshman Alexia Lauderbaugh said she was interested in Cyber Patriots since she had some computer experience as an eighth-grader under her previous technology teacher, Christine Morimando.
Junior Darryne Perryman said he is considering joining the military after he graduates high school, since he has family members who have served. If he does join, Perryman said he'd be interested in serving in a cybersecurity unit.
Bees added that having a program such as Cyber Patriots for high school students was beneficial regardless of whether someone decided to pursue cybersecurity with the military or as a civilian, and encouraged eighth graders to participate in Cyber Patriots in the future.
"You could take this class and then go to a trade school for cybersecurity, and you'd already be at an advantage over all the other students that are coming into it for the first time," Bees said.
Like David L. Dye on Facebook or email him at .