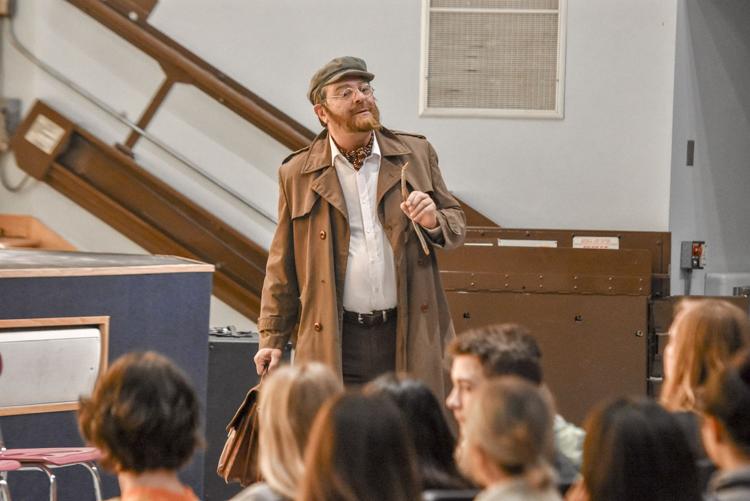 SHARPSVILLE — Emerging from behind a stage curtain, a bespectacled man with a knapsack and a small stick in his hand slowly walked to the center of the auditorium as he quietly surveyed the students in front of him.
However, as Amichai Pardo – playing the role of Polish educator Janusz Korczak – immersed himself into the performance Thursday at Sharpsville Area High School, the one-man show shifted from quiet to lively and comedic.
"Korczak was kind of like Dr. Seuss, because he was the person you went to with questions about raising your kid," Pardo said as he started the play.
Korczak, an educator who ran an orphanage in Poland before World War II, pioneered concepts of "reformative justice," such as a student court where children could be judged by a jury of their peers — other children. Korczak also issued postcards for occasions such as helping others or graduating from the orphanage.
The play, an adaptation of Korczak's story "10 Matchboxes," came about after Ira Pataki, a teacher at Sharpsville Area Middle School, saw the show at a theater in Pittsburgh. The performance was hosted by Classrooms without Borders, a program of the Jewish Federation of Greater Pittsburgh.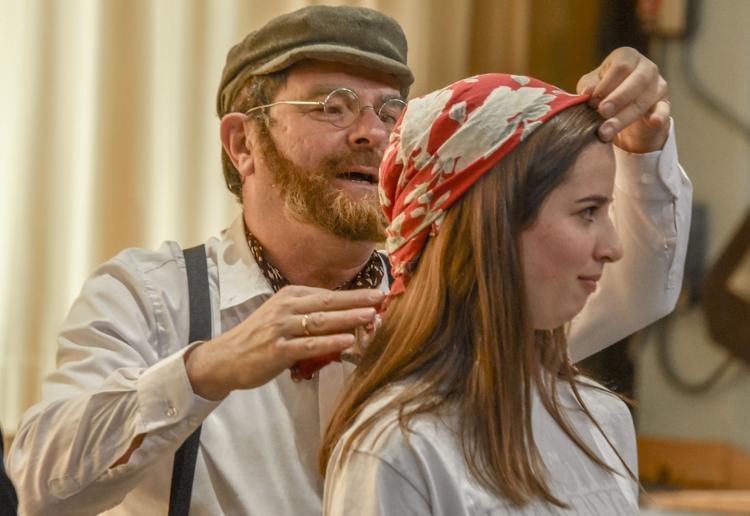 "I wanted to see it because we've done so much involving Korczak over the years in the classroom, like the court and the postcards," Pataki said.
After attending the performance and speaking with Pardo, Pataki was invited to speak at a conference held by the Korczak Association of the USA last August in Seattle. Pataki also introduced his students to the Classrooms without Borders' curriculum, which included reading the book "The Children of Willesden Lane."
"It's a story of a girl in the Kindertransport who was able to live on through this period with her music, so it teaches for children to keep their hopes up when times are dark," Pataki said.
Pardo, who travels the country performing as Korczak, was able to visit Sharpsville for Thursday's performance of "10 Matchboxes." In the story, a group of children are given matchboxes that cause different outcomes for each child.
In one case, a child loses his matchbox until another child finds it — and returns it. Another child proudly keeps three gold coins in the matchbox, until he is convinced to give a needy child a coin to purchase food.
As Pardo moved back and forth in front of the audience, he called out for suggestions or pulled students to stand in for children in Korczak's story. Each of the "10 Matchboxes" scenarios served as a moral lesson for children regardless of the setting. However, getting the students involved represented a key aspect of Korczak's teachings.
"With "10 Matchboxes," he didn't mean for children to read the story by themselves — he meant for kids and adults to read it and interact together," Pardo said of Korczak.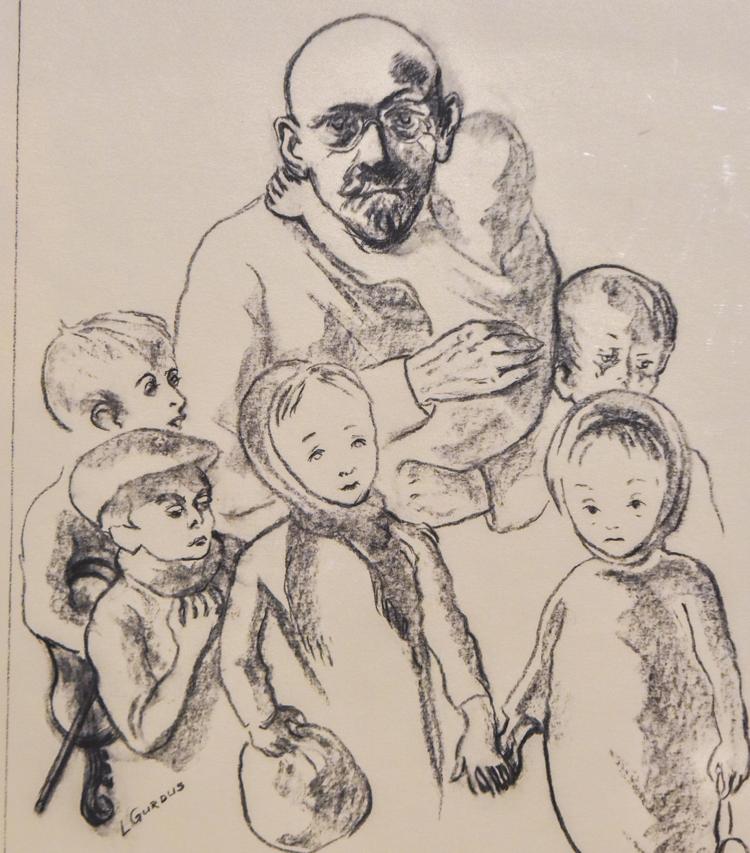 Classes from across the state line in Liberty and Austintown were invited to participate along with the Sharpsville students. The Ohio schools join Sharpsville schools in the International Shared Reading Program, sponsored by the Youngstown Area Jewish Federation.
Through the program, the schools are provided with "Island on Bird Street" and "Night," Holocaust-related books for middle and high school students, respectively, Pataki said.
Pardo, an actor with the Orna Porat Children's Theater in Tel Aviv, Israel, has performed the role of Korczak for about 20 years, after he started studying about Korczak's works and ideas.
"He was very courageous in how willing he was to give children rights and allowing children to take on certain responsibilities," Pardo said.
Even the size of the audience, about 100 students, was meant to reflect Korczak's individualistic approach to children. By capping the audience, Pardo said "Korczak" could still interact with the students and allow them to be comfortable participating.
"You could tell all of the students, even the shy kids, weren't afraid to get up and speak or be a part of the story," Pardo said.
Despite his efforts in reformative justice and child development, Korczak — a pediatrician, author and educator born Henryk Goldszmit — ultimately became one of the 6 million Jews killed during the Holocaust.
When Nazi Germany sent Poland's Jews to the Warsaw Ghetto, Korczak decided to remain with the children in his orphanage, even though the Germans offered to spare him. Later, when the children were sent to the Treblinka extermination camp, Korczak again opted to remain with his young charges — and died with them there in 1942.
"When I was in school, I learned about Korczak's death, but not as much about his life," Pardo said. "But about 20 years ago I was reading an article about his teachings, and I became intrigued by the way he was willing to give children more freedoms and rights than many people would give children today."
After the play was over, a group of students from Sharpsville's student court spoke briefly to the audience and presented Pardo with a postcard made by the students. Pardo said that was a first for him.
Two sophomores, Keelie Steiner and Lauren McConahy, were in eighth-grade when the school first formed its student court.
With about a dozen students serving as the "jury" and Pataki as advisor, school administrators refer cases to the student court, which offers the defendant a choice between detention and student court. Last month the court took on about three cases, Steiner said.
Instead of determining guilt, the court helps the student determine why he or she did something, what kind of harm it may have caused and what can be done to avoid repeating the offense. After the court has reached a decision, there is a two-week follow-up with the defendant.
"We have a youth advocate who works with the student and checks in with them," McConahy said.
However, the performance of "10 Matchboxes" and the fact a modern school is emulating Korczak's ideas after nearly a century served as an example of why his ideas are still relevant today, Steiner said.
"I think this is something that everyone should see, because for him to come up with these ideas and for us to still be talking about them in 2019 is crazy," Steiner said.
The Sharpsville schools were also presented with a drawing of Korczak and the children he cared for. Though the school hasn't yet selected a definite location for the picture, Pataki said he would like to place it where the student court meets.
"I think we've set up a really solid foundation, and the kids' energy and connection to the court — it's really inspiring," Pataki said.
Like David L. Dye on Facebook or email him at ddye@sharonherald.com.