WASHINGTON — Starting Saturday, private health insurers will be required to cover up to eight home COVID-19 tests per month for people on their plans. The Biden administration announced the change Monday as it looks to lower costs and make testing for the virus more convenient amid rising frustrations.
Under the new policy, first detailed to the AP, Americans will be able to either purchase home testing kits for free under their insurance or submit receipts for the tests for reimbursement, up to the monthly per-person limit. A family of four, for instance, could be reimbursed for up to 32 tests per month. PCR tests and rapid tests ordered or administered by a health provider will continue to be fully covered by insurance with no limit.
President Joe Biden faced criticism over the holiday season for a shortage of at-home rapid tests as Americans traveled to see family amid the surge in cases from the more transmissible omicron variant. Now the administration is working to make COVID-19 home tests more accessible, both by increasing supply and bringing down costs.
Later this month, the federal government will launch a website to begin making 500 million at-home COVID-19 tests available via mail. The administration also is scaling up emergency rapid-testing sites in areas experiencing the greatest surges in cases.
The insurer-covered testing would dramatically reduce costs for many Americans, and the administration hopes that by easing a barrier to more regular at-home testing, it can help slow the spread of the virus, get kids back into school more quickly and help people gather safely.
"This is all part of our overall strategy to ramp up access to easy-to-use, at-home tests at no cost," Health and Human Services Secretary Xavier Becerra said in a statement. "By requiring private health plans to cover people's at-home tests, we are further expanding Americans' ability to get tests for free when they need them."
Biden announced the federal requirement late last year, and it kicks in on Jan. 15, but the administration had been silent until now on details of the plan.
The administration is trying to incentivize private insurers to cover the tests up-front and without a cumbersome reimbursement process. Insurance plans that work with pharmacies and retailers to cover the up-front costs of the tests will be required to reimburse only up to $12 per test if purchased through an out-of-network retailer. Plans that don't move proactively to set up a network of pharmacies would have to cover the full retail price that the customer paid — which could be more than $12 per test.
A major health insurance industry group said insurers would carry out the administration's order, but cautioned consumers it won't be as easy as flipping a switch.
"Health insurance providers will work as quickly as possible to implement this guidance in ways that limit consumer confusion and challenges," Matt Eyles, president of America's Health Insurance Plans, said in a statement. "While there will likely be some hiccups in early days, we will work with the administration to swiftly address issues as they arise."
The group said it supports provisions in the Biden administration plan to counteract potential price gouging on tests.
Only tests purchased on or after Jan. 15 will be required to be reimbursed, the administration said. Some insurers may choose to cover the costs of at-home tests purchased earlier, but they won't have to.
Infected hospital staffers to continue working
Hospitals around the U.S. are increasingly taking the extraordinary step of allowing nurses and other workers infected with the coronavirus to stay on the job if they have mild symptoms or none at all.
The move is a reaction to the severe hospital staffing shortages and crushing caseloads that the omicron variant is causing.
California health authorities announced over the weekend that hospital staff members who test positive but are symptom-free can continue working. Some hospitals in Rhode Island and Arizona have likewise told employees they can stay on the job if they have no symptoms or just mild ones.
The highly contagious omicron variant has sent new cases of COVID-19 exploding to over 700,000 a day in the U.S. on average, obliterating the record set a year ago. The number of Americans in the hospital with the virus is running at about 108,000, just short of the peak of 124,000 last January.
Many hospitals are not only swamped with cases but severely shorthanded because of so many employees out with COVID-19.
At the same time, omicron appears to be causing milder illness than the delta variant.
Last month, the Center for Disease Control and Prevention said that health care workers who have no symptoms can return to work after seven days with a negative test, but that the isolation time can be cut further if there are staffing shortages.
France last week announced it is allowing health care workers with mild or no symptoms to keep treating patients rather than isolate.
In the Phoenix area, Dignity Health, a major hospital operator, sent a memo to staff members saying those infected with the virus who feel well enough to work may request clearance from their managers to go back to caring for patients.
"We are doing everything we can to ensure our employees can safely return to work while protecting our patients and staff from the transmissibility of COVID-19," Dignity Health said in a statement.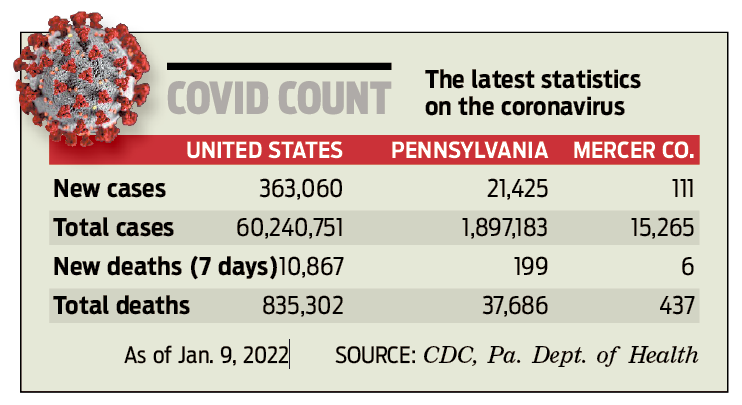 By the numbers
The United States' seven-day average of new COVID-19 infections reached 650,000, peaking Saturday at 680,000, as the omicron variant fueled a surge of new cases throughout the nation. Prior to the omicron surge, the seven-day new case average peaked at 229,424 on Jan. 13, 2021, according to figures from the U.S. Centers for Disease Control and Prevention.
However, COVID fatalities nationwide still lag behind the peak from a year ago. The seven-day fatality count, as of Monday, was 1,552, well below the peak of 3,421 on Jan. 13, 2021, the same day as the U.S. single-day high for fatalities, with 4,048.
In Pennsylvania, case counts hit a new peak of 33,342 on Friday. In last winter's surge, the highest single day level in the state was 12,792 on Dec. 10, 2020. According to data from the state Department of Health, Pennsylvania's single-day case count has exceeded the pre-omicron surge record every day since Dec. 26.
The state also is nearing last winter's peak for hospital demand. Over the last seven days, Pennsylvania hospitals have admitted 5,840.9 COVID patients, coming within a few hundred of the record, of 6,105.6, for the seven days preceding Christmas Day 2020.
On the seven days preceding July 20, the state had an average of 265.1 hospitalized COVID patients a day, the low mark of the entire pandemic.