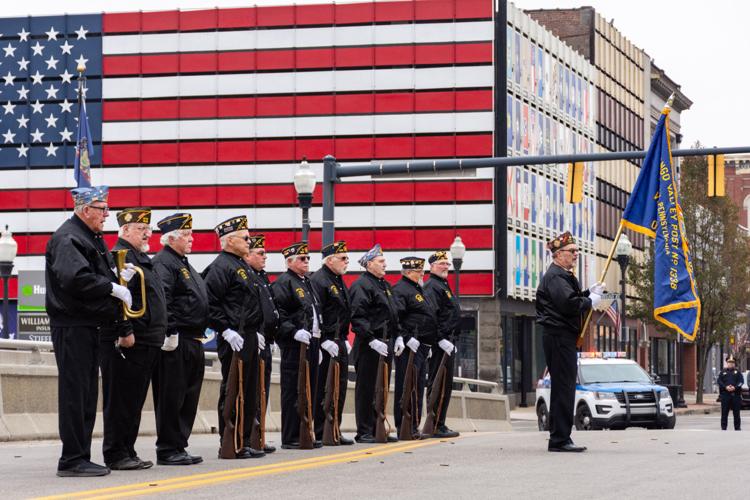 GREENVILLE — After 21 years in the Army, including eight years in the White House and another five in special operations, then-Sgt. First Class Michael Mason was deciding in 2014 whether to continue his military career.
Until, his 10-year-old son, Mitchell, provided his input.
"Dad, I just want you home to coach," Mason said his son told him.
The very next day, Mason said he submitted his retirement paperwork.
From the perspective of a veteran who balanced family with service to his country, Mason delivered the keynote speech Monday at Greenville High School's Veterans Day program about community.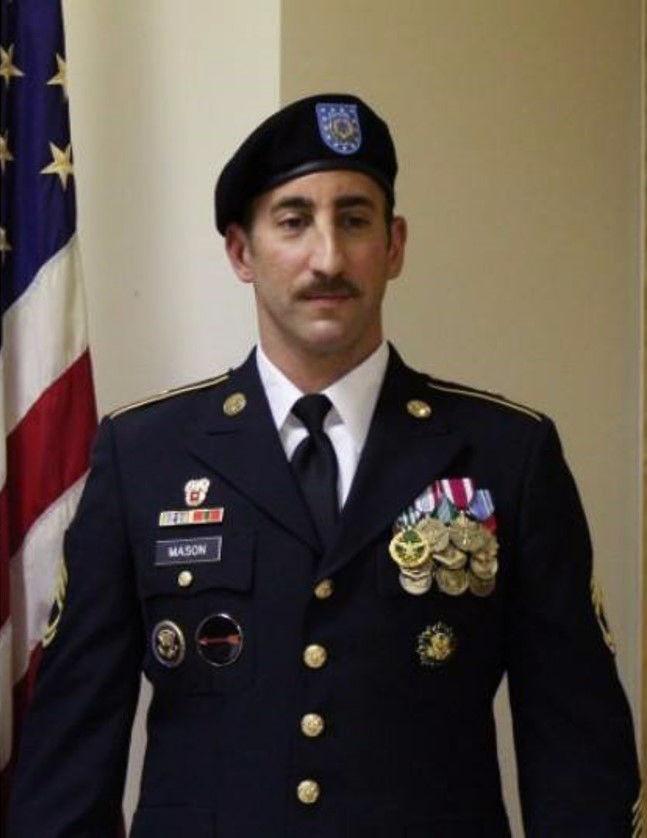 "The term community shouldn't be defined by physical borders," said Mason, a Transfer native. "I strongly believe in community and playing an active part in it."
The Greenville High School observance was among a series of Veterans Day observances throughout Mercer County. 
In Sharon, the Shenango Valley VFW Post 718 marked the Veterans Day moment — the holiday marks the armistice at 11 a.m., Nov. 11, 1918, that ended World War I — by marching down State Street and placing a wreath in the Shenango River from the State Street Bridge.
THE FANFARE is over and another Veterans Day is in the books.
The auxiliary of St. John XXIII Home honored 13 veterans who live at the senior citizens' residence in Hermitage. Auxiliary members gave all 13 veterans U.S. flags, a flag representing the branch of service in which they served and a certificate.
Monday's observances wrapped up in the evening with the Shenango Valley Veterans Day parade, held this year in West Middlesex.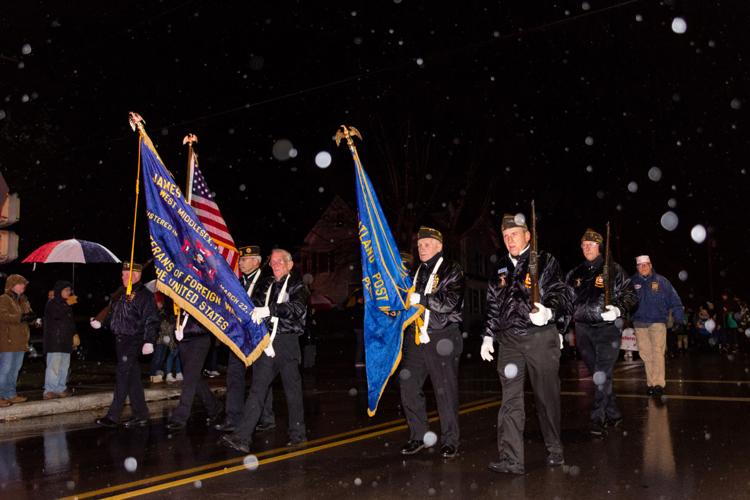 At Greenville High School, Mason, Thiel College's veteran liaison and senior vice commander at Reynolds VFW, spoke of the sports rivalry between Reynolds and Greenville and said community transcends school district borders.
"The sense of community is not specific to what school you go to," Mason said.
A 1993 Reynolds High School graduate and a son of a Pymatuning Township police officer, Mason said came from a family that valued service and volunteered on many platforms.
As a high school student, Mason described himself as a "regular" kid who played sports. Joining the Army a few months after graduation ultimately changed his life, he said.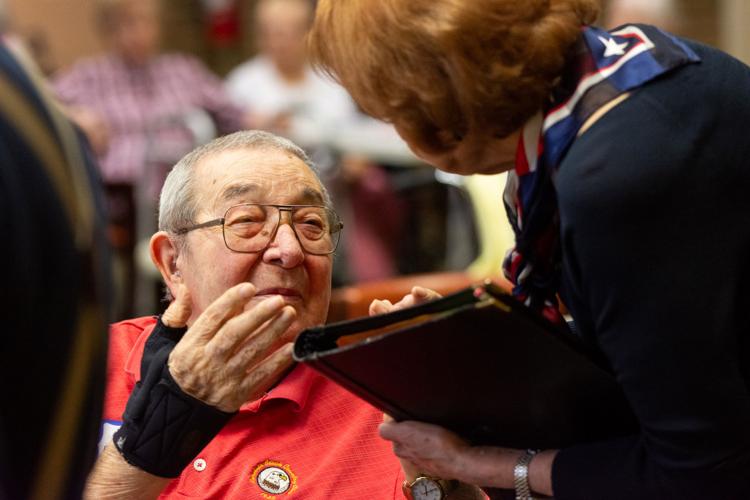 An active duty soldier for 21 years, Mason began his military career with a one-year hitch based in South Korea.
His next assignment was at the National Military Command Center Site-R, also known as the underground Pentagon, Mason said, because it is part of an underground bunker system designed to allow government functions to continue operating in the event of a devastating nuclear attack.
After five years in that posting, he was assigned to a NATO signal unit supporting operations in Kosovo.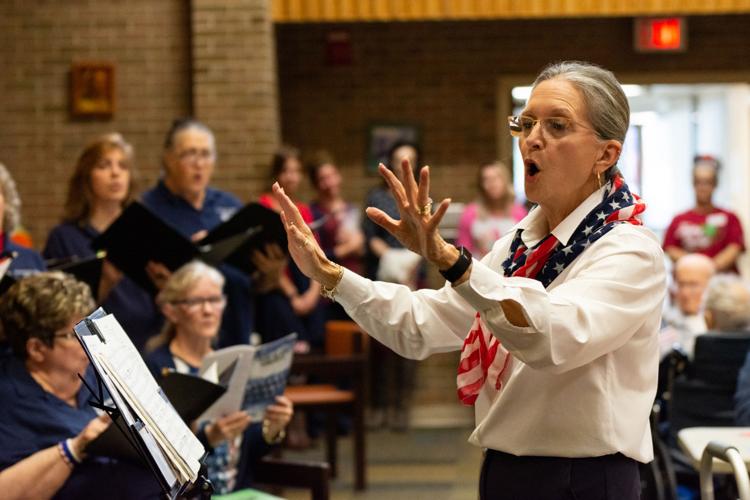 Then, he was assigned to work in the White House, six months before the Sept. 11, 2001 terrorist attacks.
Ultimately, he was selected to the President's joint service advance travel team, working in that capacity for eight years under President George W. Bush and President Barack Obama, where he oversaw emergency communications, he said.
"Wherever the President went, I always made sure he had the ability to communicate anywhere, anytime," Mason said. "We just hit the ground running," Mason said of his team. "My biggest accomplishment was the inauguration of Obama."
The night before President Obama's inauguration, Mason spent the night in the Capitol building because he was in charge of all communications for the ceremony, he said.
"It was robust," Mason said of the inauguration.
Several months later in mid-2009, after the nation had been at war for nearly eight years, Mason said he felt like he was missing something.
"My heart told me I needed to do something," he said. "I wanted to deploy with a special operations unit."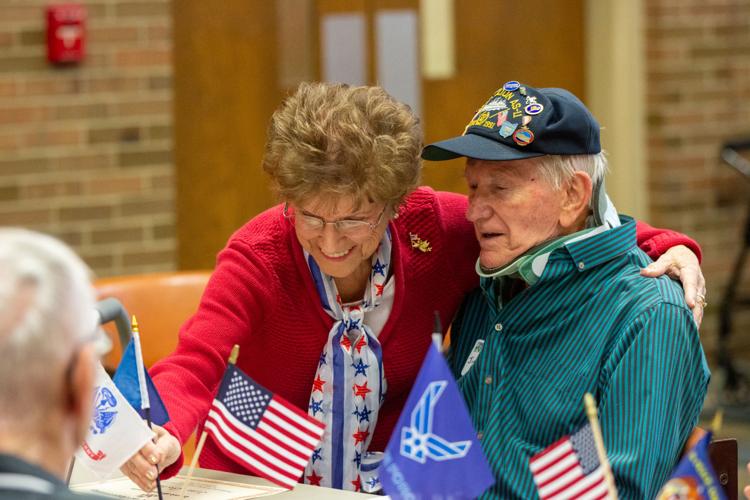 Mason was selected to join the Asymmetric Warfare Group, and was deployed to Afghanistan four times. The Army's Asymmetric Warfare Group develops plans to combat groups such as the Taliban or ISIS, forces that are weaker than the United States tactically and in terms of firepower, but have the capability of using surprise or other unconventional means to combat U.S. and allied forces.
But Mason said the decision to leave his family felt "selfish."
"I will always say those last five years were easier for me compared to what my wife and family had to endure," he said. "I executed one mission after another. When you're deployed, time flies. My family had it the hardest."
Spurred by that request from his son, Mason decided to retire in 2014
"I just wanted life to slow down," Mason said. "I'm truly blessed."
Mason challenged the audience to thank a veteran, not just by words but also by actions.
"Engage in acts of kindness," Mason said.
Senior National Honor Society student Emma Park stressed the importance of giving back to veterans.
"I have a lot of veterans in my family," Park said. "So I think it's important for students to realize the significance of the day."
Senior Class President River Sorg agreed.
"It's important for us to understand what these people have done for us and the opportunities they've given us," he said.
Ultimately, the annual GHS Veteran's Day program is about "service," said Principal Jeff Keeling.
"I think this is one of the most important learning experiences we can offer our students," he said. "It gives them an opportunity to see those who have served first-hand and to show their appreciation and respect."
Army and Vietnam veteran Dave Miller of Hempfield Township was among those recognized during Monday's program.
"This is very much appreciated what they do here," Miller said.
GALLERY: Mercer County celebrates Veterans Day