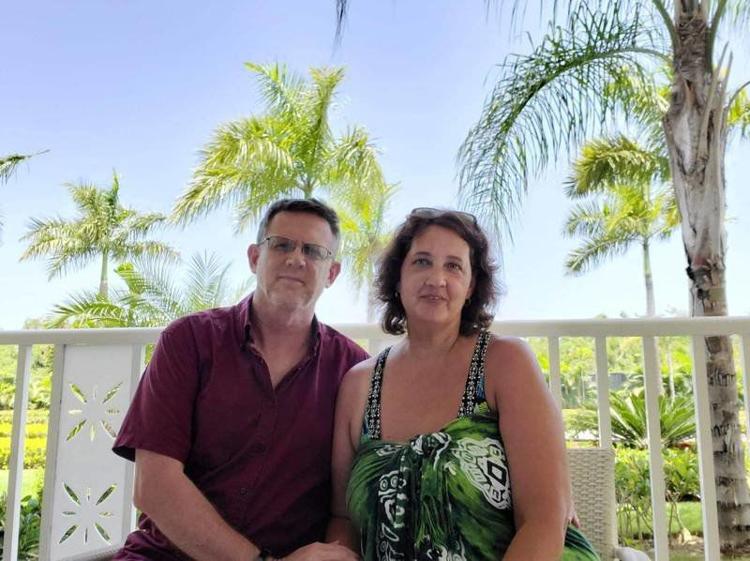 Three American tourists died at a Dominican Republic resort on the last week of May, but one Hoosier couple vacationing there is not afraid.
Marda Johnson is a reporter for the Zionsville (Ind.) Times Sentinel. She and husband Jeff are vacationing in the DR this week.
The Johnsons, of Indianapolis, arrived at the resort Saturday, two days after a Maryland couple were found dead in their room when they failed to check out on time, according to news reports.
Employees found Edward Holmstead, 63, and Cynthia Day, 49, dead in their Grand Bahia Principe La Romana room.
Miranda Shaup-Werner, a 41-year-old a psychotherapist from Allentown, Pa., died just after arriving at the Bahia Principe Bouganville and having a drink from the room's mini-bar, according to reports.
The Grand Bahia Principe La Romana and Bahia Principe Bouganville are sister resorts that share some amenities, such as restaurants, and are managed by the same company, Marda Johnson explained Thursday via telephone.
She and Jeff are in the La Romana, which is for adults only, while the Bouganville is family friendly, she said.
The Johnsons learned of the deaths shortly after arriving, but did not jump to conclusions. They searched online news feeds for information and decided to delay panic about their own safety, unless others become ill.
"I feel, right now, it's just a really unfortunate coincidence," Marda said, adding, "It's very said, and I feel for their families."
Police have not reported a cause of death for Shaup-Werner, pending autopsy and toxicology reports, although hotel authorities released a statement Wednesday saying she died of a heart attack. Her husband had reportedly told hotel staff she had heart trouble 15 years ago but none since.
An autopsy was not immediately called for because police found no signs of foul play. But they called for toxicology tests for Shaup-Werner after Holmstead and Day's bodies were found, to rule out things the three might all have ingested as a cause of death, several sources reported.
Local police reported a preliminary cause of death for both Holmstead and Day as respiratory failure and pulmonary edema.
News agencies reported the couple had visited a pharmacy on another island and bought prescriptions. The Washington Post reported a bottle of 5 mg doses of oxycodone, a prescription opioid pain killer, were found in the room.
Authorities have not linked the drugs to their deaths. Their autopsy and toxicology reports are pending.
The Johnsons were offered a welcome drink when they arrived and drank it without ill effects. The hotel staff stocks their room refrigerator daily and has offered no information about last week's deaths, nor precautions to take, Marda said.
Jeff and Marda drink diet Pepsi from their fridge and are enjoying beer from kegs in the evenings.
"We aren't the mini-bar kind of folks anyway," she said.
It's difficult to communicate more than cursory needs to the staff because of the language barrier, so most hotel guests aren't having prolonged conversations about the news, she said, adding that interpreters are available if necessary.
While the Johnsons and fellow vacationers are saddened about news of the deaths, the others don't seem worried for their own safety, she said. Those present now probably have had information about the deaths available to them before they left home, and Marda guesses the frightened ones cancelled.
"The Americans here now — everybody seems fine," she said. "I'm not overly worried. This is our third time here and I feel pretty safe. We take precautions as travelers and are aware of our surroundings and what we're doing.
"We are being more aware of our surroundings and taking care not to drink too much, and to be aware of what we're drinking so we know what we've had," in the event they fall ill and need to report their diet, she said.
A journalist from ABC interviewed the Johnsons about the deaths for "Good Morning America," but their segment didn't air. "I think because we weren't freaked out enough," Marda said.
"My biggest fear is going from here to the airport," she said. "The road is the least safe place here."
She said the roads are crowded with motorbikes, some carrying entire families at once, or a household appliance plus a few people, and they zoom into and out of traffic.
The Johnsons make the 45-minute trip to the airport via charter van.
A New York couple died in their rental car on their way to the airport in the DR in March.
CNHI News Service