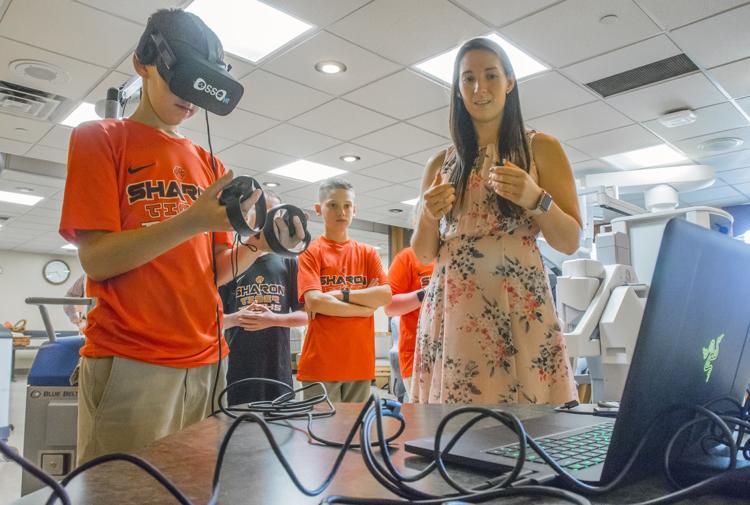 SHARON – Sharon School District's Tiger Techs robotic team got the chance to try out robots of a different sort this week at a special demonstration at Sharon Regional Medical Center.
The Meet the Robots event allowed the public to see how the hospital's new robotic equipment is helping improve patients' outcomes and getting them home faster.
The students took turns using a pair of robotic arms to practice moving objects in a simulated abdominal cavity sitting a few feet away. From behind the console, and with a pair of virtual reality goggles, the students directed the arms to perform intricate operations remotely.
They were using the da Vinci Xi Surgical System, just one piece of equipment on display at the technology demonstration held Thursday afternoon at the hospital. The system has been in place at the hospital since early May and can be used for minimally invasive surgical procedures, including hernia, gallbladder and colon surgeries, SRMC general surgeon Dr. Randy Hofius said.
So far, Hofius said he has performed about 15 procedures using the device.
During the demonstration, staff and students watched the procedure on a television screen. And while the picture was pretty good there, Hofius said the goggles enabled the students, and the surgeons, to see even more detail.
"The view is in high-definition, and you're able to make smaller and more accurate incisions so that the patients are in less pain and they're able to recover quicker," he said.
The new system will allow surgeons to offer even better care for patients, he added.
"You're not standing over the patient for 45 minutes to an hour at a time. And even if your hands start to shake a little bit, there's a dampener so that it doesn't affect the robotic arms when you're working," Hofius said.
The hospital staff had to invest time in getting ready for the new system's arrival.
To become certified on the device, doctors had to complete between 80 and 100 hours of training on a simulator, a cadaver course in Atlanta, and five to 10 hours of online training, Hofius said.
"I was skeptical at first, but I saw the robot being used to perform three different surgeries in one day, and the surgeon was doing a better job than I was, so I immediately knew I wanted to be able to do that," he said.
The other robotic system on display was the NAVIO Surgical System, which can be used for knee repair or knee replacement surgeries. The system can also create a three-dimensional model of a patient's knee during the procedure instead of requiring a pre-operative CT-scan, which can help reduce costs, hospital officials said.
Orthopedic surgeon Dr. Steven Hand uses that device. Although NAVIO performs different procedures than da Vinci, it provides similar benefits such as a more accurate procedure and faster recovery time for the patient.
"With the new robotics system, I'm able to see real-time data throughout the surgery that is designed to help place each implant in the optimal location based on each patient's unique anatomy," Hand said.
Senior Director of Surgical Services Jane Benka, who has been with the medical center for three years and with a background of 30 years as a registered nurse, said the concept of robotics was something that was never expected when she began her career. However, with the changes in technology, Thursday's demonstration provided a chance to show potential patients and the public how robotics were being incorporated into Sharon Regional's care plan.
"We've had a very positive response from patients so far because they're experiencing less pain during the procedures, and they're able to get back into their normal routines faster, so hopefully this will help get the word out," Benka said.
Like David L. Dye on Facebook or email him at ddye@sharonherald.com.