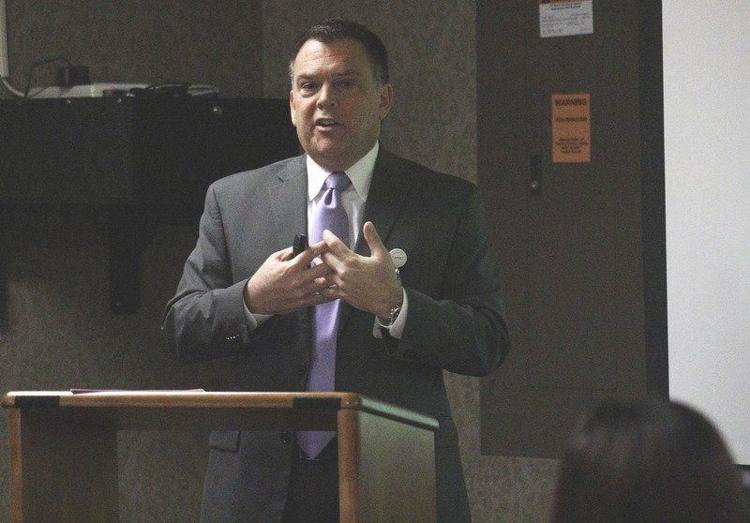 NEW CASTLE — While the focus was on new facilities in 2019 at UPMC Jameson and Horizon, 2020 is going to be about improvements to communication and patient experience.
President Robert Jackson provided that plan Tuesday during the hospitals' annual public board meeting at UPMC Jameson. Jackson, who was appointed Oct. 1 to lead the system's regional system after serving as chief executive officer at Grove City Medical Center, highlighted the improved facilities in Lawrence and Mercer counties, as well as a goal to improve communications and patient care.
In Neshannock, the UPMC Jameson schools of nursing and radiography moved in August to a new building along Wilmington Road in August. Both schools had been housed since 1929 in a multi-story brick structure adjacent to UPMC Jameson.
The schools occupy a newly renovated space that formerly housed Commercial Printing. Jameson School of Nursing offers students a registered nursing diploma in the 16-month program, while a partnership with Westminster College allows students to earn a bachelor of science degree in nursing.
The school of nursing offers clinical instruction in patient units at Jameson and UPMC Horizon Shenango Valley in Farrell.
"For us to be successful as a hospital,we need to constantly be understanding and looking at the marketplace to make sure we're able to recruit the right type of individuals in the right type of positions to our hospital," Jackson said. "To that end, we have a wonderful resource here in our community with the Jameson School of Nursing and the Jameson School of Radiography."
Jameson Hospital School of Nursing enrolled 98 new students this school year, with more than 200 people active in the program. Dawn Caudill was named last year as the nursing school's new director.
"It is an amazing building and an amazing commitment, both on behalf of Jameson and Westminster, to be committed to building the future resources for the healthcare community here in our region," Jackson said.
After a six-month renovation, UPMC Jameson Hospital recently opened its new 2200 inpatient unit. The reconfigured wing features 25 beds, more space for personnel, Americans with Disabilities Act-compliant rooms with lifts and bariatric beds.
"The very cool thing is it is state-of-the-art, incredible patient feel to it," Jackson said. "It has many feels to it which are important to the staff. There are charting stations throughout the hallway which allow staff to work and be closer to the patients. The rooms have been redesigned with a focus on ease of care for the patient."
The wing was previously known as "2 West." The name change reflects a hospital-wide initiative for better communication, much of which starts with plain language. Jackson said changing the unit designations will help families navigate the hospital to find loved ones' rooms.
The improvement campaign have become apparent at UPMC Horizon's locations at Greenville and Farrell, Jackson said.
In Greenville, UPMC Hillman Cancer Center was moved from offsite to the hospital itself, while while renovated suites are being used for physician specialty services now centralized in the facility. At Horizon Shenango Valley, UPMC expanded its emergency department, renovated surgical services and continued to provide women's services and access to UPMC Magee-Women's Hospital and UPMC Children's Hospital of Pittsburgh through its Birth Place at UPMC Horizon.
UPMC is looking to improve communication with patients and their families, Jackson said.
"When someone has two hours to kill, you never say you're going to go hang out at the hospital," Jackson said. "Every person who visits with us has a reason for being here. They have a question that needs answered."
One initiative, called bedside reports, calls for nursing staff to report on treatment at change of shift at the patients' side.
"Both the outgoing nurse and incoming nurse engage with the patient in a conversation about what went on in the last shift, what to expect at the next shift and make those introductions and allow the patient to be participative in that conversation about the care they expect to happen over the next shift," Jackson said. "It's been a tremendous communication tool but more importantly engages the patient in their care."
Jackson said open communications with patients and enabling them to participate in their treatment can help empower them at a delicate time.
"One of the things when you really think about, when you visit with us you are at your most helpless state," he said. "What practices like bedside shift reports do for us is really allow that feeling of loss of control to be regained somewhat because you're now an active participant in the next shift. We do all of this because it's really about connection."